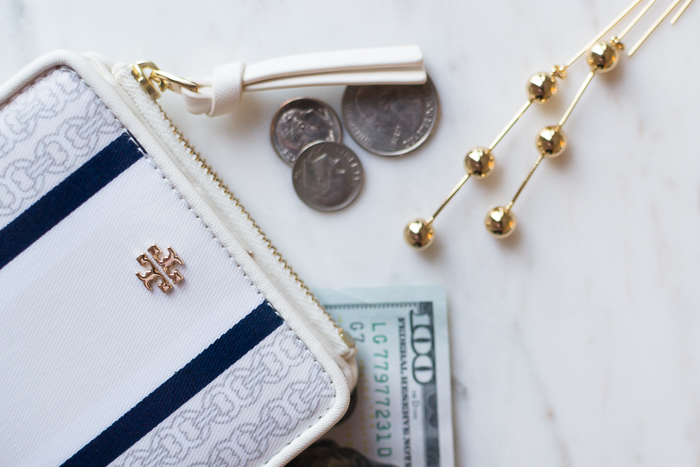 The holidays just ended and we're already bombarded with store emails promoting sales and spring merchandise. As much as I want to head full bore into spring shopping — the dresses! — I need to take a step back and let my bank account breathe. I don't feel like I'm in a comfortable spot with my finances right now. Holidays aside, a big part of that was buying a house last year and taking a fairly large chunk out of  my savings account for things like floor refinishing, paint, hardware, tools, and furniture. I need to get back on track, and taking a month off from nonessential purchasing should help with that.
Let's be honest, though, this challenge is incredibly difficult for any of us who love fashion and the promise of a spring wardrobe bursting with all of the bright colors, gorgeous prints, and airy fabrics. But, I need to keep my eye on the prize: a healthier financial situation. Here are seven strategies that I'm employing to keep my spending in check this month:
1 – Remember the bigger picture. Going from December, a month of expected overindulgence, to a pared down thirty-one days isn't the easiest. Keeping the bigger picture in mind helps to remember why you're doing this in the first place. Do you need to pay off credit card debit? Pad your bank account? Reduce the stress of having too much stuff? Whenever you feel deprived of being able to buy something unnecessary, remember what you're working toward.
2 – Be grateful for what you already have. You know that closet full of fun things you love and wear? Yeah, go hang out in there whenever you're feeling the urge to shop. I'm all too familiar with the feeling of fashion FOMO, but there's likely an abundance of amazing things in your wardrobe that you should be grateful for. Take time to organize your closet and rediscover old favorites, then challenge yourself to reintroduce them into your weekly rotation or remix them into new outfits. (This same idea also applies to housewares, if that's your weak spot. Try moving decorations to another room to freshen things up.) At the very least, use this time as a chance to carefully evaluate what you own, what you'd like to get rid of, and what holes exist in your collection.
3 – Wish list everything. I have a private Pinterest board that I use for each sartorial and home item that catches my eye. It's an easy way to add some breathing room to a potential purchase and make sure it's something you actually want. (Oftentimes, I find that once I add an item and think about it for a week, the piece has already lost its luster.) There will be a longer cooling off period with an entire month, and there's a good chance it'll be on sale next month if you're still enamored with it.
4 – Practice mindful purchasing habits. If you're narrowing your purchases to just the essentials for a month, you're already on track to start employing mindful purchasing habits. It really just comes down to being more aware of what you're buying, how much money is actually leaving your account (or adding to your credit card balance), how that item will be used, and how you're feeling when you make that purchase. After this month is up, continue practicing these habits in February with a bit more freedom. Are you shopping out of boredom or do you actually see yourself putting that new item in heavy rotation? If it's the latter, go for it, as long as you have the money in your account and already earmarked as disposable income. Remember, though, for everything you purchased in the past, you were as excited for that as you are for your upcoming purchase. Make sure it's really something that will add to your life rather than fulfill an immediate desire.
5 – Try new recipes. Dining out is a huge line item for us. It's unrealistic for us to cut it out completely, so we're planning to go out to eat just two or three times this month rather than every weekend. To keep things fun and date-like, we're planning to try new dinner and cocktail recipes instead of relying on the old standbys. It'll be cheaper than dining out and great activity to share together.
6 – Explore [free] activities. Check your city's newspaper and online event calendars to find free activities. If you're in a mid- to large-sized city, there are typically free festivals or concerts that you could go to. If it's just too darn cold to leave your house, start a Netflix series you've been meaning to watch (I just started The Crown), check out an e-book from the library, or finally try some of those Sephora samples that are piling up in your bathroom cabinet. It's also a great time to reorganize your closet, kitchen, and bathroom.
7 – Enlist a partner. Whether it's your significant other or a good friend (IRL or online!), having a partner who is also cutting out unnecessary expenses can help keep you accountable.
I'm hopeful that the challenge will also make this year's sartorial purchases more rewarding. I've been putting a small amount of money aside per paycheck and some blog revenue into a savings account dedicated to the Gucci bag I've been daydreaming about. I'm almost there, but splurging on it now would feel irresponsible. I'm working my way toward a 2018 goal of "fewer, better things," and a financial reset button seems like a good way to reframe my outlook on spending. It's really easy to caught up in impulse spending, new items, and cheap thrills. Those things add up, and while it's not to say I won't partake, I want to become more mindful of doing so.
Let me know if you'd like to join in! I'd love to do a link-up at the end of the month to share our successes and struggles.
–
Let's keep in touch!  Instagram / Facebook / Pinterest / Bloglovin'