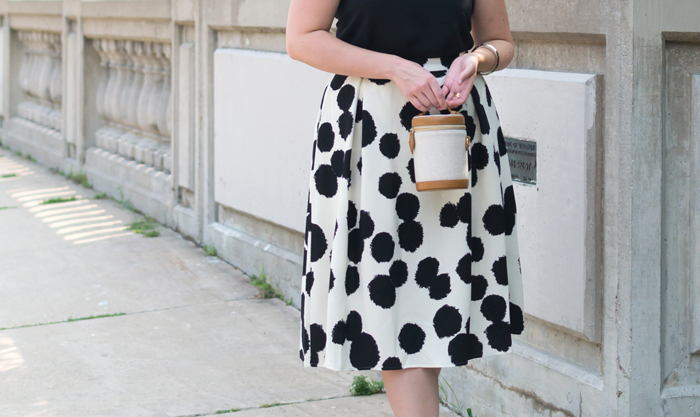 I may have been frugal when it came to clothing in August, but that certainly wasn't the case when it came to our house. This month I purchased linen sheets (so luxe), ordered a dining table, bought a chair to make sure I like it with the table before ordering the other five, and finally found a light fixture for our bedroom. On top of that, we booked a post-Thanksgiving trip to New York. I have no doubt I'll redirect my attention to clothing come September. While it'll still be warm enough to wear summer favorites, I'm excited to pick out a few additions for my fall wardrobe. If money wasn't an object, I'd start with these Rachel Comey earrings in the malachite and amber option and this bag in green. On the more realistic front: this blazer. I can't get over how much I love that green herringbone fabric.
PURCHASED
See all of this year's sartorial additions here.
Leith ruched body-con dress in heather green ($56) – I bought this sexy little number in black last month and loved the versatility so much that I bought it in heather green, too.
Who What Wear polka dot midi skirt ($30; worn here) – I love the bold print on this skirt and it feels well made, especially at such a low price point. (It's even lined!) The only downside is that there's a chemical smell to the material. I haven't washed it yet to see if that'll help, but Febreze didn't do much.
DIDN'T WORK OUT
Things I tried and didn't love.
1901 button-front skirt in camel – This was a darling of the Nordstrom Anniversary Sale, but it runs incredibly small. I tried my normal size and a size up and both were too snug. Ultimately, the fabric quality wasn't that great and I was tired of going back and forth with new sizes. I'd rather save up for a wool a-line skirt that will hold up year after year.
Staud 'Shirley' mini tote – I struggled with this one. I absolutely love the tote and the quality is excellent. However, I felt foolish spending money on something so trendy that I might not reach for next year. The same could certainly be said for the Rachel Comey earrings I bought, but my love for those far surpass the love for this bag. That said, I kind of regret sending it back and wonder if it was just the camel color that I wasn't crazy about enough to keep?
LOFT bouquet smocked flare dress – This is flattering, but I just didn't love it that much in person. The colors were more muted than they appear online and it just felt a little lackluster.

–
Let's keep in touch!  Instagram / Facebook / Pinterest / Bloglovin'