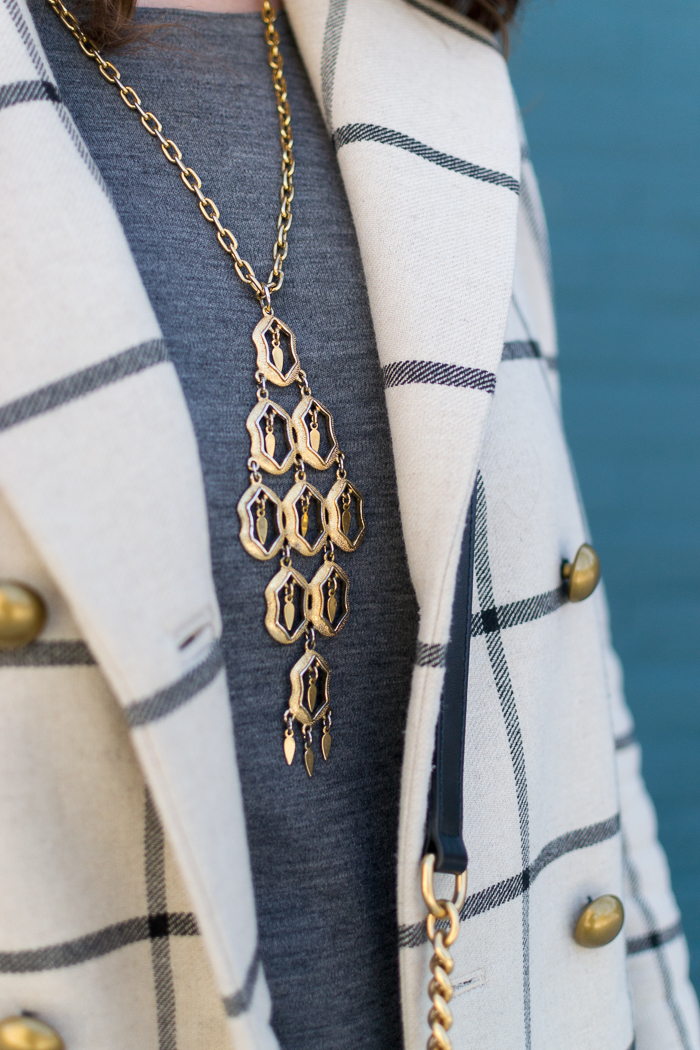 This month was all about checking things off of my long-term wish list and filling gaps in my wardrobe. This made it an expensive month, but I feel really good about where things are at and it's nice to have these essential pieces taken care, even if it makes this year's wardrobe additions seem awfully boring when viewed together. Many of these purchases were in preparation for London. I needed a few foundation items (like jeans in a smaller size and loafers) to mix and match on our trip. I'm trying to pare down my suitcase substantially this time around. I tend to rewear items on trips, so I'm just going to embrace it. (I'll share my packing list this week.) Granted, not as fully as I did in Copenhagen a couple of years ago when I didn't realize it would be as cold as it was and I wore the same sweater and jeans every day!
I'm sure I'll do enough damage to my bank account on our trip, but I'm primarily hoping to pick up housewares as souvenirs instead of clothes. (I say this knowing that I won't be able to resist bringing home a piece of jewelry to commemorate our first visit to the U.K.) Once we're back, I'll take a look over my spring and summer wardrobe and see what kind of holes need to be filled or trends I'd like to embrace this year. I have so many spring dresses that I love and am excited to wear, so it's not like I need anything, but it's also nice to freshen up things with a floaty new frock. After all, spring shopping is the best shopping!
PURCHASED
See all of this year's sartorial additions here.
Gap mid-rise true skinny ankle jeans – I already own these jeans, but my current pair is getting baggy after I lost 10 pounds since Thanksgiving. The recent Friends & Family promotion made snagging a smaller pair a no-brainer. I'm going to bring these on the trip along with the larger pair for when I inevitably eat too many orders of fish and chips.
Banana Republic machine-washable merino shell in medium blue vintage – When I was scouring the Gap family of brands during their Friends & Family promotion for the aforementioned jeans, I came across this merino shell. It's not exactly the most exciting purchase, but it's a versatile piece to wear to work with an a-line mini skirt or jeans on casual days. I've already worn it three times and it retains its shape throughout the day.
Lululemon "Effortless Jacket" in navy – Dave had heard good things about Lululemon's men's pants for travel, but they didn't stack up. (They made his rear end look baggy.) While he was shopping, I came across this cropped jacket and fell in love. It's such an impulsive purchase for me, but I think it's going to be great for bike riding on chilly days. It runs incredibly large. I first started with an 8 and 10 in the fitting room, then tried the 6, and then the 4. I liked how the 4 fit most in the body, but the sleeves were too short and so I opted for the 6 instead. The jacket has so many pockets and storage options, plus there's a stowaway hood in the collar for unexpected showers. The cropped length also looks adorable with casual dresses.
Madewell "Elinor" loafer in black – I already have these loafers in brown and wanted the black pair in the rotation. They're so comfortable right out of the box with zero breaking in necessary. (True be told, I really wanted these, but they're on backorder until the end of May.)
Paravel crossbody capsule in scout – I received a 20% discount code and figured it was a good time to buy the Paravel bag I've crushed on since last summer. It's every bit as perfect in person!
Old Navy jersey knit swing dress in grey – I snagged this to wear on the plane. I've tried a variety of flight outfits over the years and I'm always most comfortable in a loose dress. I don't get terribly cold on planes, but I'll layer this with a cardigan and a cashmere wrap that doubles as a blanket, and will slip on compression socks when it's time to sleep. (#SoChic)
vintage necklace (pictured above) – I couldn't pass up this $10 beauty when we visited a local vintage shop earlier in the month.
DIDN'T WORK OUT
Things I tried and didn't love.
Sam Edelman "Lior" loafer in black – The toe box was way too long for me and they felt cheap in person.
Banana Republic "Sloan" skinny-fit pant in black – I loved these pants a few years ago when I was a size smaller than I am now. I can technically zip up the other pair, but they're so tight that they look like yoga pants! I decided to order the size larger to bring on our trip and wear to work this season. Unfortunately, though, Banana Republic must have changed the fit because I can't even come close to zipping the larger pair.
Leith racerback shift dress in light pink – I love this dress so much in black (worn here), but the light pink was a let down. It was a bit on the sheer side and looked inexpensive.

–
Let's keep in touch!  Instagram / Facebook / Pinterest / Bloglovin'