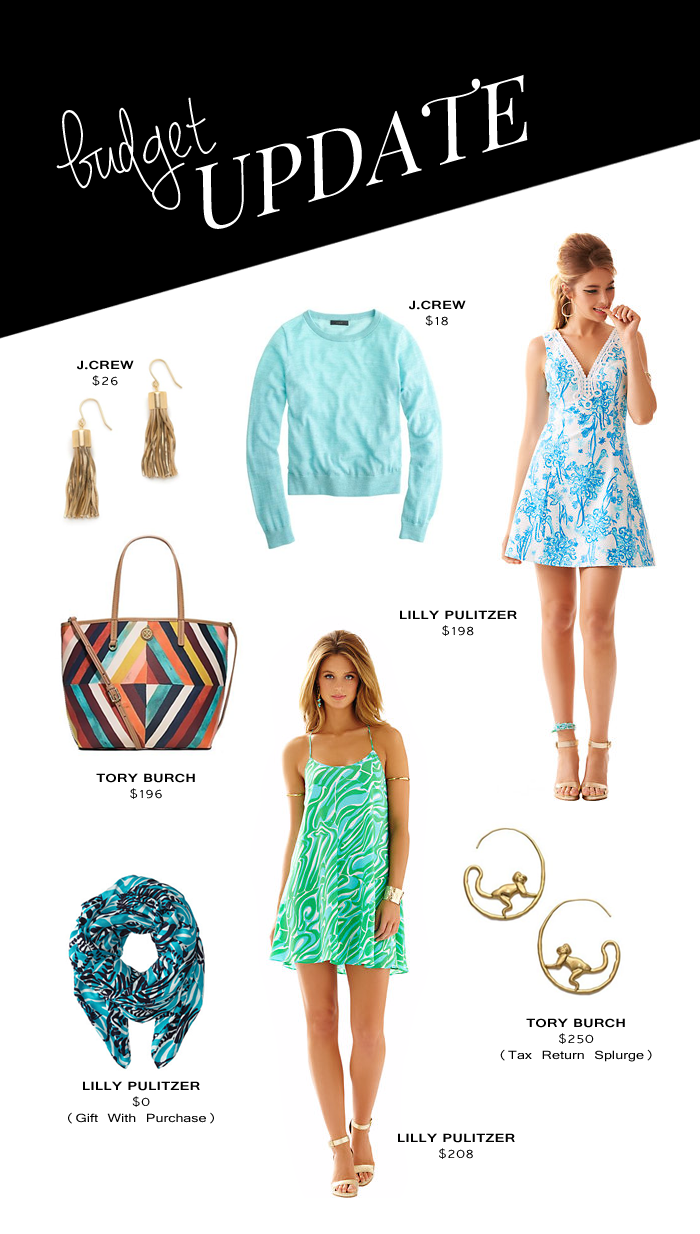 Judging by my purchases, it looks like I eschewed Wisconsin's grey days and tried to buy my way to a summery state of mind. Our upcoming Florida trip was certainly a catalyst, but it goes beyond that. This is the first round of spring/summer clothes in a long time that really feels like "me." As bloggers, we spend so much time evaluating our wardrobes, obsessing over new purchases, and online shopping (even if it's just browsing for a blog post) that you'd think it would be easy to pinpoint our personal styles. I think it actually makes it more difficult. There's so much noise to sift through to find the style that really speak to us. I don't think I'm quite ready to define my style, but I'm getting there and this month is a good first step.
For the record, my income does not support the type of spending I did this month. I had a healthy rollover from last month and additional money to add, which technically kept me under my budget limit. I still spent a ridiculous amount.
See all of the year's wardrobe additions here.
[spacer]
THE BUDGET

Each month, I've earmarked $250 to spend on clothing and accessories. I consider blog revenue and eBay sales to be "fun money" and will add a portion of that additional income to my monthly budget (if it doesn't end up in my travel fund first). I'll record any budget increases or expenditures here each month. Anything that has been ordered and has not yet arrived will appear on the next budget update. I'm also allowing any extra money to rollover into the next month.
$250 starting budget
+ $256 rollover from last month
+ $360 added to the budget this month
– $646 spent this month
= $220 remaining
[spacer]
PURCHASED
[spacer]

GIFTED
As always, I want to be transparent about what I've received from companies for review or as part of a collaboration. I'm very selective about the pieces I accept and will only work with companies I feel good about recommending.
[spacer]
UP NEXT
I would still like to snag this lime green skirt if it goes on sale before our Florida trip. I also need to find a pair of dressy flat shoes to wear with my dress to Dave's sister's wedding. Heels are great and all, but I feel more like myself in a pair of flats. And they're easier to dance in! There's also a strong chance I'll buy a pair of Stubbs & Wootton loafers in Palm Beach. It would blow my budget for April and May, but it would be worth every penny. This necklace would also be fun to wear this summer.
[spacer]
DIDN'T WORK OUT
Of course, with every successful shopping month, there are some misses:
[spacer]
HOW ARE YOU DOING?
Fran does a great job of linking to budget bloggers each month and I hope you take part. I'm always curious to learn how others curate their closets!