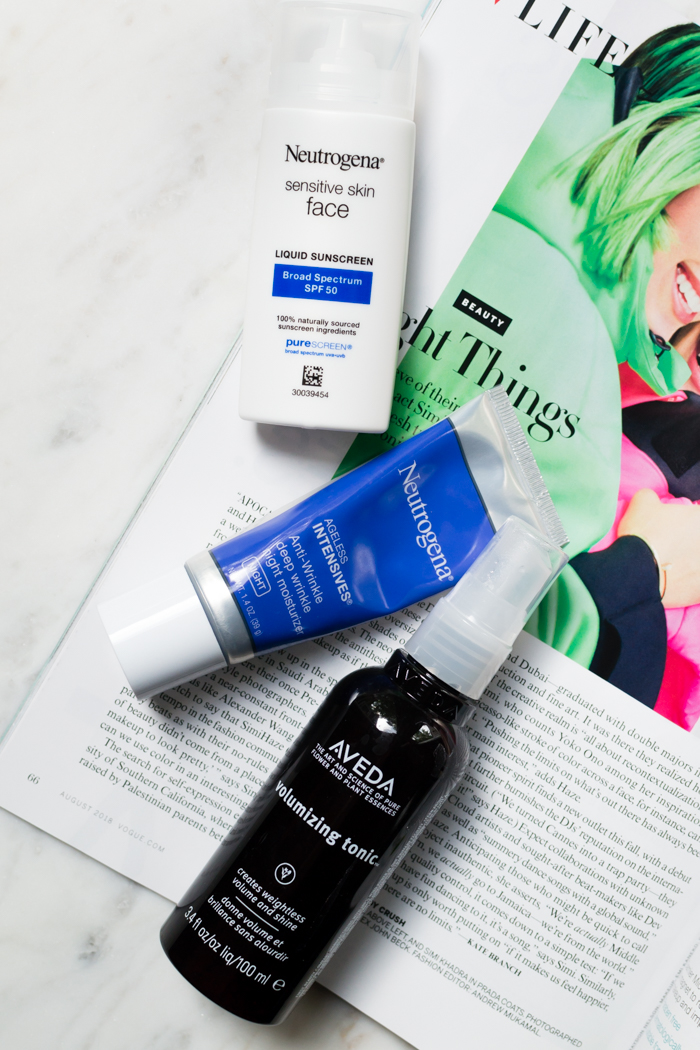 I'm a creature of habit when it comes to my beauty routine, but every now and then I do shake things up and discover new can't-live-without-it products to add to my repertoire. Here are three that I'm into lately:
NEUTROGENA LIQUID SUNSCREEN FOR SENSITIVE SKIN
I know this is the worst thing to admit to, but I always hated wearing facial sunscreen because it always felt too heavy. Neutrogena's liquid version changes all that. It has a thin, runny consistency that seems strange at first, but it goes on smoothly and absorbs quickly so that you can layer your regular facial lotion on top almost immediately.
NEUTROGENA AGELESS INTENSIVES ANTI-WRINKLE MOISTURIZER
It's no secret that I'm getting older and to help combat signs of aging, I've been exploring different retinol treatments. I first tried this RoC night treatment and it only served to irritate my skin, so I had been a little put off by the whole thing. Since I typically like Neutrogena products (#NotSponsored #WishItWere), I opted to give it another whirl with this night moisturizer. I haven't noticed a visible reduction in fine lines in the two weeks I've been using it (I'll report back once it's empty), but I have noticed an overall improvement in the texture of my skin. My skin feels unbelievably soft in the morning after using it and layering this serum on top.
AVEDA VOLUMIZING TONIC
This spray promises to create weightless volume on fine hair, and it does just that. I found that it works best when you blow dry your hair most of the way and then spray this into the roots before finishing. (When I use it all over on wet hair, it makes my hair feel staticky.) As an added bonus, I've found that it helps my fine hair hold a curl longer than hair spray alone. On another note, I tried a sample of Aveda's thickening tonic and I love it, too! My hair doesn't seem nearly as limp late in the day when I use it.

–
Let's keep in touch!  Instagram / Facebook / Pinterest / Bloglovin'