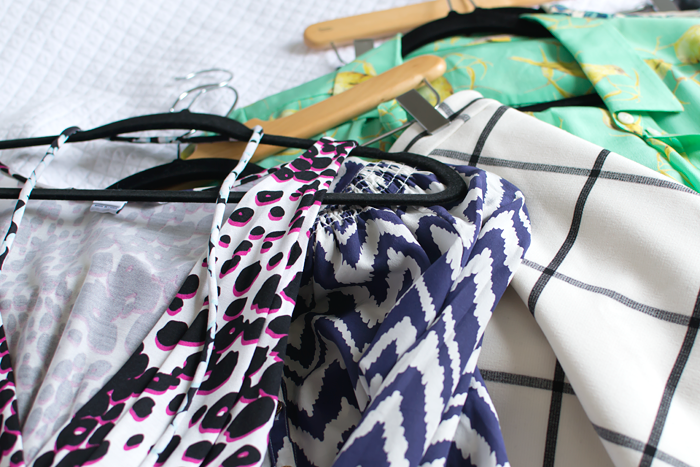 Last year, I took to my closet with a critical eye and shed 30 pounds of clothing from my wardrobe. By and large, these were the low-quality fast fashion pieces that never really fit well and didn't hold any sentimental value. Now that 12 months have passed (almost to the day), I'm back at it, albeit with a slightly different M.O.
I'm storing items.
I just don't believe that an item is destined for Goodwill after just one year of neglect. People rekindle flames all the time. Why can't that be the case with a closet that once sparked joy?  (I suspect you knew Marie Kondo's decluttering mantra was going to come back for the 2015 Closet Cleanout, didn't you?)
Over the last month, I've been asking myself if my possessions spark joy (or at least satisfy a need, like work or exercise). It has helped me cull the last few items from my closet that I'm just not that into. It has also made me realize that I'm quite content with what I do own. That said, some of these joy-sparkers feel a little outdated or are better suited for a smaller version of me. They also add too much clutter to an already over-stuffed closet, getting in the way of items I actually want to wear and take up space for new acquisitions. So, I've been packing 'em up. The process has actually given me some clarity about the joyful pieces I'd like to add to my wardrobe, starting with monkey hoop earrings, an ostrich-print dress (trust me), and this bright green fringe purse.
If you're looking for something to do this weekend 😉 , here are my guidelines for what to keep, store, or purge:
KEEP IT
It sparks joy.
It's in regular rotation.
You look forward to wearing it.
It works with your lifestyle.
It fills a wardrobe need.
STORE IT
You admire it.
There are sweet sentimental ties to it.
You'd be upset if it were gone.
PURGE IT
You don't like wearing it.
It's not flattering.
There are bad memories associated with it.
You're only keeping it out of obligation (either because you spent a lot of money on it or it was a gift).