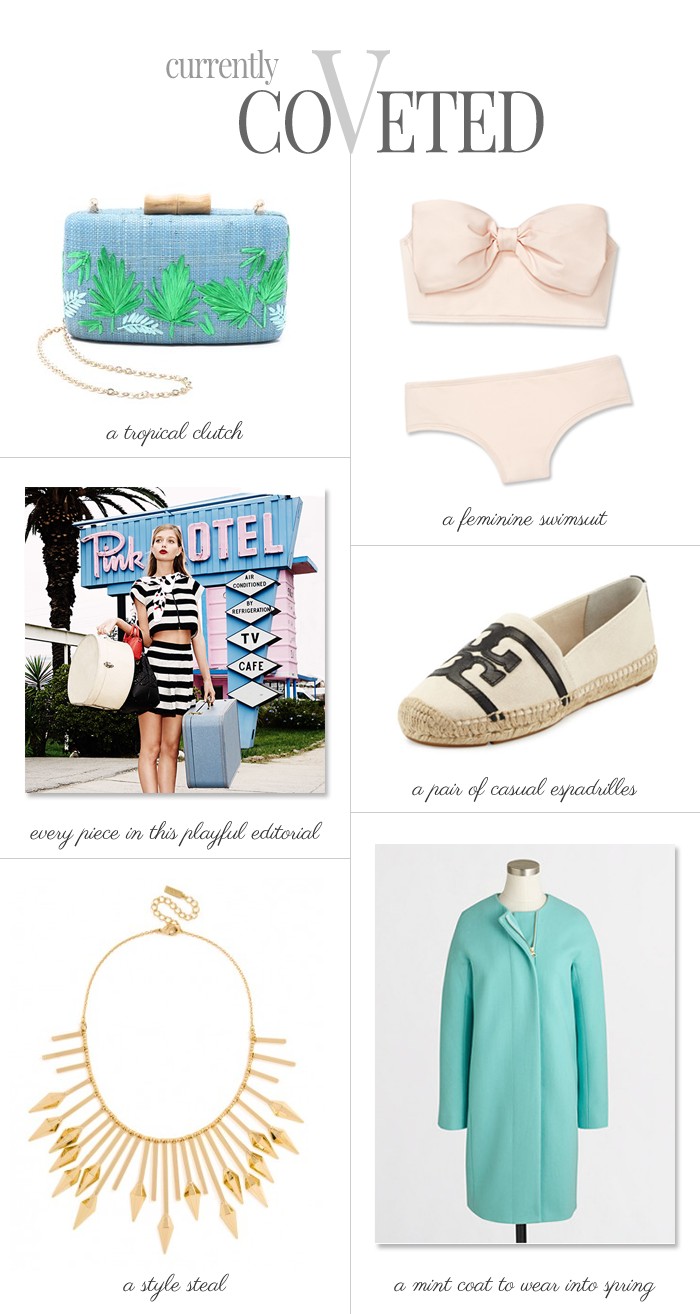 If you have been following my blog for awhile, you may remember that I used to do a weekly roundup in a format similar to this. I strayed away from it because there were countless items I came across each week that I wanted to share. However, that's kind of the problem. With so many available items and so many blogs competing for your attention, I want to go back to sharing the best of the best. From now on, the "Currently Coveted" posts will be dedicated to items that truly sparked my excitement and are worth a closer look.
[spacer]
A TROPICAL CLUTCH
Few things make me want to book a tropical escape more than Kayu's woven handbags. The embroided palm leaves make the Makaha clutch my favorite.
[spacer]
A FEMININE SWIMSUIT
Kate Spade's swimsuit collection is both glamorous and romantic. If you love the bow on this bikini, but would rather cover up, there are one-piece suits available (including a striped version!).
[spacer]
EVERY PIECE IN THIS PLAYFUL EDITORIAL
This Alice + Olivia lookbook inspires me to choose an obscure destination, hit the road, and stay in retro motels along the way. (I'm also kind of obsessed with the Stace sweater.)
[spacer]
A PAIR OF CASUAL ESPADRILLES
Last year's must-have shoe has finally grown on me. I'm yearning for that Tory Burch pair, but you can browse more options here. The Soludos pair with the embroidered toucan is tempting.
[spacer]
A STYLE STEAL
Every now and then Bauble Bar really hits it out of the park. This is one major necklace for just $44.
[spacer]
A MINT COAT TO WEAR INTO SPRING
 I don't switch up my coats as often as I'd like (they're expensive!), but this mint coat is just begging to come home to me. Does anyone know if it has a double zipper? There's no way a cocoon coat will fit over my hips without a little more room at the hem.