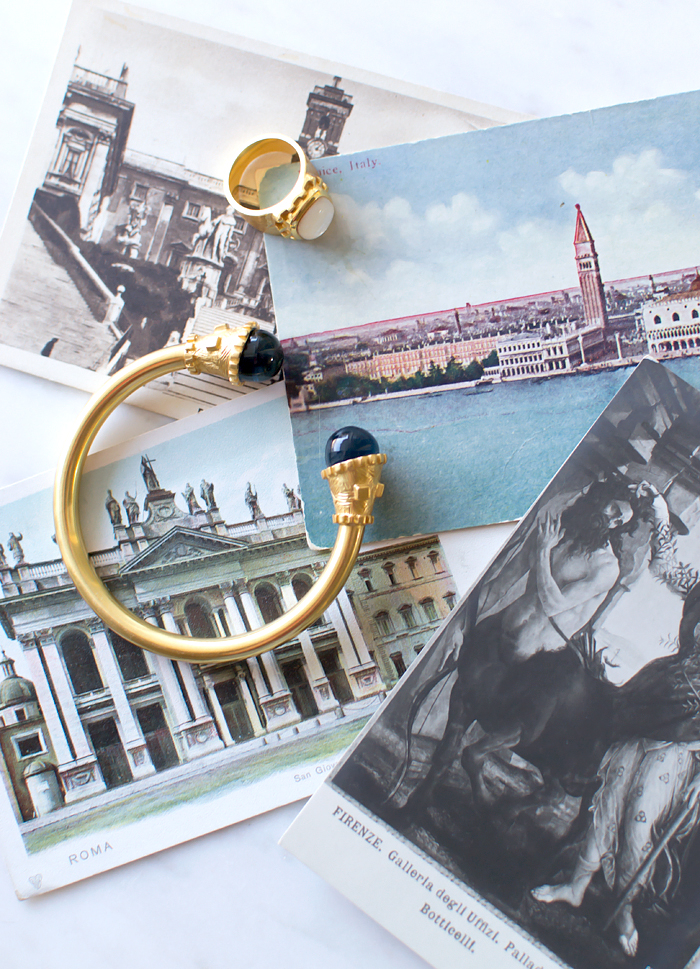 Whenever I wear Julie Vos' work, I feel like I've just returned from vacation bedecked in treasures I purchased abroad — and her Botticelli collection is no different with rich carvings, substantial gemstones, and luminous pearls. As you might expect, the collection gets its name from the renowned Italian painter, but the artist didn't actually serve as inspiration at the onset of Julie's design process. Read below for insight into the jewelry maestro's latest work.
What inspired you to create the Botticelli collection?
"The idea was to create a pearl collection, something I'd never done before or even thought to do. I wanted it to be a sumptuous and feminine and luxurious collection — to look and feel expensive and dressy. The time to introduce it was the fall, when people have parties and holiday events to attend and are looking for a dressier piece to wear.
"I didn't want the pearls to be just an accent, I wanted the collection to be about pearls. And that made me think about where pearls come from. Shells, of course, and what a beautiful substance a pearl is! The iridescent luster of the nacre gives it a wonderful depth. We added rich gold details and carvings. When the samples were finished, they made me think of the Botticelli painting, The Birth of Venus, and how this absolutely beautiful woman emerges from a shell, like a pearl.
"When I was in Florence, Italy, I went straight to the Uffizi to see Botticelli's Venus which I had only ever seen in reproductions. It's enormous! It's so big I couldn't fit it into a picture frame and had to take a video!"
How does your inspiration translate to the pieces?
"The pieces are luxurious and rich, large pearls with loads of gold. We put a massive pearl in the long pendant. In the portraits in the Uffizi, the ladies have lavish pearl drops dangling from their fine jewelry.  I took that concept but made it modern, so that it speaks to how we dress now."
What are the unique features of the collection?
"Voluptuous pearls in different shapes and sizes — dangling, flat, large, small, dressy.  The challenge was how many ways I could showcase a pearl. I ended up using both shell pearl and mother of pearl."

***
Thanks to
Julie Vos
for partnering on this post!