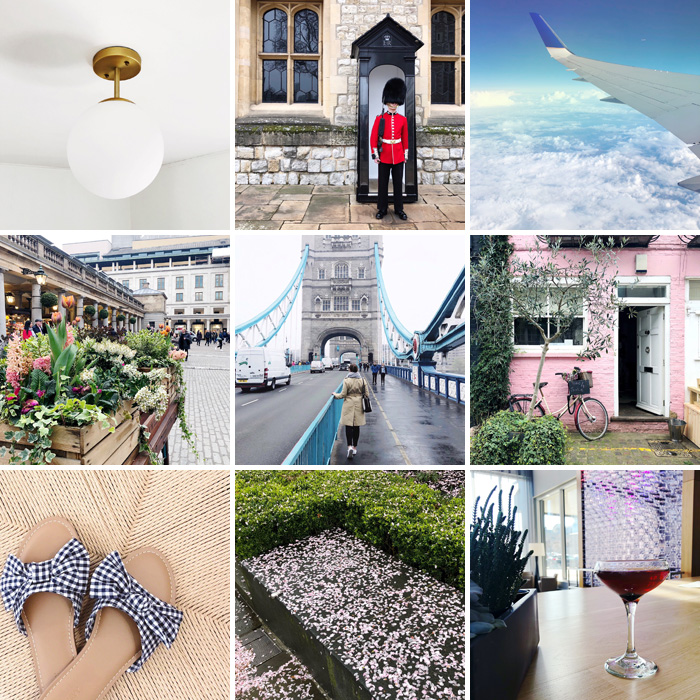 It's officially my birthday month! And, I'm happy to report that a couple of retailers share my enthusiasm for a month-long celebration. Yesterday, I came home to birthday discounts from Tory Burch and West Elm. I'm kind of disenchanted with West Elm after the light fixture fiasco,* but I'm very excited about the Tory Burch gift. Apparently I've spent enough over the years to receive a $50 coupon for my birthday month. I've had my eye on this scarf and it seems like a good opportunity to add it to my collection.
I feel like a broken record lately, but this month is going to be all about house projects. We purchased some deck furniture last weekend: this bench with these cushions (no one wants to burn their thighs on metal in the summer) and these chairs. They look fantastic, but definitely make the unpainted deck look rough around the edges! I'd like to paint the railings this month and stain the floor. We're also looking into a few yard projects, along with a few interior to-dos that have fallen off the radar in the winter (painting doors, continuing to replace light fixtures, etc.). May won't be all about work, however! We have a trip to Austin scheduled at the end of the month to celebrate my 35th birthday. (Where has the time gone?!) Let me know if there's anything I need to add to my must-visit list!
Lest you think things are just sunshine and rainbows over here, they're not. Haha. I had an ear infection last week and now I have an unexplained rash on my legs (my doctor said to just take an antihistamine and see if that works — great), and both our washer and dryer broke in the middle of washing our only set of king sheets Sunday night. But, there's no sense in dwelling on the lame stuff. Here are my favorite mini moments from April.
Mini Moments (top to bottom, left to right):
When we moved in last year, we took the blades off of the 1980s ceiling fans so that we could paint around them. We didn't bother putting the blades back on because they were awful, so we've been rocking our signature home aesthetic: the bladeless fan light fixture. I'm insanely picky about the light fixtures we purchase (even though just about anything is better than what we had) and I finally replaced the one in our office with this mid-century modern fixture. The globe is a bear to get on and off, but I only paid $29 and the LED bulb inside should last years.
I'm never going to be the person who takes obnoxious selfies with the palace guards, but I will take a pic of them on their own. (I'm sure they hate it.)
If you didn't 'gram your flight, did it really happen?
My favorite part about London was the number of flowers at every turn! There were floral arrangements like this one at Covent Garden, blossoms on trees, and gardens filled with tulips and daffodils.
I was so proud of myself for packing lightly for our trip. I even had extra space in my suitcase for the return flight despite buying a merino wool throw blanket that took up a substantial amount of room. You can see a list of everything I wore here.
Notting Hill was every bit as charming as you'd expect.
I just love these wallet-friendly slides from Old Navy. Now if it would just be warm enough for sandals!
Spotting signs of spring in London near St. Paul's Cathedral.
Post-work cocktails with one of my coworkers.
More Mini Moments: January, February, March
–
Let's keep in touch!  Instagram / Facebook / Pinterest / Bloglovin'
* Short version: I bought a light fixture, it arrived in two boxes, it was damaged, and it took weeks for the company to send a second return label for the second box despite calling and emailing numerous times. The replacement fixture was also damaged.