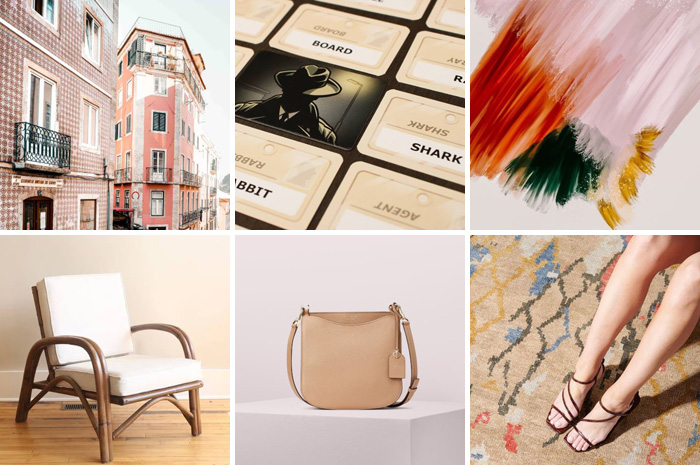 PORTUGAL THIS MAY
We've been looking for a European trip for either May or August this year. I originally wanted to visit Stockholm, but hesitated when roundtrip tickets were less than $400 in January. Those prices hadn't resurfaced, so we expanded our search to other countries and came across flights in our budget to Lisbon. At this point, we're thinking of spending five or six nights in Lisbon, taking a day trip to Sintra, and visiting Porto for a few days. Our flight actually returns from London, which saved us a few hundred dollars on each ticket, so we'll need to make our way back to the U.K. at some point. (I'm actually really excited to go back to London so soon. I was incredibly sick for the first few days of last year's trip and I felt like I missed out on a few things I wanted to do.) Let me know if you have any travel recommendations!
THE BEST OPTION FOR GAME NIGHT
Codenames is such a fun option for your game nights! We've been playing it with our friends just about every time we get together at the neighborhood bar for late-night drinks. The gist of the game is that you're trying to get your teammates to guess words on the board that are highlighted on your secret map. There's also an adult version with words that have x-rated connotations. That version is more difficult in a lot of ways because many of the words and the clues you'd give are so similar.
ARTWORK
I'm such a fan of Patricia Vargas' abstract art, and I'm beyond excited by the teaser she posted on Instagram the other day. I'm thinking that stacking two of the prints might be an option for over our little entry table.
VINTAGE SHOPPING
I've been scouring Craigslist lately to find vintage pieces for our house. Not surprisingly, there's a lot of junk. However, I came across — and purchased — that incredible chair pictured above! It will eventually go in our yet-to-be-remodeled sunroom. That realistically won't happen for years, so right now it's in our office and I find myself staring lovingly at it whenever I'm in there.
A NEW BAG
I'll use my Paravel backpack during the day for most of our trip in May, but I'm on the hunt for a crossbody bag I can use in the evening that can hold a lot but isn't bulky. I'm thinking that this Kate Spade option might be the one. I love the neutral leather that'll pair nicely with spring clothes and it looks roomy. Madewell also released a pretty cute option today, which is significantly cheaper. So, we'll see. (In other pre-trip shopping news, I'm thinking about these Vince sneakers that are part of the current Shopbop promotion. I love the pair I bought last year and would like a lighter color for spring.)
SHOES FROM A CULT FAVORITE BRAND
Did you see that accessory newcomer Staud introduced footwear this week? Like the rest of their pieces, the shoes have a nod to vintage design — although these skew more late '90s and early '00s with their minimalist look. I like the asymmetrical strap detail on these and the pared down sophistication of these.
Let's keep in touch!  Instagram / Facebook / Pinterest / Bloglovin'