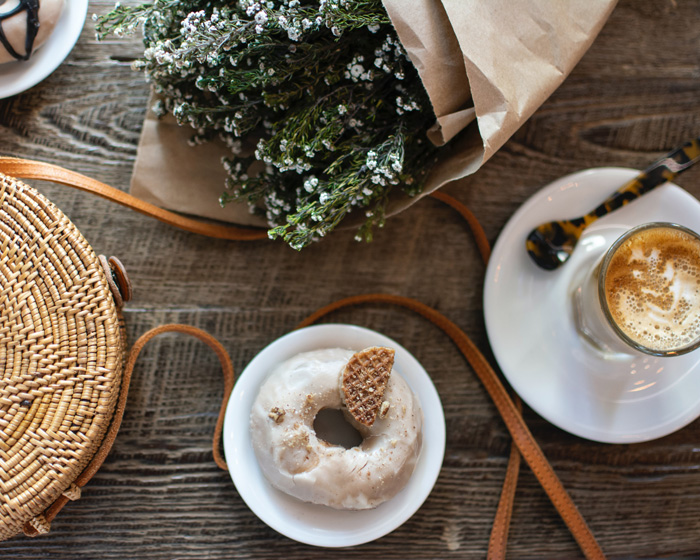 I've been toying with the idea of moving these round-up posts to Mondays for a couple of reasons: (1) I do most of my reading over the weekend so I have fresh finds to share once the week begins and (2) isn't it nice to start the week off on, well, the right foot with a mix of interesting reads, great products, and things to make your Monday a bit brighter? I think so!
Rekindle passion for your city.
A history of porches and the psychology behind designing them.
I just snagged this Kate Spade face mask. It's now on backorder, but it's worth adding to cart since we all know we'll be wearing masks throughout the year. It's breathable, has adjustable loops, and 100% of net profits support crisis counseling.
Knowing I'm going to have too many leftovers often keeps me from baking, which is why I'm all for this small-batch cheesecake recipe.
The lime-green leopard print on this top ($30) reminds me of Lisa Frank in the best way possible.
You can go on a virtual tour of the tomb of Pharaoh Ramses VI. The carvings and reliefs are more colorful and well preserved than I expected!
I prefer athletic skorts for biking and just added this one to my wardrobe. I adore the flirty, full a-line shape of the skirt portion.
Ashley shared the free software she uses to plan home renovations.
It's entirely too early to start talking fall and winter, but it's a good time to snag some under-$30 plaid blankets to tuck away!
A charming collection of stories from innkeepers.
How the director of The Baby-Sitters Club is reinventing the series for a new generation. (I can't wait to watch it! I just need to get caught up on Dead to Me first!) Bonus: designing Claudia's wardrobe.
Swap potatoes for chickpeas and mayo for Greek yogurt to turn a summer picnic staple into a healthier alternative.
This bamboo beaded bag is so good.
Is video dating here to stay?
In case you missed it:
–
Let's keep in touch!
Instagram / Facebook / Pinterest / Bloglovin'