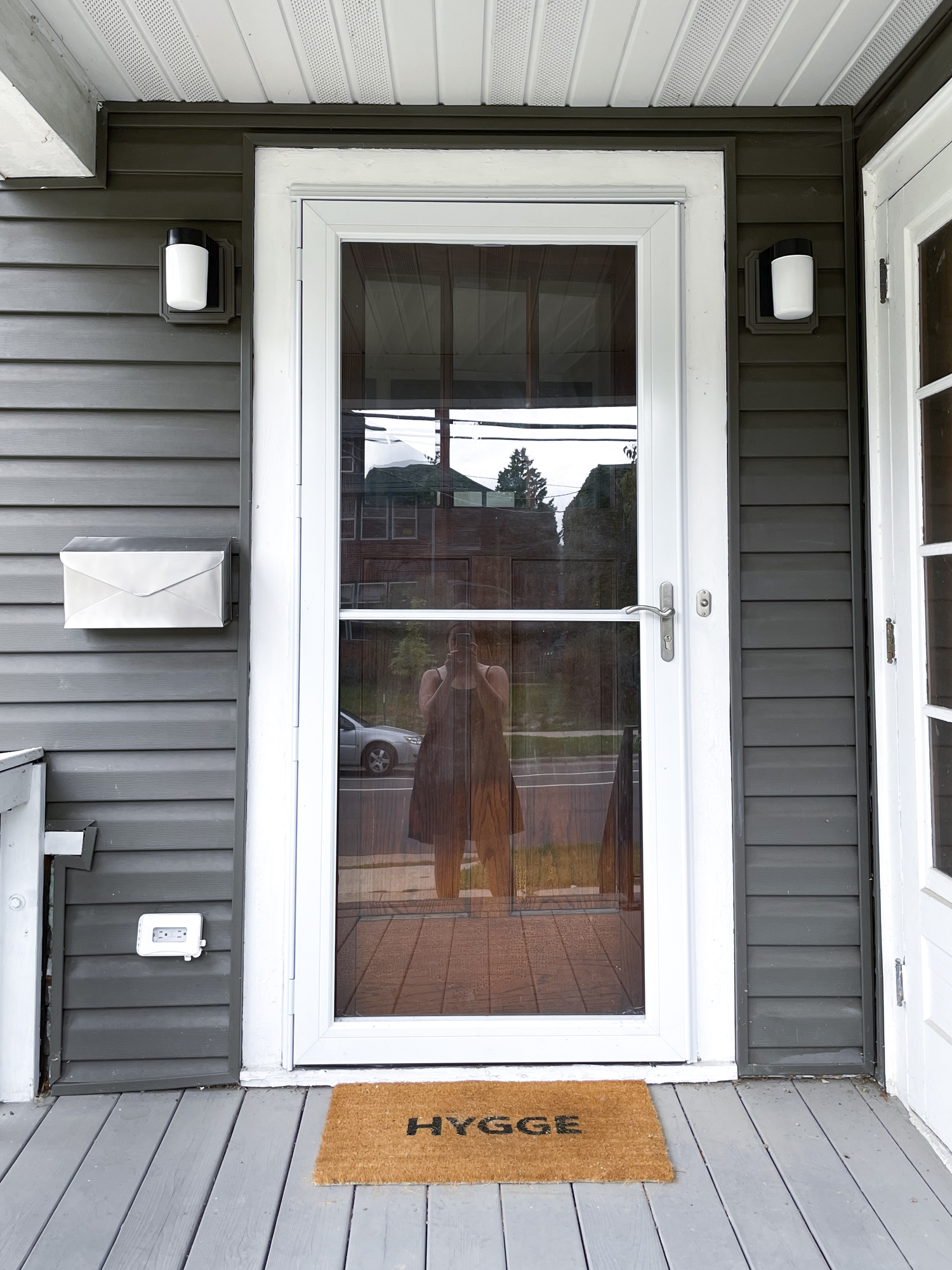 I feel a little embarrassed posting this photo since our house is in desperate need of a power wash — but, I like documenting our progress. So, today's post is about the small-but-necessary updates we've made to our front porch recently: new sconces and an outdoor outlet!
The outdoor outlet is definitely an eyesore, but it's a small price to pay to be able to hang Christmas lights outside. I had been using these socket adapters with our old sconces and they're great in a pinch, but an outdoor outlet is really a necessary upgrade. We have an outlet on the interior side of this wall in the same spot, making it the easiest placement for the outlet. I would have preferred to have it less obvious, but it doesn't really bother me that much. I'll put a potted plant in front of it next year.
The more exciting change was swapping out the old sconces. As a reminder, this is what we were starting with: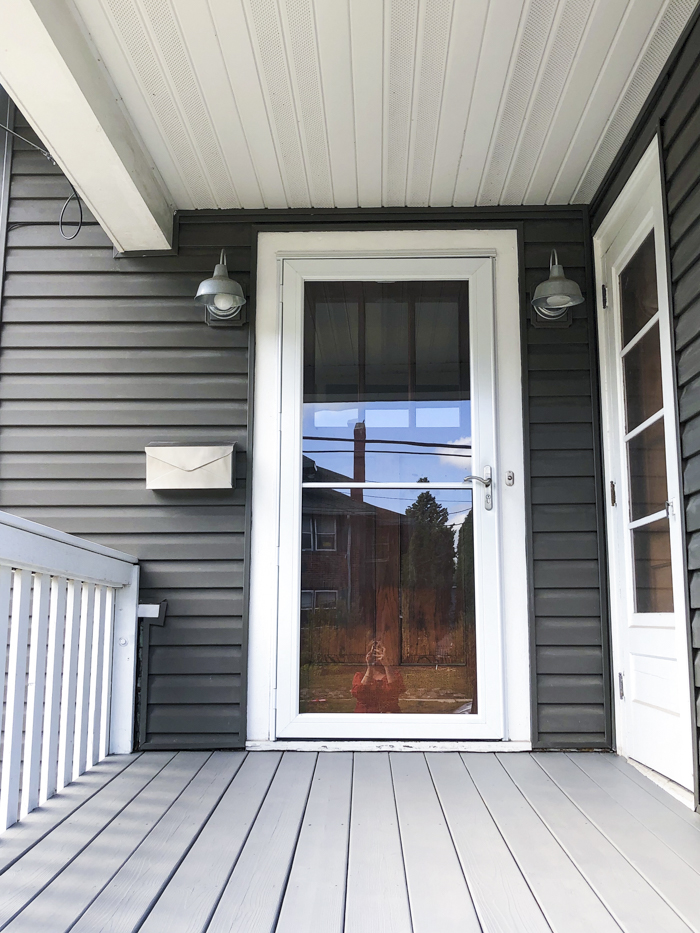 I don't mind the farmhouse shape of those sconces, but they didn't work with our aesthetic. Beyond that, they were flimsy and were starting to rust. (I don't know about you, but rusting electrical fixtures don't give me peace of mind.) You'll also notice that the canopy is circular and the siding trim behind it is a rectangle. There's an overhang, so I don't think much moisture made its way in, but it was a haven for insects. We had a hornet nest under the one on the right, which was thankfully abandoned when we took down the fixture.
My main priority for a new sconce was one with a rectangular canopy that would fit within the existing trim. I have the biggest crush on this sconce from Schoolhouse, but the canopy wouldn't work and, well, $300 per sconce simply isn't in our budget with an upcoming bathroom renovation. (We have two sconces in front and one over our back patio door.) I strongly considered this one from Rejuvenation, but after measuring the sconce plus the globe, I discovered that the top of the globe would be in line with the very top of the door and that seemed too high. I eventually came across these. Are they my favorite sconce? Not by any stretch of the imagination. However, the canopy was correct, the size was spot on, and the price at $40 each was enticing enough to place an order. I figured I could always return them if I hated them. They ended up being far better quality than I expected for the price. (It's also worth noting that we did not want a light with an integrated LED; we wanted to use our own smart bulbs to set the automation.)
Since I've done a lot of sconce-searching over the past few months, I thought I'd put together a roundup of outdoor sconces under $100: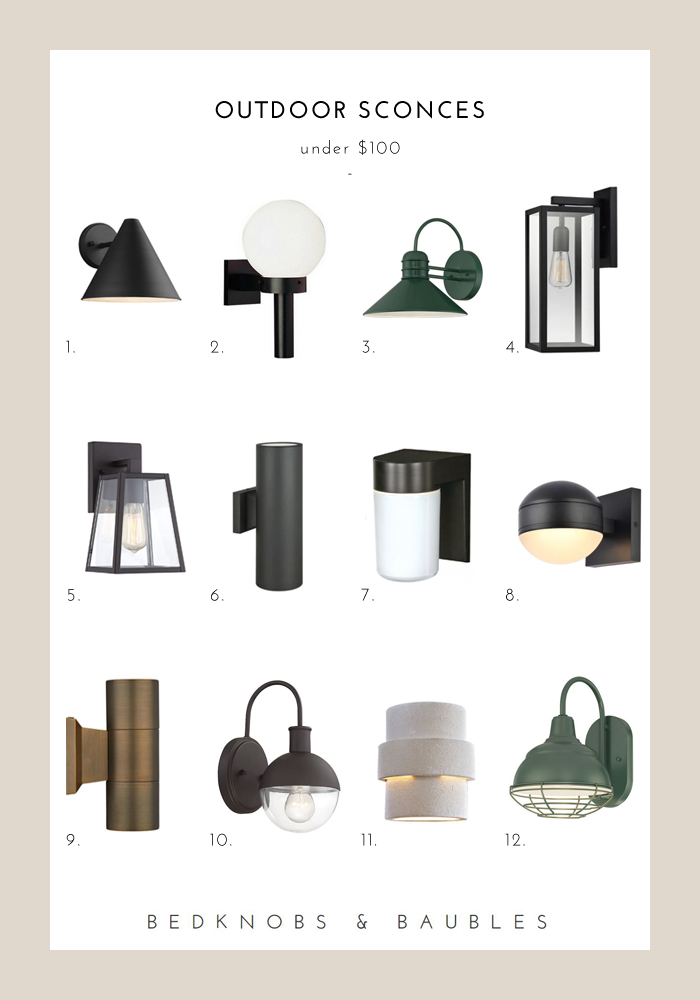 ONE | TWO | THREE | FOUR | FIVE | SIX | SEVEN | EIGHT | NINE | TEN | ELEVEN | TWELVE
–
Let's keep in touch!
Instagram / Facebook / Pinterest / Bloglovin'
This post contains affiliate links.