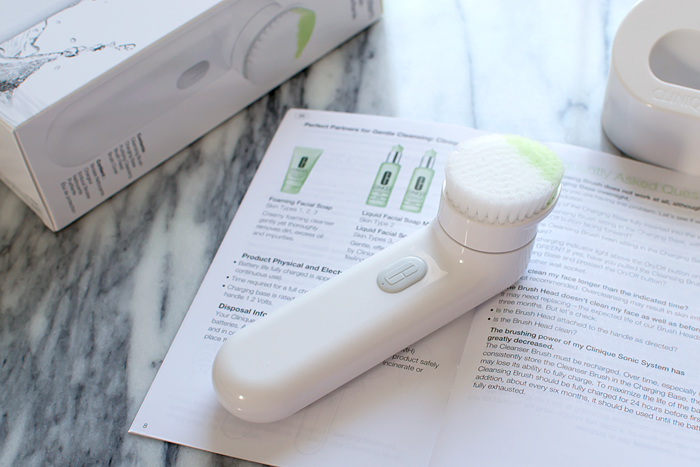 [dropcap custom_class="normal"]I[/dropcap]'ve been a fan of Clinique ever since high school when my aunt began giving me her gift-with-purchase samples. At the time, I didn't realize what a cult following the brand had until another aunt asked if she could snag the Black Honey Almost Lipstick samples first! As I've gotten older, I prefer the super saturated pigments of brands like MAC and Stila for makeup, but nothing beats Clinque's gentle skincare regimen. The Dramatically Different Moisturizing Lotion has been my preferred moisturizer for years and I've just recently discovered this miracle worker for blemishes. So, you can imagine how jazzed I was to receive the brand's new Sonic System Purifying Cleansing Brush as a Klout perk a few weeks ago. I've heard such great things about the Clarisonic system that I was elated to give this version a whirl.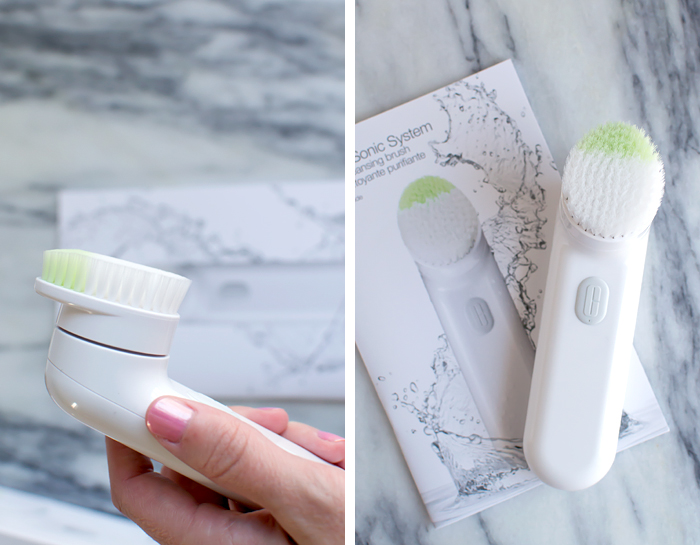 PROS:
My skin is incredibly dry in the winter and this exfoliated away all of the flakiness, leaving a smooth canvas for moisturizer. On a few occasions, I applied this mask right after using the cleansing brush. My skin felt incredibly supple the next morning.
It's waterproof and can be used in the shower.
The green bristles at the top are a little stiffer than the rest of the brush, allowing for a deep t-zone cleanse.
One charge lasts up to a week.
[spacer]
CONS:
I broke out after the first use. The instructions suggest starting out with a 30-second scrub and working your way up to a full minute. I opted to start strong right out of the gate and may have irritated my skin unnecessarily at first.
The brush automatically stops after 30 seconds to prevent draining the battery. It's not a big deal, but with a recommended cleansing time of 60 seconds, I did expect it to last a full minute. (Though, it is a nice feature if it gets jostled in a suitcase.)
[spacer]
VERDICT:
It's a more effective exfoliator than your standard-issue scrub and it left my skin completely makeup-free. I am a little nervous about the sensitive skin issue, but overall it's fun to use and feels luxurious. Give it a go if you're looking for an entry-level sonic cleansing brush.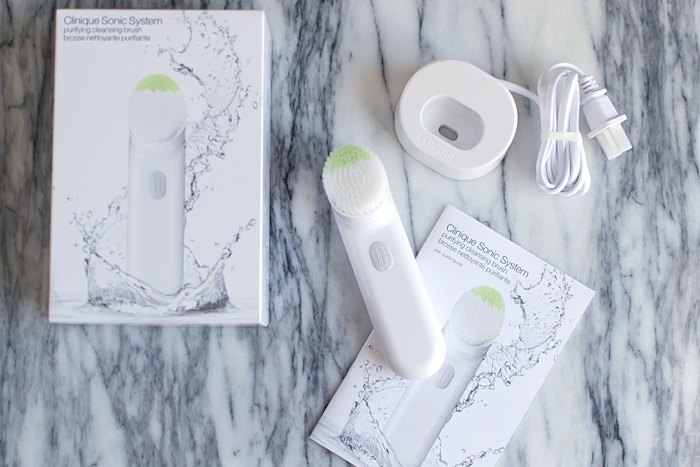 [spacer]
Disclosure: I received the Clinique cleansing brush free of charge through Klout. This does not influence my opinions of the product. Thank you for supporting the brands that support Bedknobs  & Baubles.