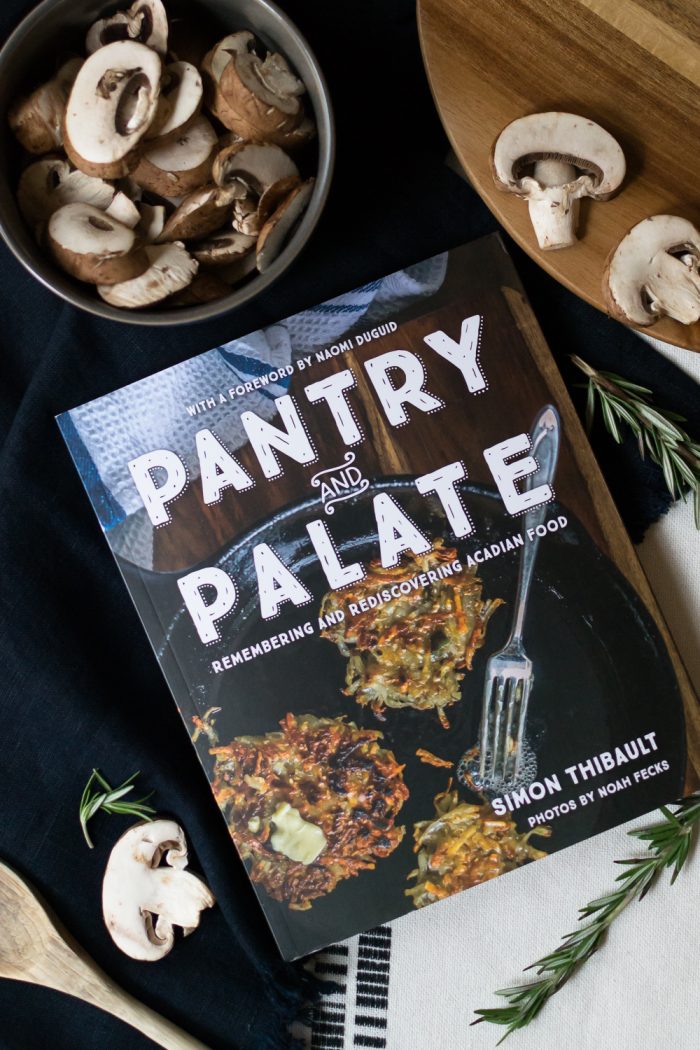 Once it starts getting cold outside, we're just as content spending time at home cooking as we are heading out to one of our favorite restaurants — and on those coldest days, few things are better than cozying up inside with music playing as we mix up cocktails and try out a new recipe together. I tend to add a new cookbook to our collection each year to keep things fresh, so I was especially excited to receive a review copy of Pantry and Palate last month. Pantry and Palate focuses on the culinary traditions of the Acadians, the descendents of French colonists who settled in Canada's maritime regions, through journalist Simon Thibault's exploration of old family recipes, vintage cookbooks, and folk wisdom. "Comfort cooking at its finest" is probably the best way to describe the hearty meals within, but the cookbook is more than that. Thibault's notations throughout the book share the history and tradition of the region — and the recipes themselves — adding a welcome dose of soul to Pantry and Palate.
I was able to share two recipes from the collection with you: rhubarb conserves and du bon pain blanc (or, "good white bread"). I haven't made either yet, but I thought you'd love having these on hand for the upcoming holiday season.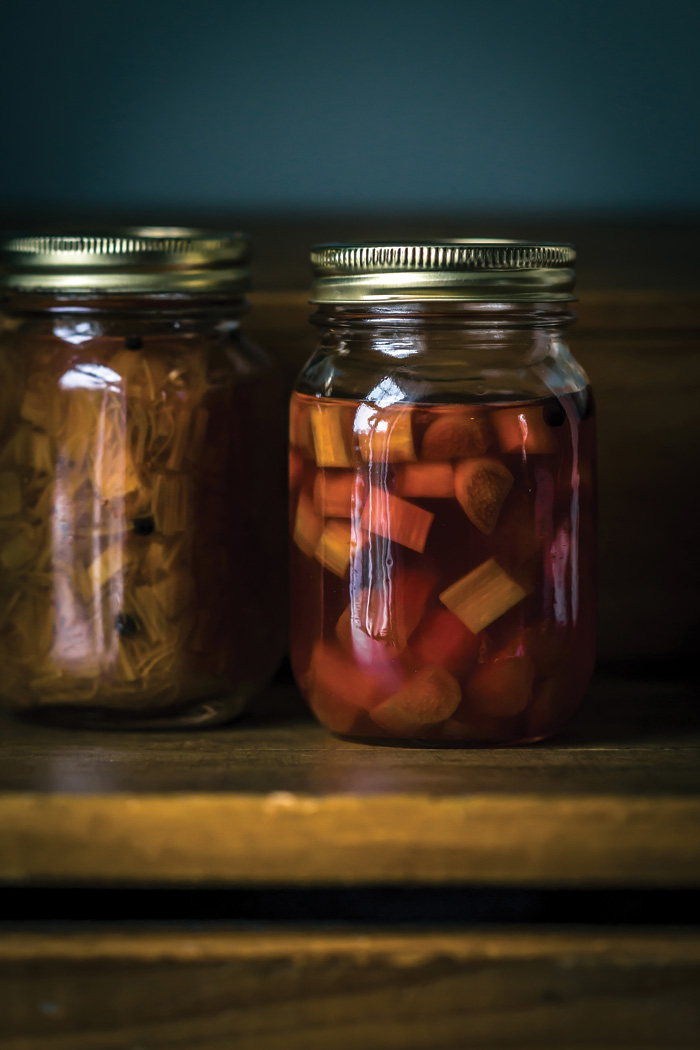 RECIPE | RHUBARB CONSERVES
Makes 4–6 ( 500ml ) Bottles
From the Author
The initials "BL"were written next to this recipe. I'm not sure who "BL"is, but I would like to thank her very much for this recipe. "Soak overnight 2 quarts rhubarb and sugar,"it asks. There were no instructions for how and when to use the citrus, which is used to add pectin to the preserves. I decided to zest and juice the lemon and orange, and then let them macerate along with the rest of the fruit. I'm glad I did, as the smell in the morning was enough of a pick-me-up that I forgot to make coffee. I put the rhubarb straight into a pot to slowly simmer over a couple hours, reducing and thickening it into a tart/sweet jumble that smelled like a cross between poached rhubarb and marmalade. Midway through the cooking, I had a taste, and I may or may not have done a little dance. A note (or two): The original recipe asks for 1 to 2 quarts of sugar. I only used one, as I found it sweet enough. Once the rhubarb starts cooking down, give it a taste. If you think it can handle a bit more sugar, add a 1/4 cup or so, until it gets to the taste you're looking for. And even though it's not traditional, a vanilla bean that has been split in half and scraped of its seeds never hurt anyone. When it comes to the citrus fruits, you may want to place them in cheesecloth before you add them into the pot for cooking. It makes it easier if you wish to remove them from the preserves. I keep mine in as I like the slightly bitter taste I get from them.
Ingredients
2 pounds rhubarb, washed and rinsed
1 lemon
2 oranges
1 pound sugar
Instructions
Cut the rhubarb into 1-inch pieces. Place in a large bowl.
Wash the oranges under warm water, and pat dry. Zest the citrus directly into the bowl with the rhubarb.
Cut the oranges and lemon in half, and juice them, adding the juice to the rhubarb.
Add the sugar and the spent citrus halves, and stir well. Place in fridge.and allow to macerate overnight.
The next day place the ingredients from the bowl into a large pot, and turn the heat to medium-low. You will want to bring the rhubarb up to a gentle simmer, making sure to stir often so as not to scorch the sugar or the fruit. Make sure to skim off any scum that rises to the surface.
Once it's been brought up to a simmer, reduce the heat to medium-low,and stir every 8–10 minutes or so. This helps reduce the amount of liquid, as well as any possible chances of scorching.
Keep cooking until the rhubarb thickens and reduces slightly, about 90 minutes or so. If you find yourself worrying about it scorching, simply reduce the heat further. It won't hurt, and if anything will allow the liquid to reduce and the flavour to improve.
Remove the orange and lemon segments if desired and pour the contents into a container.
Serve on toast, over ice cream, with yogurt, or whatever your heart desires.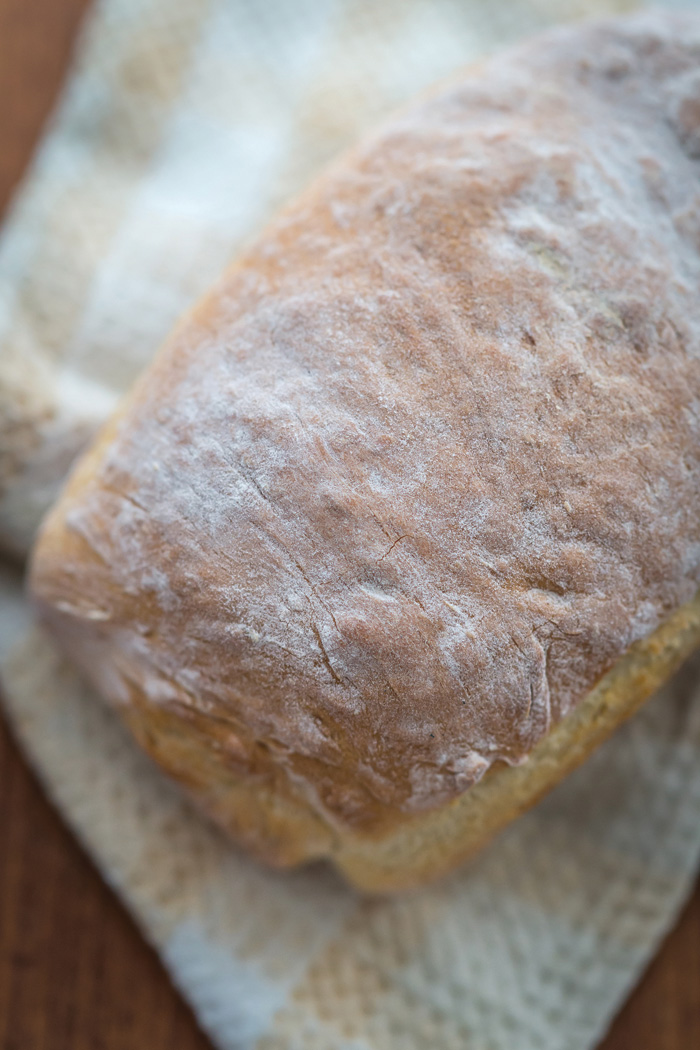 RECIPE | DU BON PAIN BLANC/GOOD WHITE BREAD
Makes 1 Loaf
From the Author
"Du bon pain blanc" is the headnote I find in Rosalie's notebook. This bread recipe is one of the few that asks for packages of yeast, something that would have been relatively new for a baker of her era. All of her other recipes called for cakes of yeast, which were much more common at the time. The recipe also calls for milk, buttermilk, and sugar, which would enrich the bread's flavour and extend its shelf life. This enriched white bread reminds me slightly of an eggless challah, or even French pain au lait. It's a great white bread to eat on its own, as toast, and, perhaps best of all, cut into slices and left out to dry overnight for pain perdu, also known as French toast.
Ingredients
1 1/2 cups milk

1/2 cup buttermilk

2 tablespoons sugar

2 tablespoons shortening

2 1/2 teaspoons yeast

1/2 cup water, room temperature

1 teaspoon salt

6 cups flour, sifted
Instructions
In a saucepan, warm the milk and buttermilk to a gentle simmer.
Remove the milk from the heat and add the sugar and shortening. Stir to dissolve the sugar.
Dissolve the yeast in the room-temperature water.
Add 1 cup of flour into the milk mixture and blend to make a smooth batter.
Add the salt and yeast water to the batter, and mix thoroughly.
Add rest of flour, 1 cup at a time, until the dough forms a ball and unsticks from the sides of the bowl.
With flour-dusted hands, gather the dough into a large ball, and begin to knead the dough on a well-floured surface, adding flour as you go.
Place the dough in a clean bowl, cover it, and allow it to rest until doubled in size, about 1 1/2 to 2 hours.
Remove the dough from the bowl. Place on a well-floured surface and knead briefly.
Roll the dough into a log, and place in a greased and floured loaf pan.
Cover, and allow to rise for 1 hour.
Preheat your oven to 400̊ F. Place the bread into the oven and bake for 1 hour.
Remove the bread from the oven and remove from pans. The bread should sound hollow when tapped on the bottom. If not, return to oven for 10 minutes.
Allow the bread to cool for at least 1 hour before cutting into it.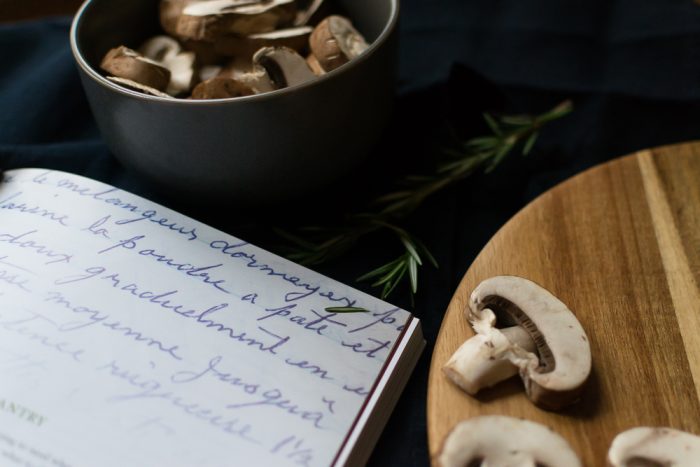 Pantry and Palate by Simon Thibault | Target runner (the print is also available in placemats) | Target bowls | Target serving board (similar here and here) | Saint Linen towels

***
Excerpted from Pantry and Palate by Simon Thibault © 2017, Recipe text by Simon Thibault. ©2017, Recipe photographs by Noah Fecks. All rights reserved. Published by Nimbus Publishing