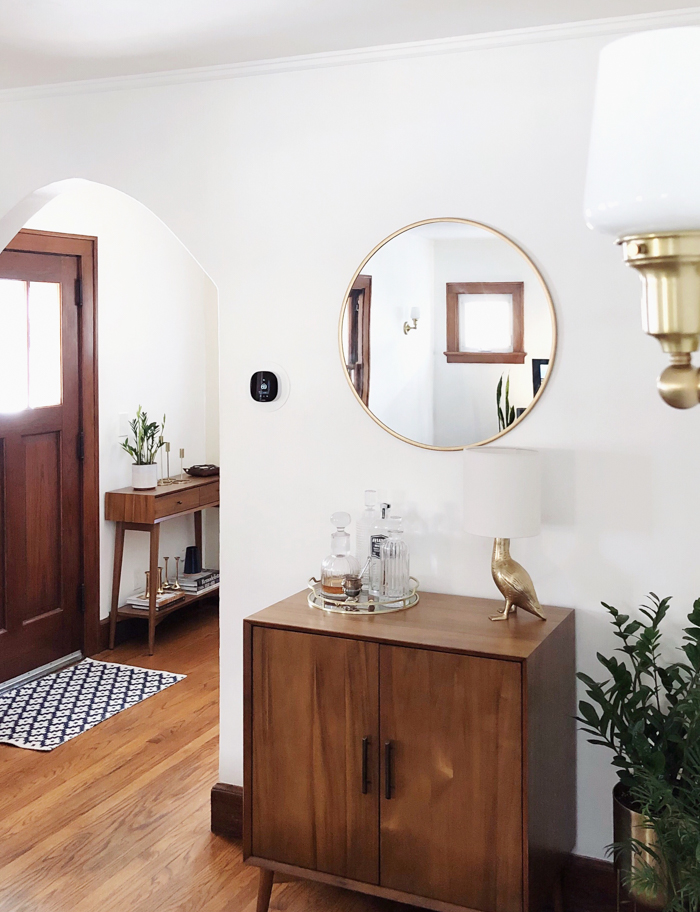 Sometimes I get pangs of jealousy when I look at home bloggers like Chris Loves Julia who dive into their house projects and seem to make major transformations in such a small amount of time. And then I remind myself that it's their job. For most of us, house projects have to be balanced with occupations, vacations, social schedules, and monetary commitments — all of which hinder the grandiose plans of a remodel or a fully decorated place on a short timeline.
I was completely naive to this when we closed on our house summer of 2017 and thought we'd be living in a near-complete home by now. That's not even close to reality! It is fun to look back, however, at the progress we have made like painting the wood paneling, having this built-in installed in to divide the "open-concept" bedrooms, and finally replacing the old storm door. So, in an effort to keep things moving along, I put together a list of things I'd like to complete in the next 180 days, listed out by month. Some are easy and won't take more than a weekend or two. Others are a bit more ambitious or pricey, but I tend to have more success when I hold myself accountable to a timeline. Here's what's on deck:
January
Finish removing paint from old door hardware.
Paint the door frames in the guest room.
Mount doors in the guest room.
Hire electrician for a couple of projects.
Choose stairwell paint color.
Hire painter to paint the stairwell in February/March.
Organize our beer collection in the basement and purchase wine racks for the corked bottles that need to stored on their sides.
Order materials samples for roller shades to install in the bedrooms.
February
Have our stairwell professionally painted. (We already got a quote for painting and plaster repair of some cracks in the space. It's $840, which is why we've put it off a bit. I wanted to do wallpaper, but that's going to be at least $1,000 in wallpaper alone and we're not planning to live here forever. It seems like a smarter decision to paint now and allocate money to other projects before something as indulgent as wallpaper.)
Install door for my closet. (Our carpenter has the door now to do restoration work on it, so it'll need to be painted before putting it up. This might be pushed back to March, depending on when he's done with it. I told him it wasn't a priority and can take a backseat to other projects he has.)
Replace the light fixture in our office.
Replace the light fixture in Dave's closet.
Purchase and install roller shades or drapes for the bedrooms and office.
Address our closet organization needs. Purchase systems that will optimize the spaces, and install by the end of March.
March
Install closet organization systems.
Fill in the guest room trim with vinyl spackling to hide the nail holes and joints.
Paint the guest room walls and trim.
Replace the door handle leading to our sun room with a vintage one (or replica) that coordinates with the rest of the house's hardware.
Mount exterior garage light. (We've had a solar-powered light to install since last year and haven't gotten around to it yet. Oops!)
April
Purchase and install new light fixture in the guest room.
Start seriously looking for dining room storage, whether it's a vintage sideboard, new credenza, or a even a modern ladder bookshelf.
Organize the basement.
Catch up on any projects that didn't get done in the first three months!
May
Stain front porch and deck — assuming we have enough days in a row that are warm and dry enough for it. (Considering this project also includes power washing and sanding, I think it's plenty for the month!)
Purchase planters and shade-tolerant plants to spruce up the front porch.
June
Budget bathroom refresh. (We were discussing our priorities for house renovations that we'll need to hire someone for and I think the front of the house and sun room will win out. So, in an effort to make the bathroom cuter than it is, I'm going to make cosmetic upgrades and swap out light fixtures, paint the cabinets and walls, install new hardware, and we might try replacing the linoleum flooring with a different design/color. I'm also toying with the idea of painting the tiles or staining the grout.)
I'll continue to work on sharing my progress with you with either project-based posts or monthly recaps!
–
Let's keep in touch!
Instagram / Facebook / Pinterest / Bloglovin'