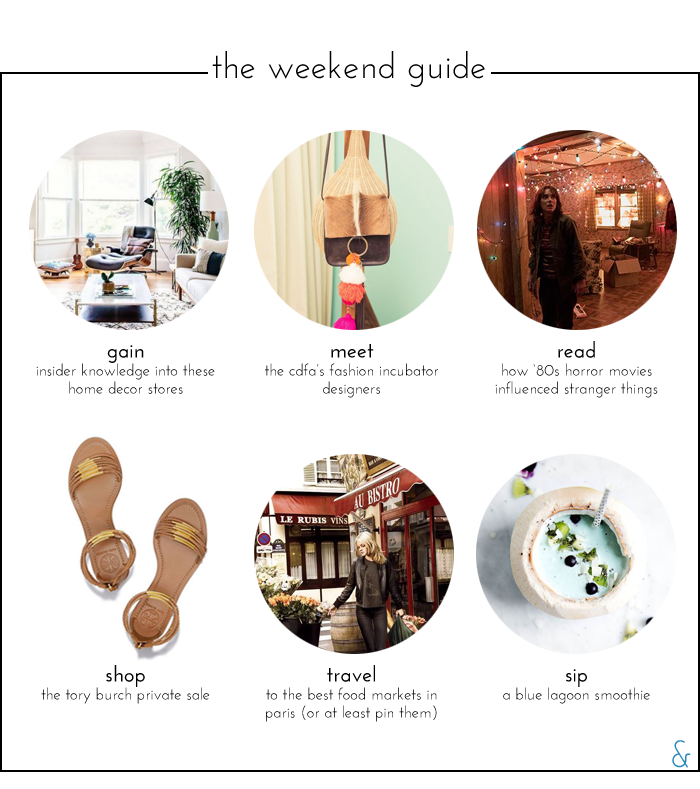 GAIN
Interior designers always have the inside scoop on the best places to scout out home decor. Here are seven shops to keep on your radar.
MEET
There's a new class of CDFA Fashion Incubator designers. Meet them here. (I can't pick a favorite!)
READ
Have you watched Stranger Things yet? We wrapped up the season last week. I didn't love it the way some people did, but still really enjoyed the season and its nod to '80s horror motifs.
SHOP
Tory Burch's Private Sale is coming to a close today. I picked up a merino wool knit cap topped with a fluffy fur pom pom. Whether we want to admit it or not, it'll be winter eventually. (How's that for pessimism?)
TRAVEL
I'm all about visiting local markets when I'm overseas, so I'm bookmarking this one if we ever find ourselves in Paris.
SIP
This is probably the prettiest smoothie I've ever seen and it's made with natural ingredients.
EARLIER THIS WEEK
Took part in a Clutter Cleanse Challenge.
Coveted more pre-fall pieces.
Wore a wooden watch.
Added a vintage snake necklace to my collection.
Floated away with this cutie.
Headed up north to visit my parents and will be attending the Tall Ships Festival in Duluth today!
PLUS, ENTER TO WIN!
There's still time to enter to win a travel atomizer from Travalo valued at $50!