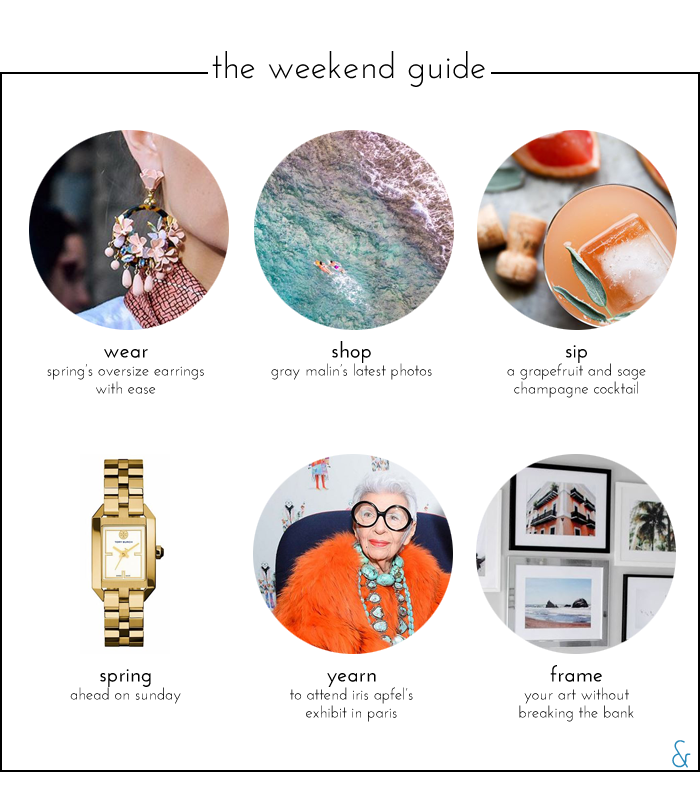 WEAR
Oversize earrings are by far my favorite trend this spring. In fact, I have these midnight blue earrings and this springlike pair on my wish list already. Here are three easy tips for nailing the look.
SHOP
If there's one person who gives me serious wanderlust, it's Gray Malin. His latest photos from St. Barths are stunning and I've already pre-ordered his upcoming book. When we close on a house, I'm definitely buying one of the larger prints for our new place. (We're putting the house hunt on the back burner for a month and will resume when we get back from our Europe trip.)
SIP
The weather has been incredible here in Wisconsin. We're dragging out the patio furniture this weekend for cocktails and board games in the fresh air. This grapefruit and sage champagne cocktail sounds like the perfect drink.
SPRING
Don't forget to set your watch ahead an hour this Sunday! Here are eight things you may not know about the ritual.
YEARN
If only I could be in Paris right now for Iris Apfel's exhibit.
FRAME
Five online companies are making it easier to frame your art without breaking the bank.
EARLIER THIS WEEK
It was another week filled with stressful days and sleepless nights. Our vacation can't come soon enough!
I wore a couple of fall favorites into spring.
Yearned for colorful items.
Enjoyed a cappuccino that went a bit overboard with the foam.
Bejeweled myself with a few old favorites.
Fell in love with a new nail polish. (Snag it here.)
Tried this recipe last night, which was good, but too indulgent to be a mainstay!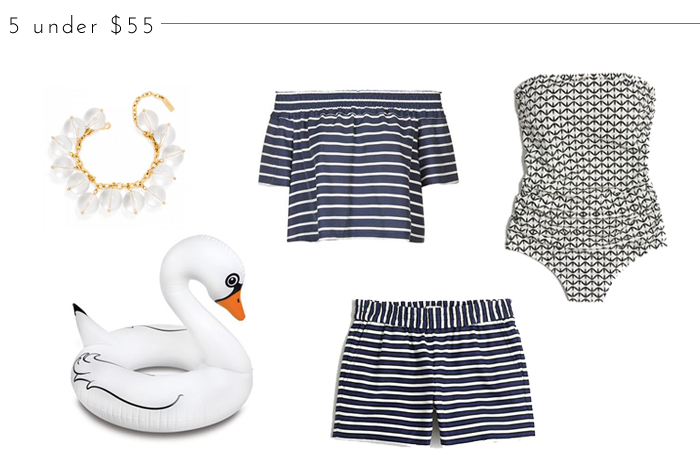 bracelet, $32 | top, $52 | swimsuit, $50.50 | pool float, $30 | shorts, $34.50