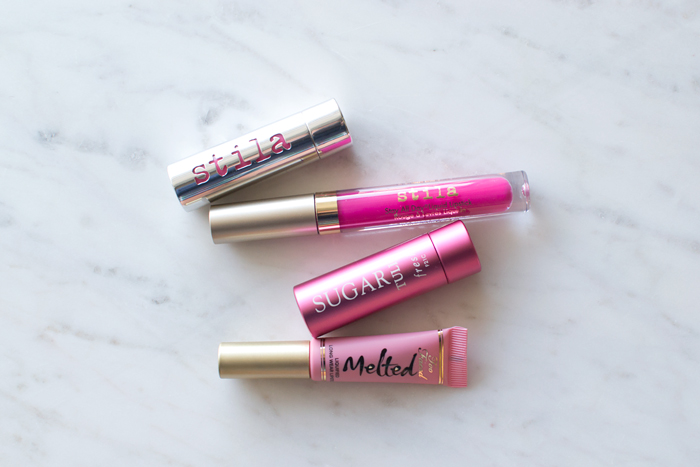 If you're a Sephora VIB member, it's the day you've been waiting for: 20% the entire site with code VIB20! I'm using this as an excuse to stock up on the lip color, face wash, and skincare essentials I'll eventually use next year. Unfortunately, though, I had placed a sizable order at the beauty retailer before knowing of the sale. So, I thought I'd share a few reviews:
Fresh Sugar Lip Treatment in Tulip: I'm now on my third tube of this pink-tinted lip balm. It adds a subtle hint of color while moisturizing your lips and giving you sun protection with SPF 15. Basically, it's better than ChapStick. I use this on days my lips are chapped from my drying, long-wear lipstick options.
Stila Stay All Day Liquid Lipstick in Bella: If you're looking for a long-wear lipstick that will withstand the food and drink of this winter's holiday soirees, you can't go wrong with Stila's liquid lipstick. It lives up to its claims and really does stay on all day. I wore the "Fiore" shade almost exclusively last year, but opted for "Bella" this time around. The pink shade is just a tad brighter. One word of warning: it's very drying. I always slather on Vaseline at night to counteract it and wear the aforementioned Fresh lip balm the following day if it's really bad. Normally, though, I can wear this each day to work without experiencing much chapping.
Stila Color Balm Lipstick in Betsey: This has the same vibrant, long-lasting color as the all-day liquid lipstick without the severe dryness. There's even a mirror on the top of the tube to make easy to reapply on the go. The "Bestsey" version is a delightful Barbie-esque pink.
Too Faced Melted Liquified Long Wear Lipstick in Melted Peony: To say I was excited about this deluxe sample would be a bit of an understatement. I've been itching to try the Melted product for a long time, but never pulled the trigger because I love my Stila products so much and didn't want to waste money on another lip color I barely used. The name also makes it sound sticky. (I'm not the only one with memories of long hair getting stuck to sticky gloss, right?) Well, it's not sticky. The formula is actually quite smooth and long-lasting. The peony color doesn't work well on me. I'm too fair-skinned, but I bet it's gorgeous on someone with a darker complexion. The only drawback is that the fragrance is a little strong. I'd prefer if my lips didn't smell like candy.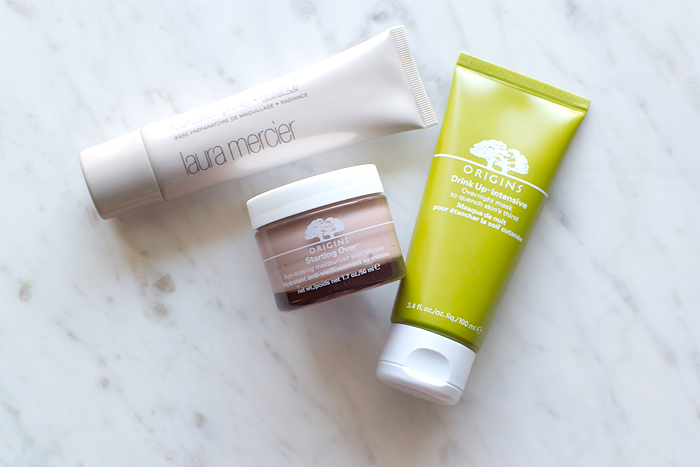 Laura Mercier Foundation Primer in Radiance: Skip it. This is the first beauty product in a long time that I regret purchasing. I bought it on a whim, hoping to find a cheaper alternative to the Smashbox primer I usually buy. It goes on a little stickier than the Smashbox version and doesn't offer as smooth of a foundation base. While it sort of delivers on the promise of a radiant glow, the Benefit Watt's Up highlighter is so much better. Unfortunately, I bought the large 1.7 ounce size and I have a lot of product left to get through.
Origins Starting Over™ Age-Erasing Moisturizer with Mimosa: I've only been using this for a couple of weeks, so I'm not sure if it's actually doing anything. Like all Origins products I've tried, it doesn't aggravate my sensitive skin. It also smells fresh and citrusy. Let's put a pin in this review for another time.
Origins Drink Up™ Intensive Overnight Mask: I love, love, love this overnight mask. In addition to having sensitive skin, my face becomes awfully dry in the fall and winter. I've used this twice a week to keep my skin soft and supple. It goes on a bit thick, but absorbs into your skin overnight and doesn't cause breakouts. I'll definitely be repurchasing this.