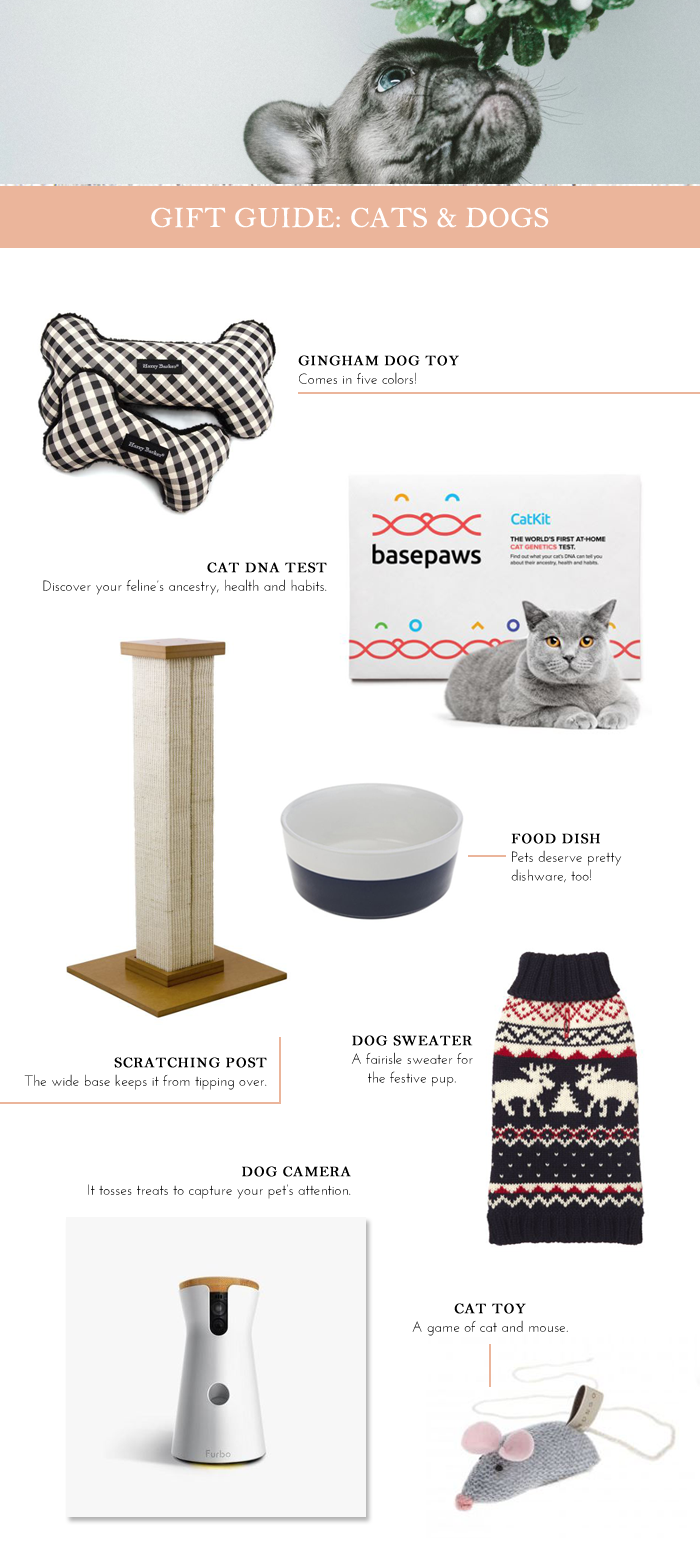 This gift guide is a perennial favorite of mine, even if it's also a guilty pleasure to scroll through some of the cutest and most unique items to gift our pets (or pet lovers) this year. It seems wildly indulgent at first blush, but a recent study cites that dog owners spend $1,285 a year on their pet, while cat owners spend $915 a year. Food and veterinary bills aside, I'm sure there's some wiggle room in the budget for a present for your most loyal companion. (Maybe even a piece of chic cat furniture?)
Gingham Dog Toy – I can't pass up an Instagram-friendly dog toy, especially when it comes in a selection of gingham colors to suit your decor.
Cat DNA Test – The ancestry trend has made its way to your furry friends! This cat-specific test offers insight into how closely your cat is related to select cat breeds and wildcats. The company will also offer insight into your pet's health and habits. There's also a version for dogs from another company.
Scratching Post – We have two of these scratching posts for Bacon. They're fairly aesthetically pleasing, as far as those things go, but the real benefit is the wide base that keeps it from tipping over.
Food Dish – Something that's sitting out all of the time should probably be pretty to look at.
Dog Sweater – I'm jealous of all of you small dog owners who can slip one of these cute sweaters onto your four-legged friend. I grew up with large dogs (a Gordon Setter and a Golden Retriever), and they would have looked ridiculous in a fairisle sweater.
Dog Camera – I can't be the only person who wants to creep on her pet when she's not home, right? (Please tell me I'm not alone…) This one will bribe your dog into a camera-ready pose with treats. It also has a two-way chat option that detects barking, allowing you to check in on an anxiety-ridden pooch.
Cat Toy – Sure, your cat will probably prefer the ribbons and boxes that the gifts come in, but this little mouse is too cute to pass up.
Pet custom Portraits Cherish you pets with custom pet portrait, add some personal touch to your home decoration. It's easy! All you need is to pick your favorite photo(s) and send to us, and we'll hand in the best piece of art to make you smile.
–
Check out hostess gifts here, and gifts under $25 here.
Let's keep in touch!  Instagram / Facebook / Pinterest / Bloglovin'