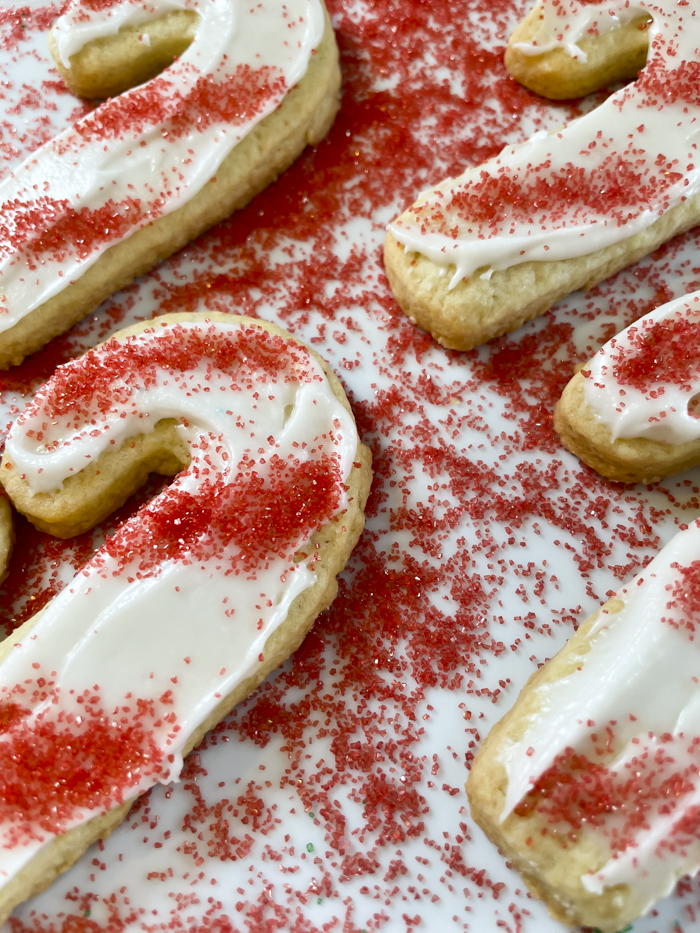 It never feels like Christmas until I've had my mom's sugar cookies. In a typical year (or even an atypical one like 2020!), I'll spend a couple of days working on these — baking them the first and decorating them the second — and it immediately puts me in the holiday spirit. Not only are these nostalgic for me as she's been making them my entire life (there's even a photo of me, no older than 2 years old, sitting at the kitchen table "helping" with them), they're hands-down the best sugar cookies I have ever had. And plenty of people agree with not-so-subtle hints to make them each year. So, as my holiday gift to you, enjoy my favorite family recipe. 🙂
If you make them, please let me know what you thought and tag me in any photos! And please don't hesitate to send me a DM on Instagram or leave a comment here if you have questions.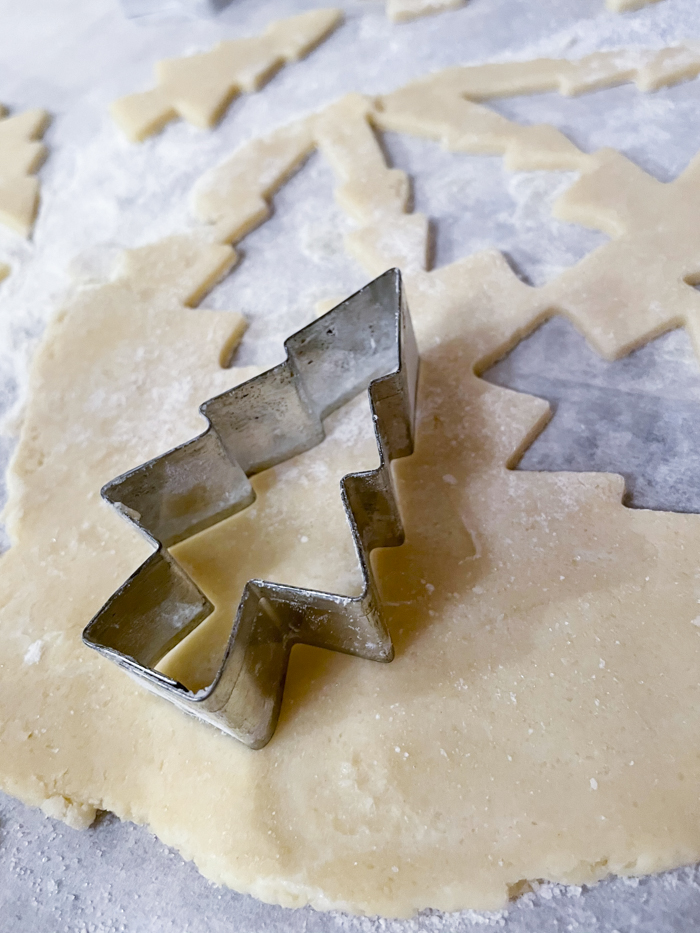 SUGAR COOKIES
Ingredients:
3 cups flour
1 tsp baking powder
1 tsp soda
1/2 tsp salt
1 cup butter (softened to room temperature)
2 eggs
2 tsp vanilla extract
1 cup sugar
Instructions:
(yields 4-5 dozen, depending on cookie cutter size)
Preheat oven to 350 degrees Fahrenheit.
Sift flour, baking powder, baking soda, and salt together.
Cut butter into the flour mixture. (I use a pastry cutter.)
In a separate bowl, combine the eggs, vanilla, and sugar.
Add the egg mixture to the dry ingredients. (While this probably isn't the best way to do it, I've always used a electric hand mixer to incorporate the ingredients and then I use my hands to bring it together into a ball.)
Working in small batches, roll out dough on a floured surface sprinkled with a 50/50 mixture of flour and sugar. (I do a half cup of each in a bowl nearby to sprinkle on top of the dough, my rolling pin, and the cookie cutters to keep everything from sticking.)
Bake for 9-12 minutes, or until the edges are golden brown. (I used this highly rated cookie sheet this year. By the time I was on my last batch and the sheet is piping hot, I've reduced the cooking time to about 8 minutes. If you prefer to chill your dough, adjust your cooking times accordingly.)
Cool on a wire rack.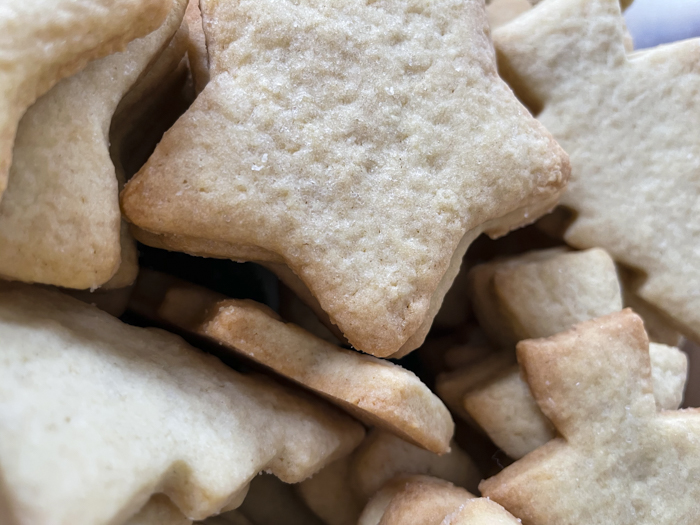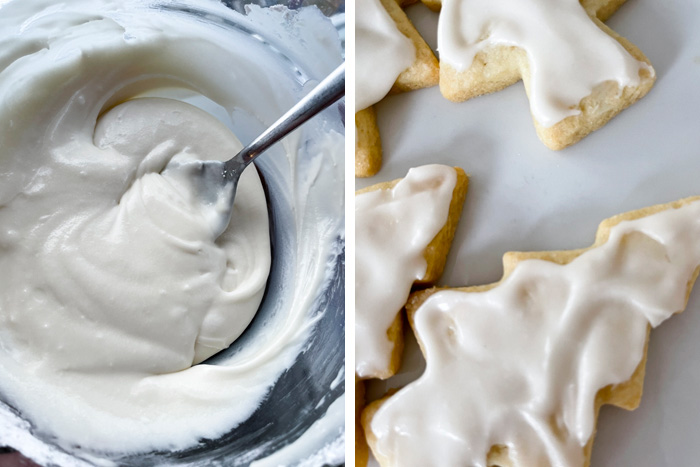 VANILLA FROSTING
Ingredients:
2-4 cups of powdered sugar
2 tbs butter (softened to room temperature)
1/2 tsp vanilla
splash of milk (or a dairy-free alternative)
Instructions:
Fair warning, this is going to be one of those annoying, adjust-it-as-you-go endeavors rather than being a hard-and-fast recipe. I didn't have any milk in the fridge this year and used almond milk, which turned out fine and didn't affect the color or flavor of the frosting.
Start with approximately 2 cups of powdered sugar in a bowl.
Add 2 tbs soft butter and 1/2 tsp vanilla.
Pour in a touch of milk (just a little at a time).
Stir together by hand. You'll want the consistency to be thick but still spreadable. If it seems too thick, add some milk. If it's too thin, go ahead and add more powdered sugar. I tend to add an additional cup of powdered sugar.
When you're frosting your cookies, work in batches between frosting and decorating. The frosting will never get hard per se, but it will stiffen up where the sprinkles will no longer stick.
Let your cookies sit out until the frosting is set and then store them in an airtight container.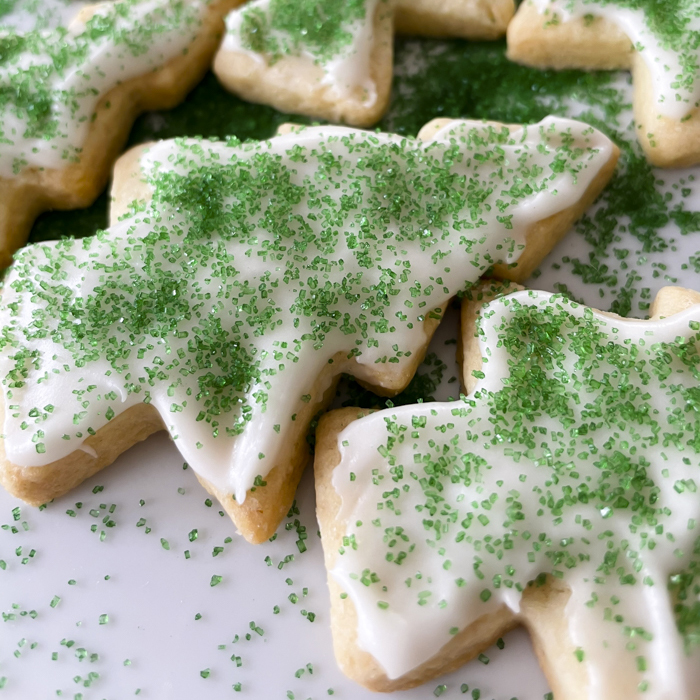 –
Let's keep in touch!
Instagram / Facebook / Pinterest / Bloglovin'
This post contains affiliate links.