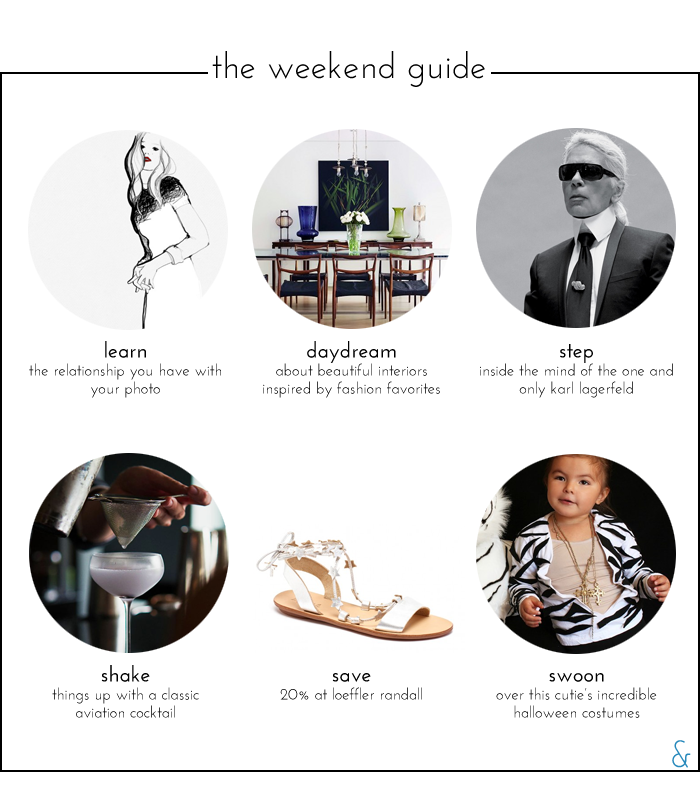 LEARN
In an increasingly digital — and photo heavy — age, there's immense pressure to always work our best angles. There's nothing wrong with that, as Garance Doré points out, but there's also more to life.
DAYDREAM
We're starting to look at houses, which is as nerve-wracking and intimidating as it is exciting! We actually found a small '50s home that had been completely renovated. I'm crazy about it, but it doesn't have a place to eat, aside from a tiny "eat-in kitchen" area that wouldn't fit four adults. And, it really bothers me. It's also $50,000 over what I wanted to spend. In the meantime, I'm stashing money away for the big day and daydreaming about home decor. I'm loving this inspiration post.
STEP
The New York Times goes inside the mind of Karl Lagerfeld.
SHAKE
Classic cocktails are long overdue for a comeback. Toss four ingredients into a shaker this weekend and take flight with an aviation.
SAVE
Loeffler Randall's Friends & Family Sale is in full force (use code SQUADGOALS). I've wanted these star-studded sandals for years. Silver is the only color remaining in my size and I had my heart set on gold, so we'll see if these finally make their way to my closet.
SWOON
This three-year-old will put your Halloween costume to shame. (She should find a Choupette lookalike and go as Karl next year.)
NOTABLE SALES
20% off full-price clothing at Anthropologie.
25% off at Kate Spade's Friends & Family sale. (A fox hat is a reasonable purchase, right?)
Saks Fifth Avenue is offering 25% off most items and 20% off jewelry.
FIVE UNDER $55
EARLIER THIS WEEK
I've worn a windowpane mini dress on repeat. (Seriously, three times this week…)
This post skewed a bit Alice in Wonderland, but I like it.
A necklace that's as versatile as a LBD.
Couldn't pass up an opportunity to snap a photo on a cute floor.