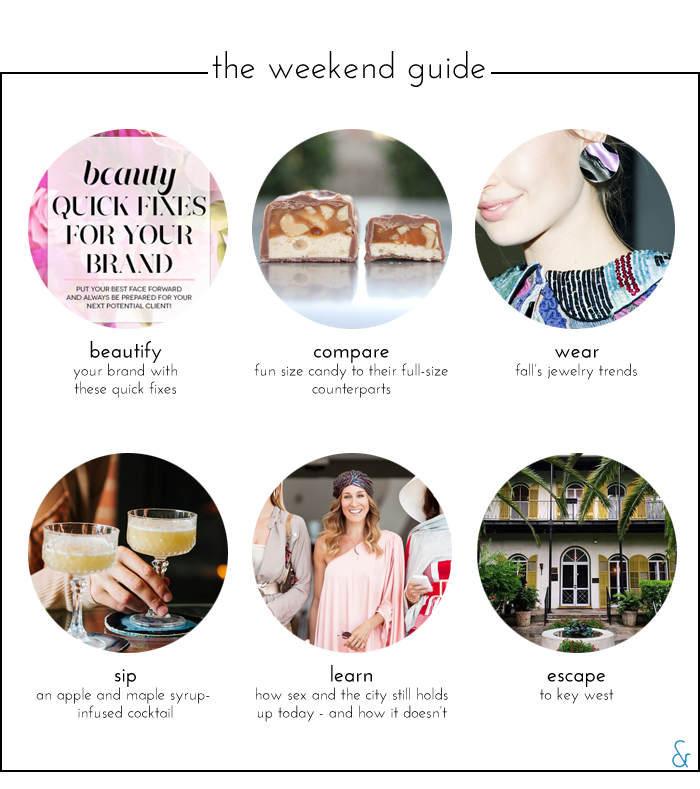 BEAUTIFY
Give your blog's brand a quick makeover with these easy fixes.
COMPARE
Now that Halloween candy is out in full force, you should read this comprehensive comparison guide to figure out which mini versions are better than their full-size counterparts.
WEAR
This season's jewelry goes big, bold, and sculptural. Find inspiration in this slideshow.
SIP
I'm instituting an at-home cocktail hour once the weather turns cold enough to keep us indoors after work on Fridays. This autumn cocktail with apple and maple syrup sounds like the perfect way to kickoff the budding tradition.
LEARN
The first episode of Sex and the City premiered 17 years ago. (Holy crap, right?) Here's how the series still holds up today — and how things have changed.
ESCAPE
Key West has never been on my list of must-visit places, until I came across this guide on Vogue.com.
FINDS UNDER $55

EARLIER THIS WEEK
A '70-inspired dress I can't stop wearing.
A beautiful, sweetly scented orange water candle.
The latest addition to my handbag collection.
A bit of plaid for fall.