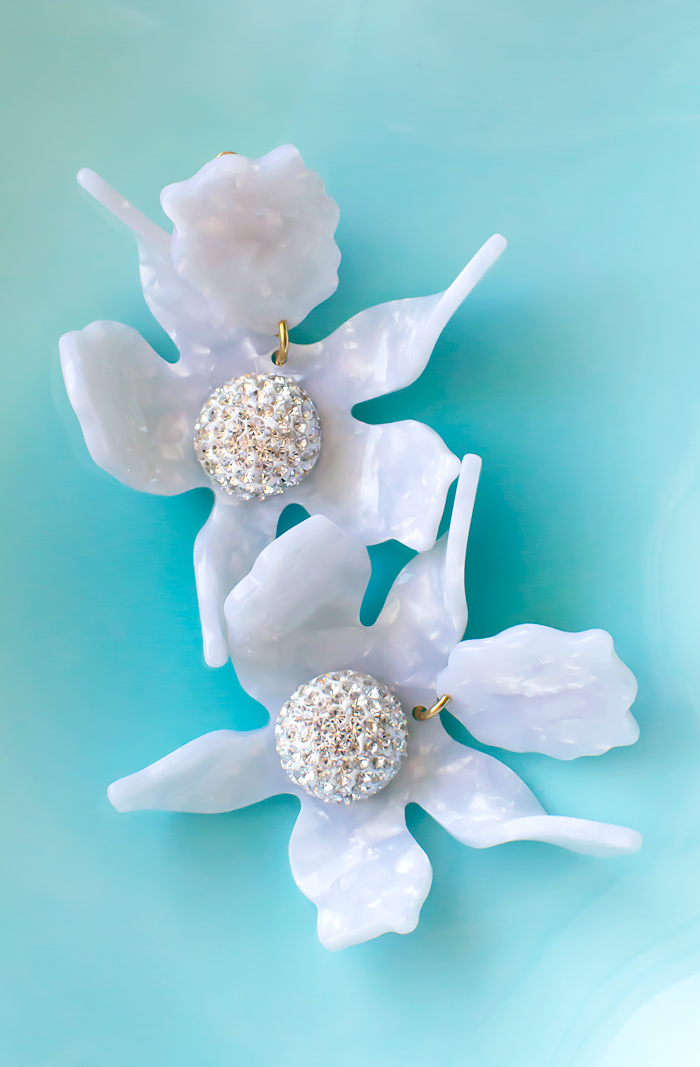 A few weeks ago, I added Lele Sadoughi's gorgeous Maraca necklace to my jewelry collection (it's still available here), so you can imagine how thrilled I was when the designer sent over the Crystal Lily earrings I had on my wish list since their debut. The earrings are absolutely stunning, as you'll see in the photos here and in a future outfit post, and I was curious to learn more about them. Below, you'll find insight into Lele's design process and the inspiration behind the luxe Peking Opera collection.
But first, here's a bit more about Lele Sadoughi from the designer herself:
"Launching the jewelry at J Crew and directing a team at Tory Burch were both amazing experiences.  I was fortunate to work for companies that liked my aesthetic and welcomed some risks that I took. I think the reason that J Crew jewelry has been such a success is because what I like and what J Crew represents was a good combination. With my line, I am able to design for the girl that wants to stand out and is not afraid to wear something that might elicit a conversation.  Working for large brands, you always begin with the fabrics and prints because the mills have the longest lead time.  Therefore, I started with colors, textures, and prints.   I like to think I learned about the big picture; about a feeling and a mood.  Once you research a world with a specific mood, time, and place, the pieces are easier to design. I love to have a theme and story for each season. Now, I am able to create my own storyboards and really initiate the concept for each season.
"My family just moved into a 6 story townhouse in West Chelsea and we moved our offices to the top floor. It is very sun filled and calm, and just high enough to be separated from the kids downstairs. With a 1 year old and 3 year old at home, I am so fortunate to get work done and run downstairs to have lunch with my kids. I can schedule meetings with an hour break in between to make time to run out to the park. My days are very different. Sometimes I take my son to school and start work around noon. Other days, I start with a meeting or press appointment and do not make it downstairs until the afternoon."
Lele was also very kind to extend a 20% discount to Bedknobs & Baubles readers. Head to Lele Sadoughi's website and use code BEDKNOBSANDBAUBLES to take 20% off of everything — including sale items! Then come back and let me know what you bought! 
Psst…if you love the Lily earrings as much as I do, snag them for nearly half off at Bloomingdale's right now. They're on sale and you'll save an extra 25% with code FRIENDS through April 10. (Thanks to Jenn for the hot tip during our conversation on this post yesterday!)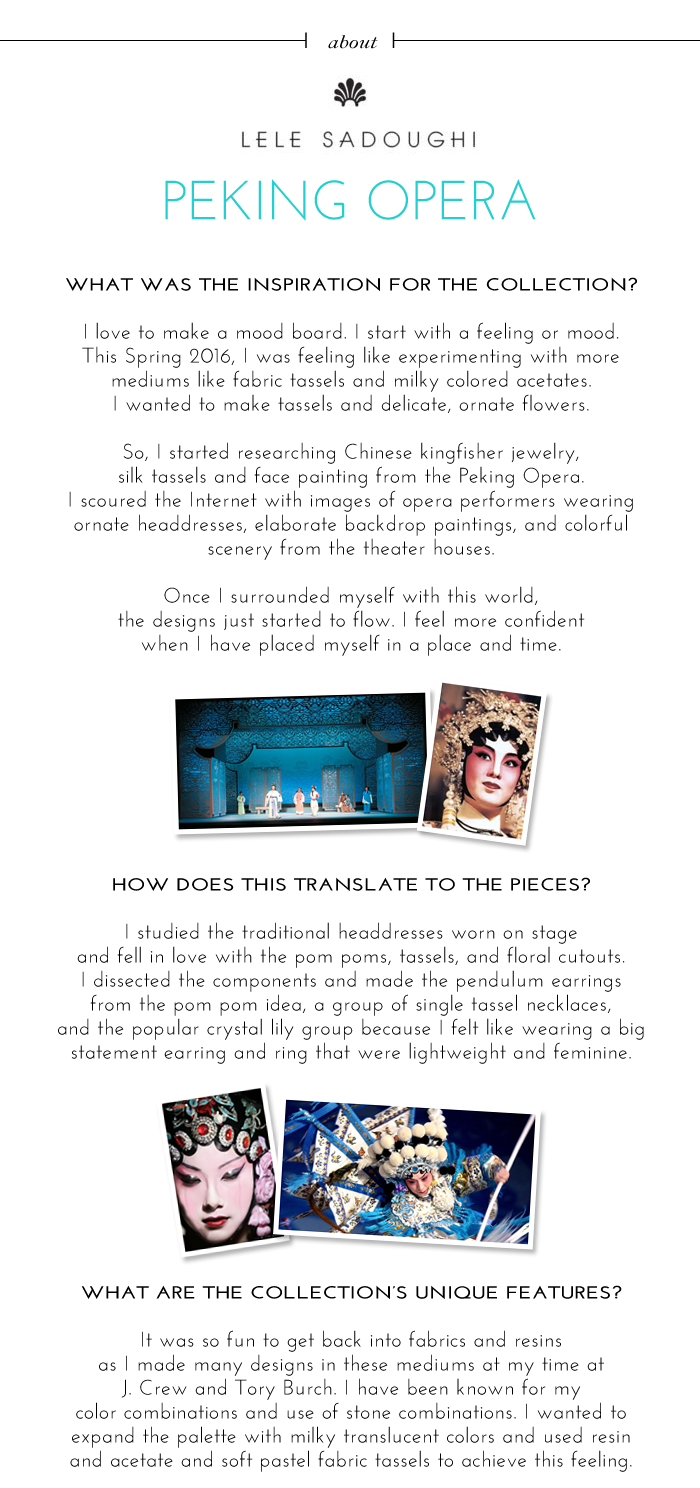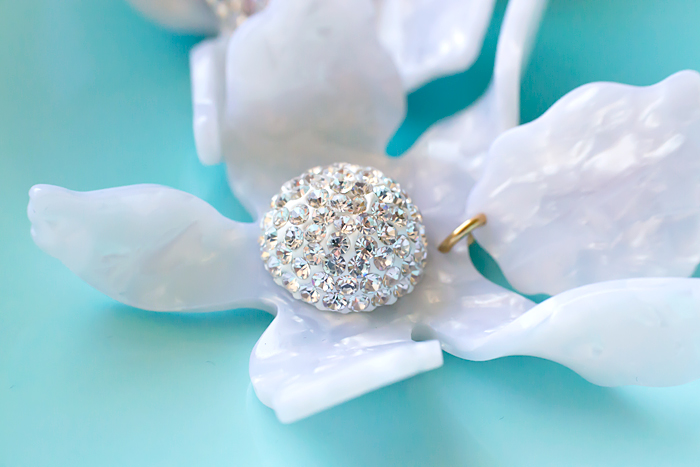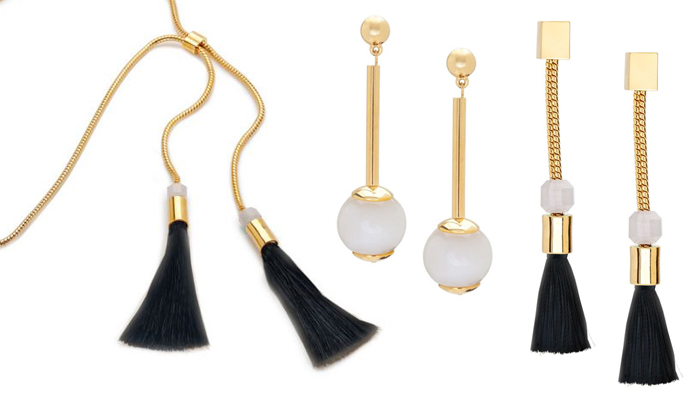 Straw Tassel necklace | Pendulum earrings | Straw Tassel earrings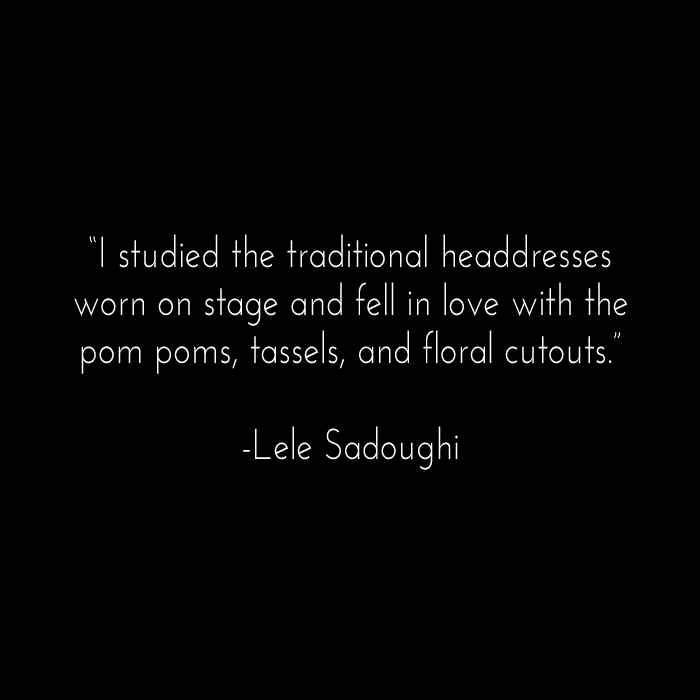 Hand Fan Charm necklace | Peking Headdress earrings (next on my list!) | Golden Pagoda necklace