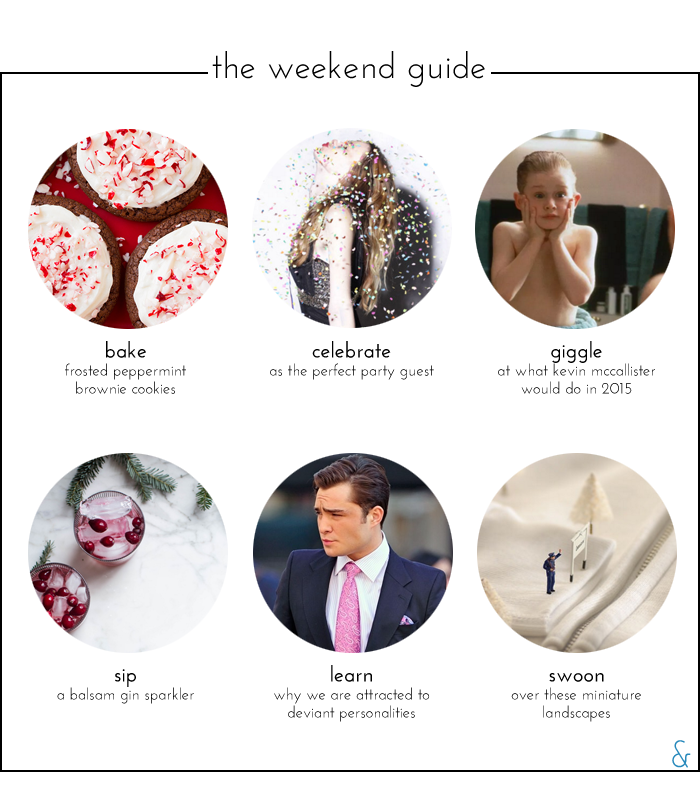 BAKE
These peppermint brownie cookies look amazing! If you'd rather bake something with fewer steps, try these peppermint crinkle cookies. I made them a half dozen times last year! (Just mentioning the link makes me want to pop a batch in the oven when we get back from Chicago.)
CELEBRATE
As many of you know, I'm an event planner by day. Rule number one on this list is a must! You'd be surprised by how many people wait to RSVP.
GIGGLE
From crowdsourcing to man buns, here's what Kevin McCallister would do if he was left Home Alone this year.
SIP
Ever wanted to make your own balsam simple syrup? Well, now's your chance! Kidding aside, this labor-intensive cocktail does sound like Christmas in a glass — and it's a unique way to put some of those wayward branches to good use. (Fortunately, balsam syrup will last for weeks tightly sealed in the fridge. Make a big batch now to have enough on hand when the mood strikes.)
LEARN
If anyone else had a crush on that Bass-hole, there's a good reason for it.
SWOON
Japanese artist Tatsuya Tanaka has created a mini diorama every day since 2011. Most involve a creative repurposing of everyday items, like a sweatshirt snow drift (above) or a potato desert.
FIVE UNDER $55


EARLIER THIS WEEK
We're in Chicago for the weekend! Follow along on Snapchat at bedknobsbaubles!
Here are a few gift ideas for the hostess on your shopping list.
Why I love Endless Eyewear.
I finally mixed two versions of my favorite print this season.
Shared my thoughts a recent Sephora order.
Bought the cutest wrapping paper at Target.
Ordered this dress with Anthro's 25% off dresses promotion.
FREE JEWELRY
There are only a few days left to enter to win a sterling silver necklace from Maps by A.Jaffe. You get to pick a sentimental location and mark it with a diamond! Good luck!