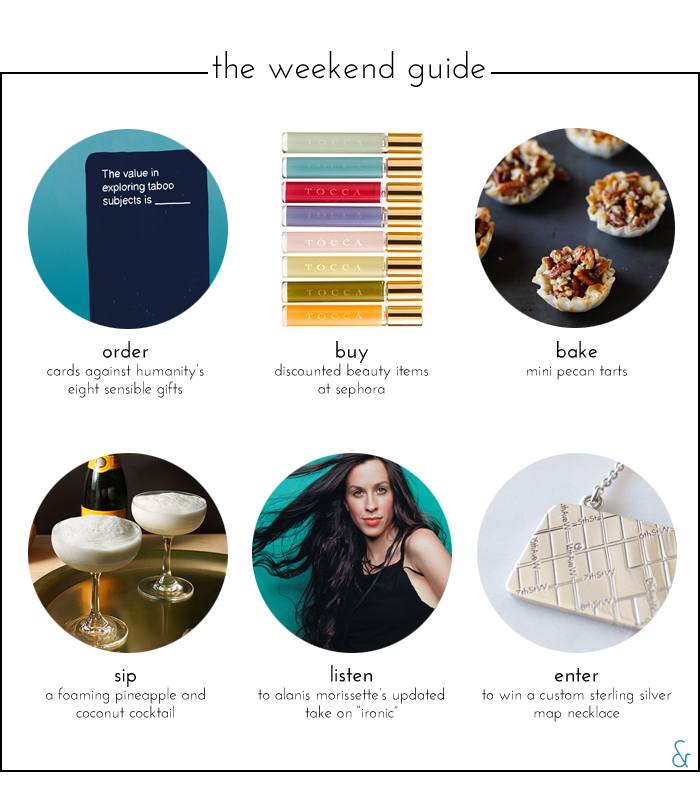 ORDER
Cards Against Humanity's holiday promotion is a far cry from last year's bullshit stunt. Order "Eight Sensible Gifts For Hanukkah" now.
BUY
Now through Monday, you can save 20% on your order at Sephora if you're one of their VIB members. It's a great time to stock up on skincare items (I swear by this), your go-to lipstick (mine), and gifts for the beauty buffs on your list (love this). Use code VIB20. I placed a larger order a couple of weeks ago before knowing of the sale. I'll share reviews of those items later today.
BAKE
How cute are these mini pecan tarts?! I have to bring an appetizer to a family gathering in a couple of weeks. Would it be wrong to bring dessert as a starter?
SIP
My office has year-round half-day Fridays, which basically means my 40 hours are in by the time 12:45 p.m. rolls around. I'd like to start greeting Dave with a cocktail when he comes home from work in the evening with "Cocktail Fridays." (How '50s housewife of me, right?) It's basically an excuse to try all of the amazing drink recipes I come across on Pinterest like this coconut pineapple concoction! (It also gives me more of a reason to push for a bar cart in 2016.)
LISTEN
Alanis Morissette updated the lyrics to her not-so-ironic hit.
ENTER
Have you entered to win a custom sterling silver map necklace by A.Jaffe yet? No? Here's the link.
FIVE UNDER $55


EARLIER THIS WEEK
I chatted with Julie Vos about the inspiration behind her latest collection.
Two gift guides are up! Browse ideas for the jewelry obsessed and the frequent flyer.
I'm giving you a chance to win a personalized map necklace.
A local antique store was in the holiday spirit.
I looked forward to an evening cocktail.
I borrowed amazingly glam Miu Miu sunglasses. (Details on how to try them yourself in the caption.)