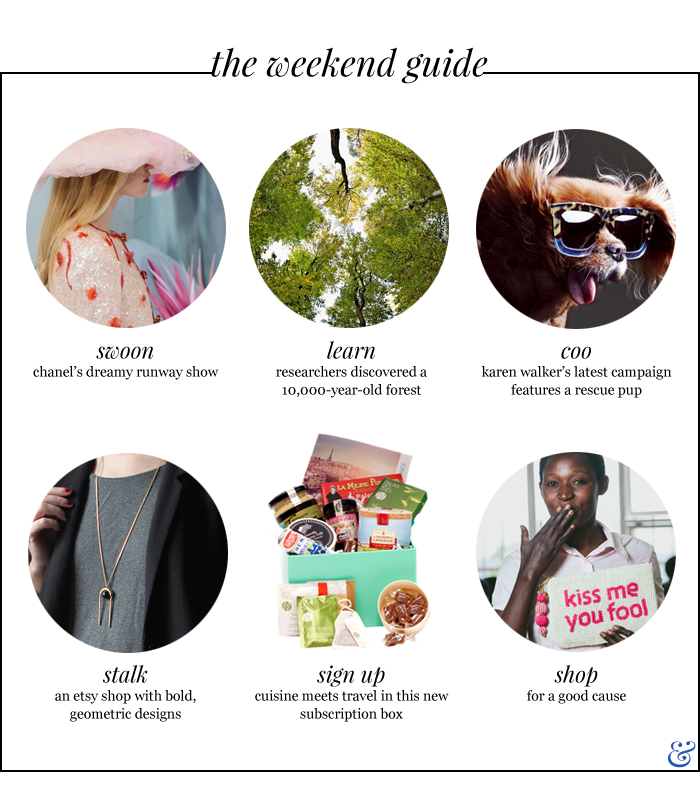 SWOON
As always, Chanel steals the show with its theatrics in Paris.
[spacer]
LEARN
I'm always amazed at how much we don't know about our own globe. A 10,000-year-old forest was recently discovered in the North Sea.
[spacer]
COO
Life just keeps getting rosier for Toast the Dog. Saved from a puppy mill and now the star of Karen Walker's new campaign?! (Would anyone like to cast Bacon the Cat in an editorial? It's time he earns his keep.)
[spacer]
STALK
If geometric jewelry is your thing, bookmark this Etsy shop.
[spacer]
SIGN UP
I think subscription boxes are kind of stupid and I never thought I'd sign up for one. And then I came across Try the World. Every other month, you'll receive a box filled with treats from a different city around the globe. My first box should arrive in a few weeks. Also intrigued? Sign up with my referral link to save $15 off your order. (You'll also be giving me a credit for their online shop. I promise to Instagram the global goodies with abandon as a thank you.)
[spacer]
SHOP
The cynic in me knows it's a marketing ploy, but I still love Kate Spade's "On Purpose" collection.
[spacer]
---
// additional image via //