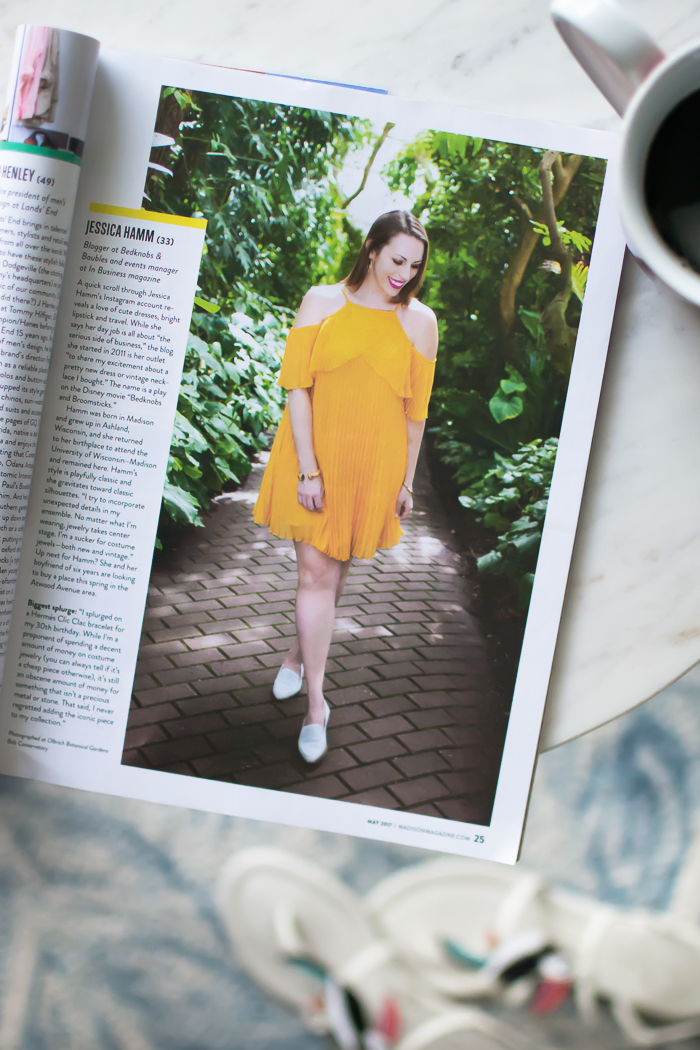 While I was working on this post this morning, Dave peeked over my shoulder and teased "Weekend Reading … about myself." He's so punchy in the morning! (::eye roll::) But yes, one of this week's highlights includes my feature in Madison Magazine this month as one of the city's most fashionable people. It was so flattering, but I really can't hold a candle to the others featured in the section! (And in retrospect, I wish I had went with sandals for the picture. It was a chilly day in early April when we shot these and while we were inside the humid botanical gardens, it didn't cross my mind to bring along warm-weather footwear!)
I house-hunting news, we have two properties to see today that have potential. One has been updated, but not to our tastes. (The bathroom is completely done in brown tile. It's something…) However, it has a lot of space that we can expand into and my favorite feature is an upstairs bedroom with a balcony overlooking the backyard. It looks like such a relaxing space to make into our office. The other house was built in 1929, in our ideal neighborhood, and not officially on the market yet. We haven't seen any interior photos and our real estate agent cautioned that it needs updates, but I'm still optimistic and it would be a relief to not have competing offers.
Weekend Reading:
ICYMI:
Breaking out a linen shirt in preparation for warmer temperatures.
Getting "nauti" with sailor-inspired picks. (I've been saying "ahoy" lately, so that sweater is a must when it goes on sale!)
Happy Mother's Day weekend!