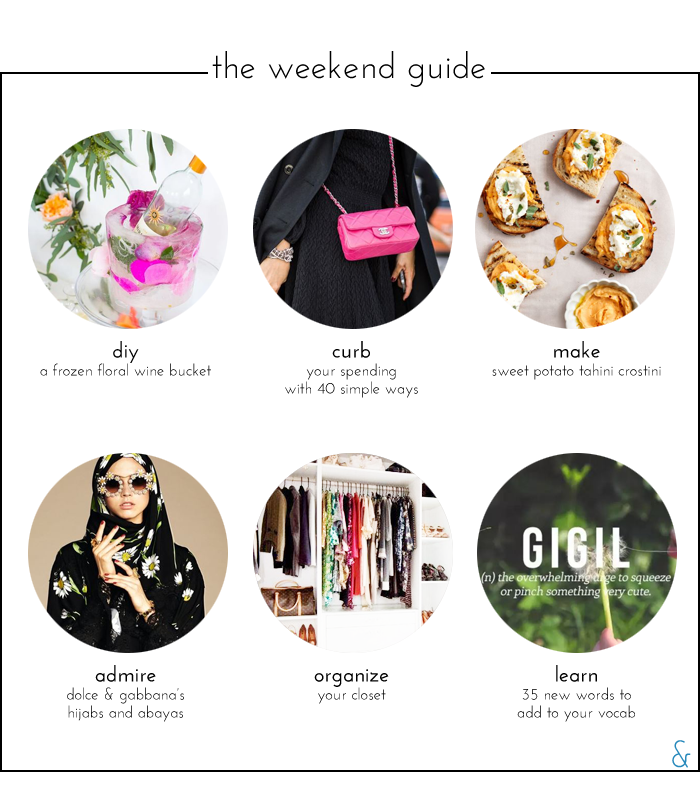 DIY
If you have any special occasions coming up this year, add this DIY to your Pinterest planning board. Flower petals suspended in ice make for a gorgeous wine bucket.
CURB
There's a good chance we're all trying to cut back on spending in 2016. Take a look at this guide for 40 simple ways to save.
MAKE
Sweet potato tahini crostini looks like the afternoon snack while you're cooped up inside. Let it snow!
ADMIRE
Brands are starting to recognize the shopping power of Muslim women. Take a look at the gorgeous collection of hijabs and abayas from Dolce & Gabbana.
ORGANIZE
Who has resolved to tackle her closet this month?
:: raises hand ::
Join me with this guide to making the process more enjoyable and productive.
LEARN
Expand your vocabulary with 35 new words.
EARLIER THIS WEEK
Enter to win a Hole in Wall subscription box filled with products from Seattle!
Sharing my 2016 resolutions.
The spring items I'm coveting this week.
Save 70% on gorgeous layering jewelry at Gorjana.
FIVE UNDER $55