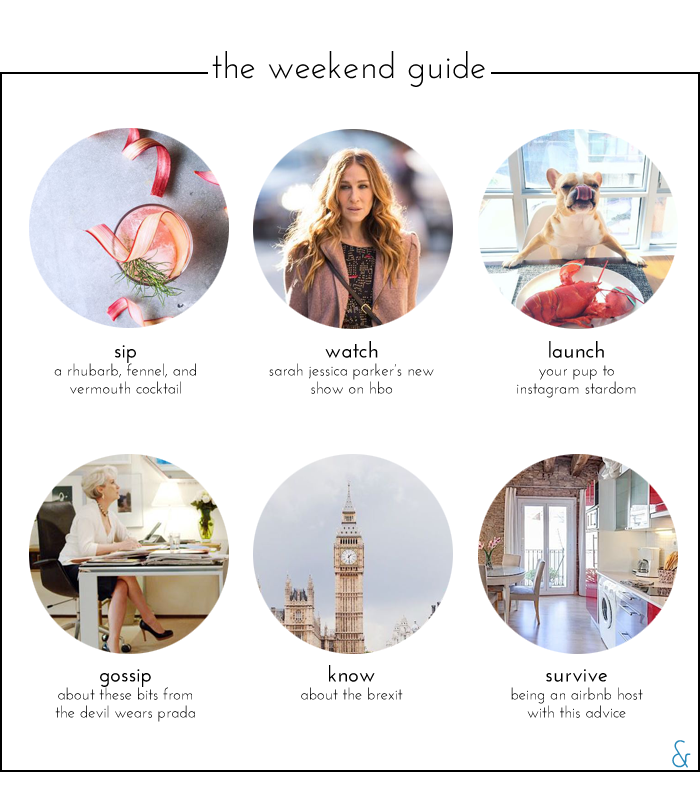 SIP
I'm a huge fan of gin-based cocktails. I can't wait to mix up these rhubarb, fennel, and vermouth drinks this weekend.
WATCH
Sarah Jessica Parker is returning to HBO. She's leaving Carrie Bradshaw — and her quest for marriage — behind with her new show Divorce.
LAUNCH
Have a heartbreakingly adorable pet? Read on for insider info on the world of Instagram-famous pets and their endorsement deals.
GOSSIP
The Devil Wears Prada is still one of my favorite movies, even though it came out 10 years ago. (Can you believe it's been that long?!) Here are 17 little-known facts about the movie and its production.
KNOW
The UK voted to make its Brexit from the EU yesterday. It's a long process, expected to take two years for the conscious uncoupling to occur. Here's a guide for what this means for Americans. I try to stay away from controversial topics — and my opinions on them — on my blog, but this was a terrible decision fueled by racist, anti-immigration talking points (oh, wait, it's called "nationalism"). Americans can't even be too judgmental about it, given that Trump is the presumptive Republican nominee and we're well on our way to alienating ourselves, too.
SURVIVE
Being an Airbnb host doesn't seem easy — and it's even harder to be reviewed harshly for things beyond your control. Just reading this essay has made me more conscientious about overnight stays.
NOTABLE SALES
An extra 30% off sale items at Tory Burch with code EXTRA30. (Tempted by these.)
An extra 25% off sale items at Shopbop through Friday with code 25EXTRA. (Debating this.)
An extra 30% sale items through July 5 at Kate Spade with code SUNSHINE. (Stock up on wine totes for the holidays, and this little red crossbody is perfect.)
EARLIER THIS WEEK
Picked up a budget-friendly black maxi from Target.
Wore a little blue dress.
Daydreamed about what I'm going to wear for the July 4th festivities.
Decided to head to Nashville in October. (I'm already pinning ideas! Let me know of any must-dos!)
Purchased tickets to see Hamilton in Chicago this March. (So excited!)