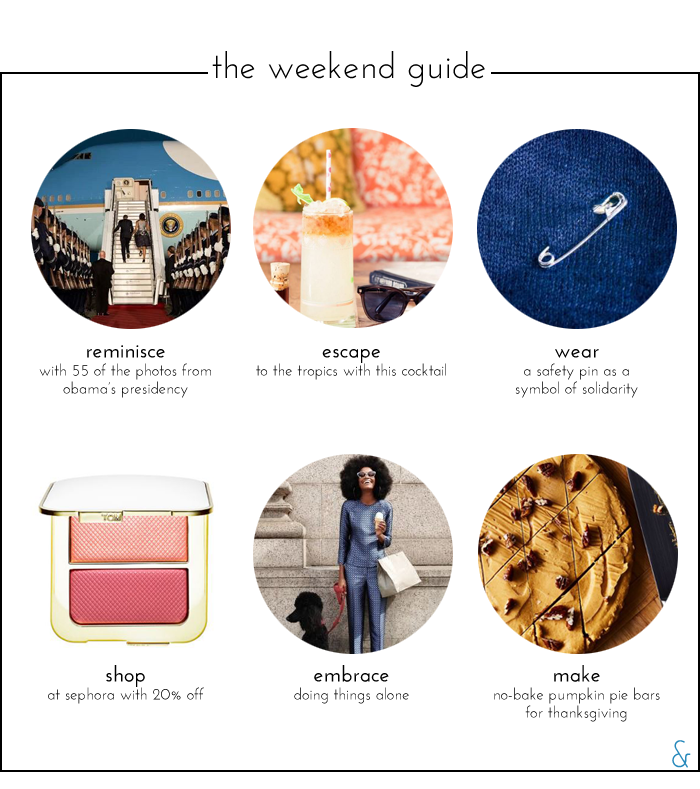 REMINISCE
The White House's official photographer, Pete Souza, has shot nearly two million photos of President Obama. Here are 55 images that capture the personality of our 44th president.
ESCAPE
We've had unseasonably warm weather in Wisconsin over the last few weeks, but the undeniable winter chill is starting to creep in. Since a tropical getaway isn't in the cards right now, I'll take in the island vibes with this cocktail.
WEAR
You may have seen photos tagged #Safetypin circulating on Instagram lately. Here's what it means. And, if you'd like to show your support, may I suggest this chic option?
SHOP
Sephora's VIB members enjoy 20% off this weekend with code 20VIB. I used it as an opportunity to stock up on favorites I'll use throughout the year: three tubes of my favorite lipstick, face wash, charcoal mask, eye liner, face lotion, foundation, and lash primer.
EMBRACE
I've always hated doing things on my own. This essay is an inspiring piece on why we should break that stigma and overcome the fear of being by ourselves.
MAKE
Save some of that oven room for the turkey and sides this Thanksgiving and make no-bake pumpkin pie bars for dessert.
EARLIER THIS WEEK
Wore my favorite dress of the season.
Urged you to vote … and then was saddened by the outcome.
Shared the one item your wardrobe needs for fall and winter.
Splurged on a mint winter coat. (Snag it in a variety of colors here.)