I thought I'd update you on my search for a new living room rug that I mentioned back in September! In a perfect world, I would have sourced a high quality, vintage number. But in a COVID world, going to antique and vintage stores to shop for rugs didn't seem like the most responsible decision. Plus, my budget didn't allow for an investment rug at the time. So, we went in a different direction and purchased a vintage-inspired rug from Loloi.
You probably recognize the brand name since they're an Instagram darling as of late with influencers touting gifted rugs fairly regularly. So, I thought I'd give you some honest insight into the rug I purchased to guide your decision if you have your eye on one of the brand's affordable rugs.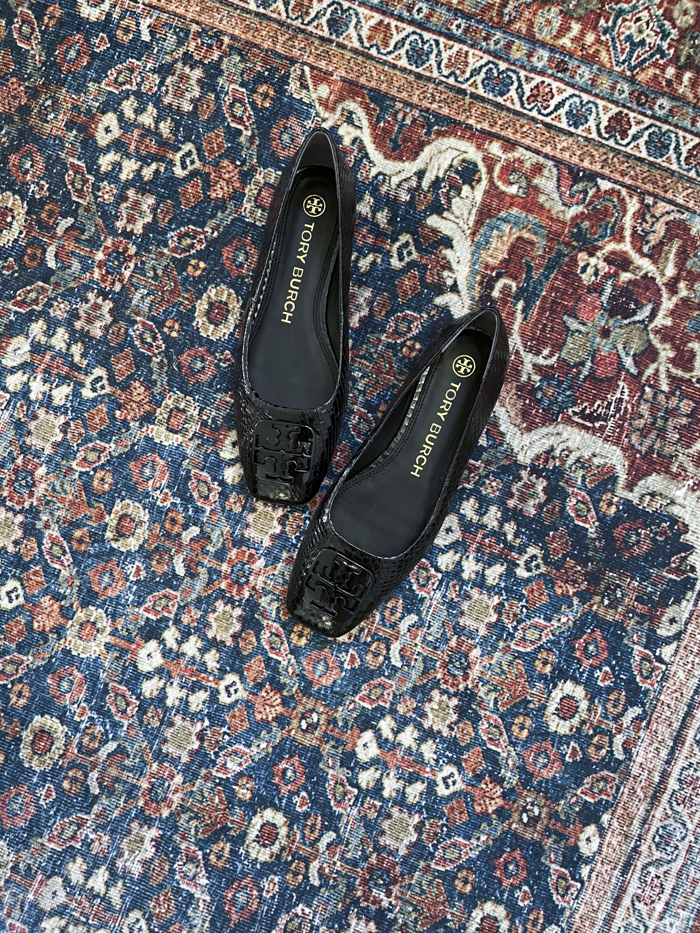 Let's start with the pros:
Clearly, the main selling point of these rugs is that they have a vintage look for an incredibly affordable price point. I purchased the 7.5′ x 9.5′ size and it's currently selling for $161. It's an absolute steal for a rug at this size. I bought mine from Walmart due to the ease of making in-town returns. It's also available on Amazon. Both have free shipping.
The design has variation in the vibrancy and saturation, giving it a more authentic worn-in look.
There's a lot of colors in the rug and an interesting design, which you don't always get with a cheaper rug. The colors are muted, too, so I think this rug would play nicely with actual vintage rugs in your home.
I really love the whipstitch edging.
It has a flat weave instead of a tufted construction. I prefer it since a traditional rug would be flatter than those with a dense fabrication.
It feels smooth underfoot.
It's incredibly easy to vacuum and clean. Our cat, Oliver, threw up on it and it completely came off and didn't leave a stain. The busier pattern also hides pet hair well.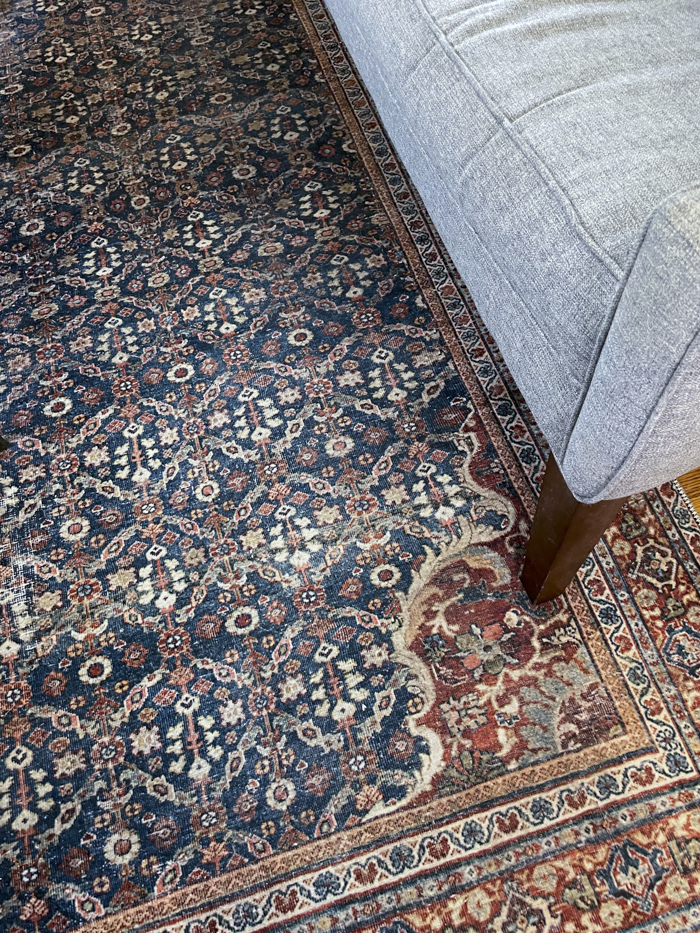 And, the cons:
The design is screen printed rather than being woven like a traditional rug would be. It's hard to tell how well it'll hold up, but so far so good. As per the label, I don't use the beater bar when I vacuum it.
It's on the thinner side. Not so thin as it feels flimsy, but you might want to consider a rug pad underneath it. We didn't opt for one because our coffee table is heavy enough to anchor it and we don't have children who would be playing on the floor.
Since it doesn't have a thick, tufted construction with deep piles, you might want to vacuum more regularly as you'll see any crumbs on top. (Which is also a pro, as far as I'm concerned. I'd hate to know what got stuck in our previous rug!)
All in all, I'm really happy with this. It satisfies my desire for a traditional rug, but at a fraction of the price. And while I'll still keep an eye out for a vintage one that's an actual investment piece and heirloom-quality, this is the next best thing.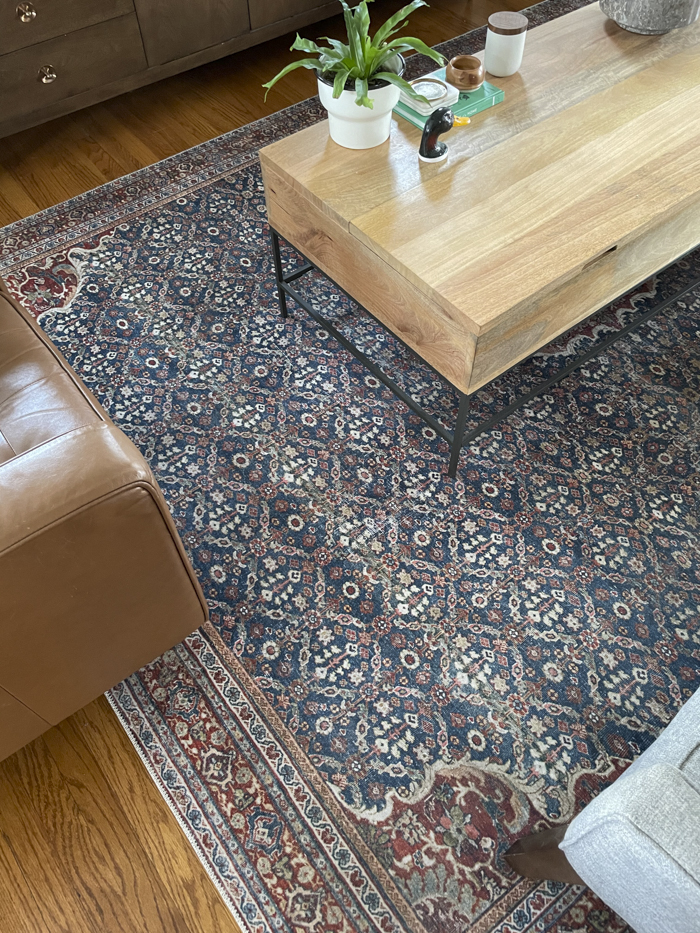 SOURCES
Paint Color: Extra White by Sherwin-Williams
West Elm curtains
Pottery Barn curtain rod
Target pillows (sold out; other plaid pillow options here)
Schoolhouse sconces
EQ3 leather chair
Younger Furniture sofa
Loloi rug (also here)
West Elm coffee table (will probably replace it next year)
Ekais credenza (no longer available)
U-Turn record player
Sony TV
TV stand
Sonos soundbar
IKEA planter
The Elements of a Home book (would make a great holiday gift)
Schoolhouse brass coasters
marble coasters (similar)
duck bottle opener (vintage; similar)
Tramp Ceramics bowl
Tory Burch flats
–
Let's keep in touch!
Instagram / Facebook / Pinterest / Bloglovin'
This post contains affiliate links.