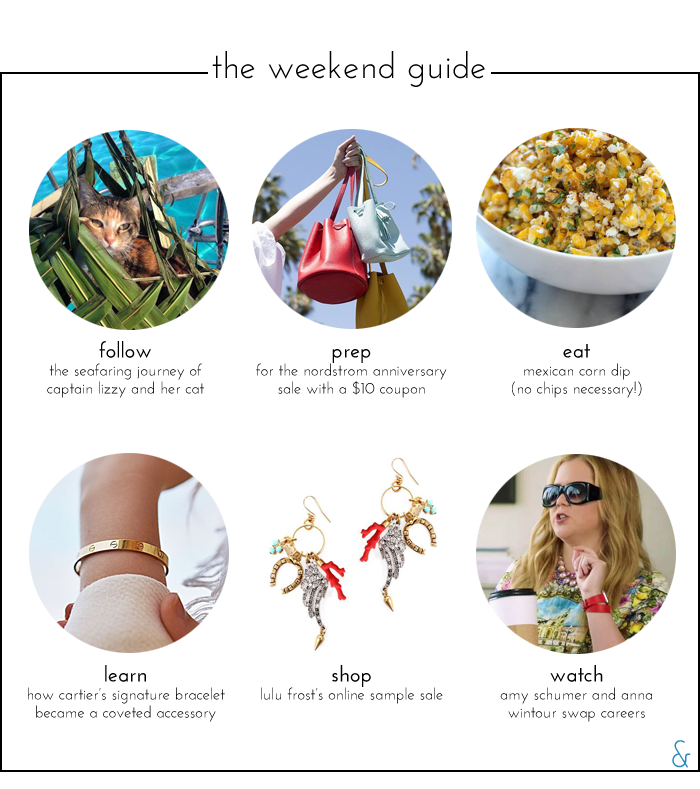 FOLLOW
I came across the Instagram and blog of Liz Clark this week. She's a California native, surfer, and environmentalist who left a traditional lifestyle to live aboard her 40-foot sailboat and explore the sea. An adorable cat, who she named Amelia, joined the journey. There are so many swoon-worthy photos on her Insta (of both her adveture and her feline first mate) that you'll want to leave your own 9-to-5 and buy a boat.
PREP
Nordstrom's Anniversary Sale is right around the corner! Sign up for Nordstrom's free rewards program now through July 10 to receive a $10 coupon to use during the sale event. Whenever you shop with Nordstrom, you'll earn one point for every dollar spent. You'll receive a $20 certificate after accumulating 2,000 points (which seems like a lot, but it probably adds up). I'm bummed that I signed up for the program a couple of weeks ago! I would have loved extra cash to spend!
EAT
I made this Mexican corn dip earlier this week and it's amazing! I added a teaspoon of cayenne to the recipe, but otherwise followed it as-is. Next time, I'm going to cut the butter in half. I don't think it needed that much.
LEARN
Cartier's signature Love bracelet went from a status symbol in the '70s to a must-have accessory for Millenials. Here's why that may be. (Not to be terribly judgmental, but that seems ludicrous given its $4,500 entry-level price.)
SHOP
One of my favorite shopping events has begun: the Lulu Frost online sample sale! I've got my eye on the Traveler earrings that I missed out on last year. I'm also loving this necklace for holiday parties (too early?) and these quirky earrings.
WATCH
Amy Shumer and Anna Wintour swap careers in this Vogue video. (Anna kills it.)
EARLIER THIS WEEK
An update on the house hunt and my dining room decor board.
Coveted a collection of white and gold.
Chatted about girls in glasses.
Found myself tempted by pineapple candlestick holders, but settled on a white throw pillow instead.