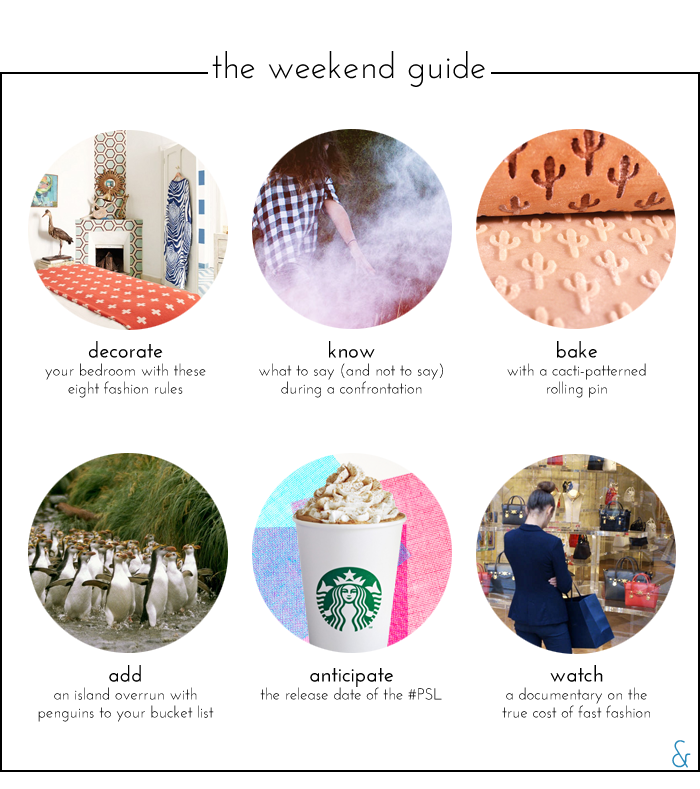 DECORATE
Update your bedroom with eight rules normally reserved for your wardrobe. I love the idea of channeling a resort destination.
KNOW
Office arguments can heat up quickly. Here's what to say for productive confrontations — and when to keep your mouth shut.
BAKE
Pastries are going to be so much cuter with the cacti print this rolling pin leaves behind.
ADD
When I think of penguins, I think of long expanses of snow-covered tundra and icy oceans — not lush islands off the coast of Australia. Macquarie Island is home to hundreds of thousands of penguins. It's also the only breeding ground for royal penguins on earth with an estimated 850,000 breeding pairs residing on the island.
ANTICIPATE
Starbucks' must-have drink of autumn has a later release date this year. (Don't shoot the messenger.)
WATCH
As a society, we're addicted to fast fashion. This documentary shows us the real cost of cheap clothing. Read an interview with the director here.
EARLIER THIS WEEK
Getting candid about my budget.
A top with pretty little details.
A roundup of this week's most covetable items. (I really want the cape.)
Amazing Elizabeth and James sunglasses in the week's Five Under $55.
Finally transitioning back to sandals!