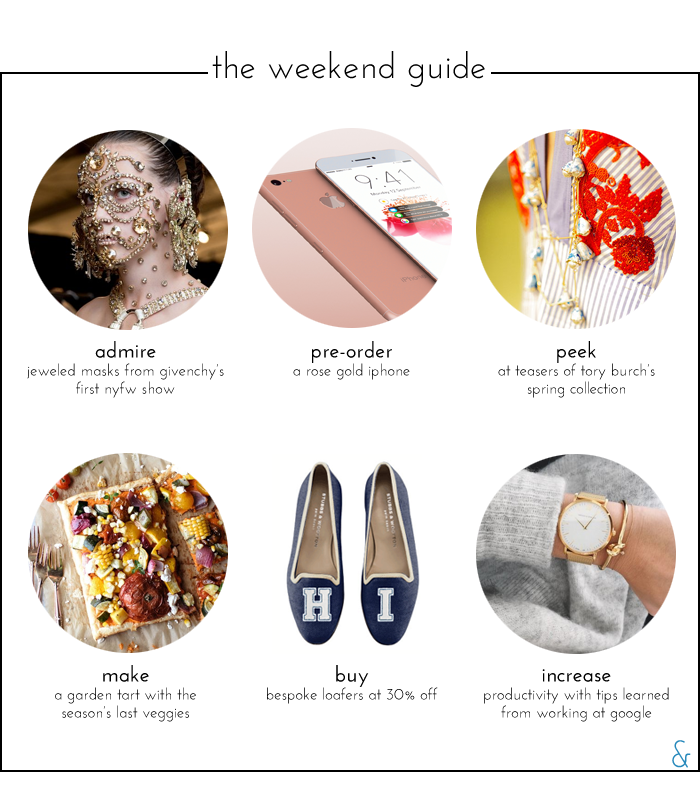 ADMIRE
It took upwards of five hours to create the stunning masks for Givenchy's first runway show at New York Fashion Week.
PRE-ORDER
Do you remember when Motorola had a fuchsia Razr flip phone that was exclusive to AT&T? Well, my excitement for the rose gold iPhone just about parallels my excitement for that Razr.
PEEK
I'm beyond excited for Tory Burch's show every season. Judging by these behind-the-scenes images, it should be another hit.
MAKE
Scour your farmers' market for the best late-summer vegetables to make this garden tart. The base is a roasted red pepper and feta spread.
BUY
Now through Monday, take 30% off bespoke Stubbs & Wootton slippers. I'm terribly tempted to get a pair with varsity letters spelling out "HI" or with my initials.
INCREASE
Start next week on the right foot with four productivity tips learned from working at Google.
EARLIER THIS WEEK
#IHaveThisThingWithFloors at the Library of Congress
The pretty sleeve detail on my new dress from Zara.
My first outfit in D.C.
A few things I'm currently coveting.
FIVE UNDER $55

***
additional image via