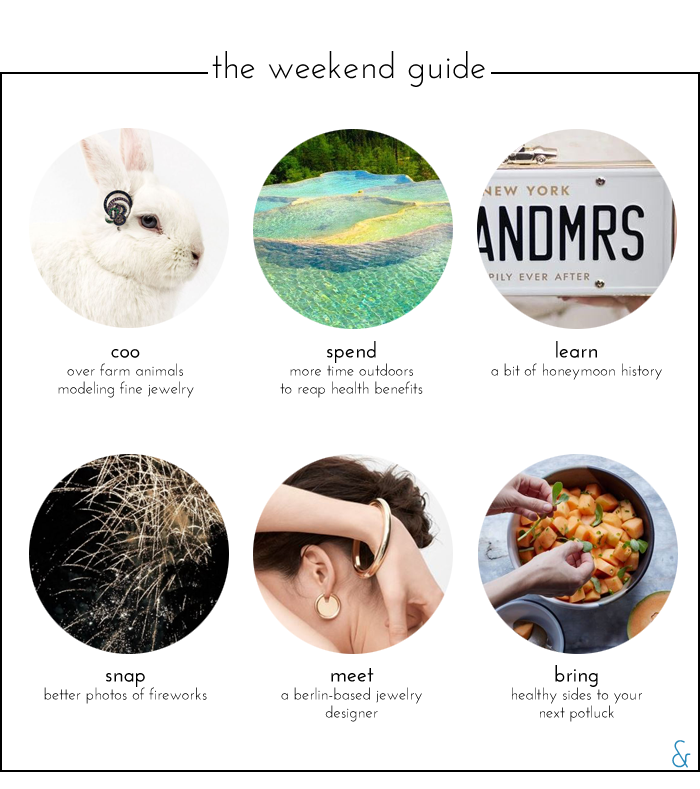 COO
Farm animals wearing expensive jewelry is one of my favorite things of the week. (Most of their gems cost more than what's in my jewelry box!)
SPEND
We all know that spending time outdoors is good for you, but it could be better than we ever thought possible with a measurable reduction in stress, higher levels of creativity, and spiritual and emotional benefits. Just 10 to 15 minutes a day is enough to start reaping the benefits.
LEARN
Honeymoon history is as surprising as the word's etymology. (On a related note, how cute is that photo from Danielle's wedding? Her vintage dress is gorgeous, too.)
SNAP
Fourth of July weekend means an influx of firework Instagrams. Make yours the best of the bunch with these tips.
MEET
You know how much I love learning more about jewelry designers. New-to-me designer Ina Beissner has caught my attention with this interview. Browse her collection here.
BRING
Potlucks and cookouts are usually code for unhealthy meals, but that doesn't have to be the case. Here are two recipes to try next time you're asked to bring a dish to pass.
NOTABLE SALES
Anthropologie: extra 30% off sale with code EVENBETTER
Furbish Studio: 20% off sitewide with code FIREWORKS
J.Crew: 40% off summer styles here with code COOLSTYLES
Lele Sadoughi: summer steals under $100
LOFT: 50% off everything with code JULY4TH
Lulu Frost: 20% off with code JULY20
Rebecca Taylor: extra 40% off sale with code FIREWORKS
Tory Burch: extra 30% off sale with code EXTRA30
EARLIER THIS WEEK
Summer's most interesting bag.
A collection of pretty neutrals.
Another month, another set of sartorial confessions.
Finally ponied up for a Tory Burch Fitbit bracelet, now on super sale.
I also ordered a skort for cycling, since I'm just not on board with shorts.