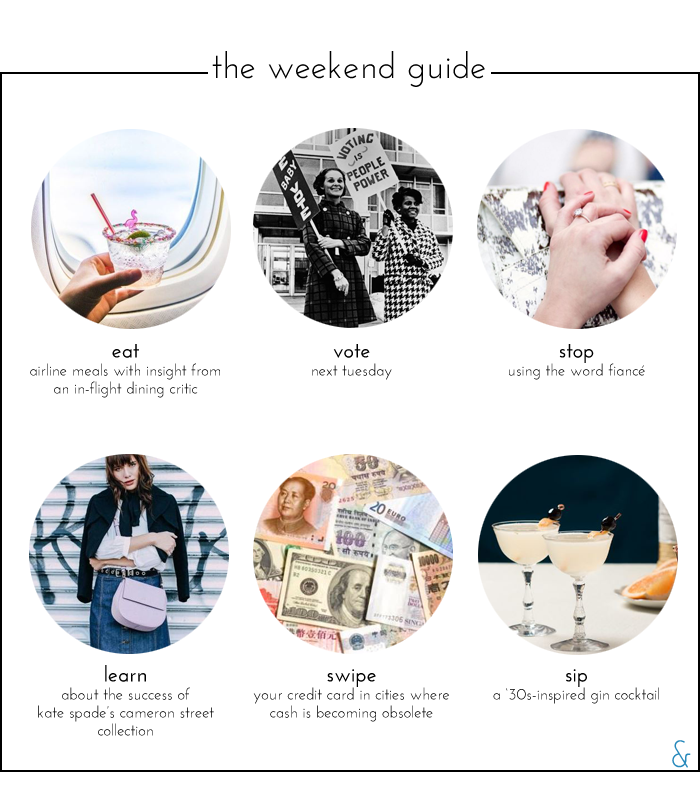 Happy Friday! It's been entirely too long since I've blogged regularly, much less put together "The Weekend Guide" for your perusal. As usual, September and October were two stress-filled months at work that left me with little personal time and the last thing I wanted to do during those fleeting moments was sit in front of a computer! Happily, though, that's behind me and our little getaway to Kentucky and Tennessee left me refreshed and eager to dive back into the blog.
EAT
Airline food gets a bad rap, but it's not all terrible. Learn more from an in-flight dining critic who has a surprisingly captivating Instagram feed of his own mile-high dining experiences.
VOTE
Election Day on Nov. 8 is fast approaching! Make sure you're prepared with the location of your polling place and what will be on your ballot.
STOP
The word fiancé is falling out of vogue with Millennials.
LEARN
Kate Spade's Cameron Street collection quickly became a huge success when it debuted earlier this year. The brand is focusing on the collection's popularity this holiday season with more inventory and accessories like interchangeable straps to personalize the handbags. (Personally, the last thing I need is a new purse, but I've considered this strap to add a little pep to my black bucket bag. Although, I'll probably go with this Rebecca Minkoff option instead.)
SWIPE
I'd love to live in a world of cashless transactions and there's a few countries already on their way to making that a reality.
SIP
With a combination of gin, grapefruit, and maraschino, this 1930s-inspired cocktail is on my must-sip list for the weekend. Cheers!
SHOP THESE SALES
Spend $40 at Bauble Bar and get a free choker.
Cozy up this winter with Mongolian lamb pillows now 30% off until Monday.
Take an extra 50% off sale items at Loft. (Loving these sunglasses and this LBD.)
Full-price dresses are now just $75 at Ann Taylor! (This looks like something you'd find at Tory Burch.)
Take an extra 30% off sale at Kate Spade with code CHEERS. (The gingham flats are my favorite.)
Cold-weather favorites and sale items are an extra 30% off at J.Crew.
Take 40% off regular-price items at BR. (This is the best turtleneck sweater for layering.)
EARLIER THIS WEEK
I went to Nashville and pet a kangaroo.