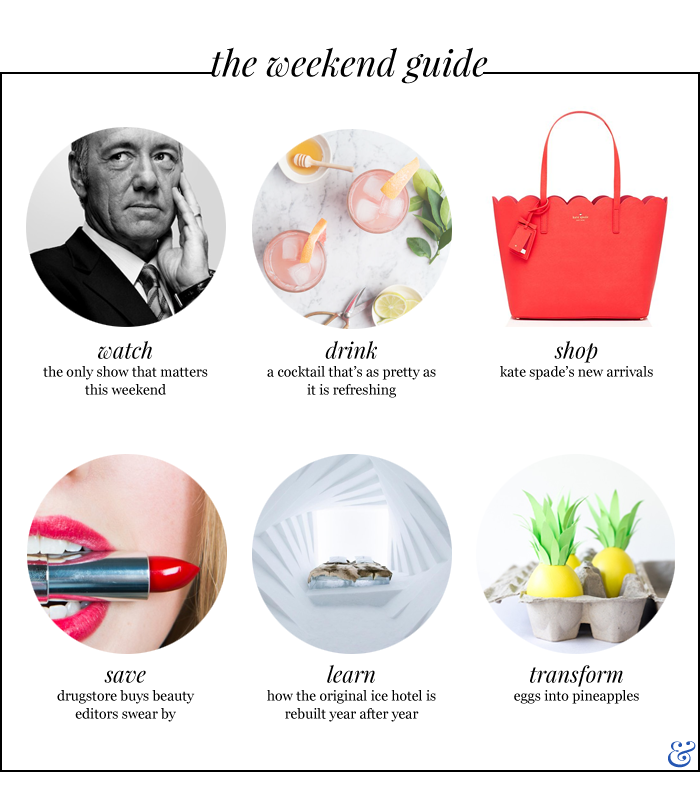 WATCH
Our favorite politician is back with House of Cards season 3.
[spacer]
DRINK
Not only is this cocktail adorable, it sounds amazing.
[spacer]
SHOP
How cute are Kate Spade's new arrivals? I love the scalloped edge on this tote. (Take advantage of the sale section while you're at it. There's an additional 25% off through March 1 with code SHOPTOIT.)
[spacer]
SAVE
Few things are more satisfying than finding a must-have beauty product for cheap. Sixteen beauty editors chime in on their favorites.
[spacer]
LEARN
The original ice hotel in Sweden is now in its 25th year. I have no desire to take part in such a chilly overnight stay, but it is interesting.
[spacer]
TRANSFORM
This is probably the chicest take on Easter decorations to date.
[spacer]
FITNESS UPDATE
I'm down 1.1 pounds this week making my total weight loss 4.9 pounds since I started working out on Jan. 15. I've only exercised once week and really need to get back in the swing of things if we're going to start the couch-to-5K program mid-March.