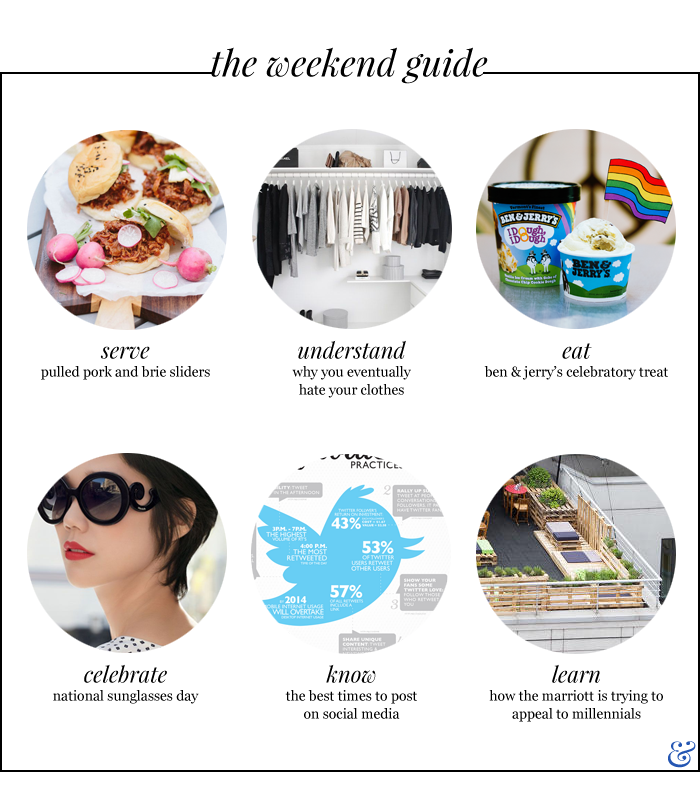 SERVE
These pulled pork and brie sliders look amazing. Make the salad and sangria featured in the same post and you're ready for guests.
[spacer]
UNDERSTAND
Many of us try to get the most mileage out of our wardrobe, purchasing items that can be worn to the office and on the weekend. A new study suggests that the more we wear our clothes, the less likely we'll continue to like them.
[spacer]
EAT
#LoveWins and Ben & Jerry's is celebrating by renaming their cookie dough classic "I Dough, I Dough" for a limited time.
[spacer]
CELEBRATE
Happy National Sunglasses Day! Today is your annual reminder to protect your peepers from UV rays and an excuse to buy new sunglasses. These are my latest pair.
[spacer]
KNOW
Ever wonder what's the best time to post on social media? Here you go.
[spacer]
LEARN
Gone are the days of staying in cookie cutter hotels abroad. Millennials are looking for a more authentic experience overseas and would prefer to stay in a small boutique hotel, an AirBnB, or a hostel rather than shell out cash for an American hotel chain. Marriott is looking to reinvent its properties with more local flavor in an attempt to capture the attention of–and the dollars from–a new generation of travelers.
[spacer]
---
// additional images via 1, 2, 3 //