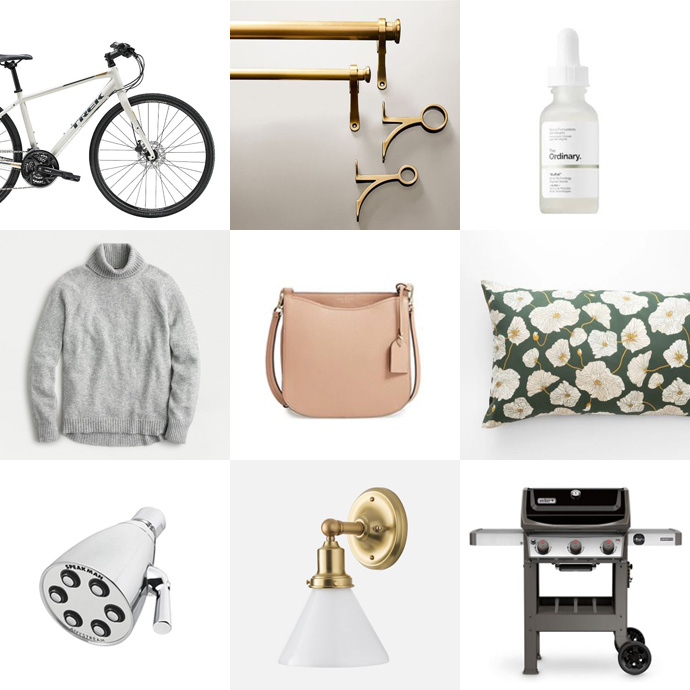 I spent the first day of the new year snuggled up on the couch, unwilling (or perhaps unable) to move after having entirely too much fun with some friends the night before. It wasn't exactly the way I wanted to kick off day one of a new decade, but I can't complain when it was merely the aftereffect of spending time with people I love. I thought a bit about resolutions while I was couch-bound (and will share them with you next week). One of the things I'd like to do this year is make more sustainable decisions when it comes to my lifestyle and shopping habits. One of the best things we can do is to make thoughtful purchasing decisions and buy quality products that will be used numerous times and loved with abandon. With that in mind, I thought I'd share my favorite products from 2019 with you. (You can read my 2018 list here; I'm still smitten with all of those items and use them regularly — especially the hand vacuum, which I reach for almost every day.)
Trek bicycle – I used Dave's sister's bike from the '90s for nearly eight years. I hated that thing. Half of the gears didn't work and it was heavy. I'd be struggling on each hill while Dave flew by with his nice, lightweight bicycle that weighed a fraction of mine. I know my new bike barely cost anything in the world of cycling for people who actually do this for sport, but it was a lot for me (and after adding in a few accessories, it was close to $1,000). But you know what? I don't dread bike rides now. I think I actually *gasp* enjoy them.
Pottery Barn curtain rods & West Elm curtains – You can see some of the before photos of our dining room in this post. The three windows along the wall look toward our neighbor's house with only a driveway to separate the two homes. We took down those dingy, stained roller shades this year and added a curtain rod and sheer curtains. I love the traditional look of the curtain rod (we went with the standard finial) and the curtains have just enough texture to make them look more expensive than they are.
The Ordinary 'Buffet" serum – This impulse buy from Sephora quickly made its way into my nightly routine. It leaves my face ultra soft and my complexion brighter — and you can't beat the price!
J.Crew turtleneck sweater in supersoft yarn – I now own three of this sweater (two in light grey and one in emerald). As the name suggests, it is ultra soft. The shape is just boxy enough to be comfortable, but trim enough to be flattering. Plus, it doesn't stretch out during the day. I'm obsessed with it and will likely buy it in another color yet this winter.
Kate Spade 'Margaux' crossbody purse – I bought this purse before our spring trip to Portugal thinking that it would be the perfect warm-weather bag with the light color, cross-body strap, generous size, and convenient slip pocket for my phone. It was even better than expected in person when I discovered that the slightly triangular shape allowed it to rest close to my body without feeling bulky. Plus, the pebbled leather repels rain. It was my most-worn bag of 2019.
Schoolhouse 'Blooming Field' pillow shams – I hesitated to purchase these when they first debuted and kicked myself when they sold out. I checked the Schoolhouse site every day for two months waiting for them to be restocked. The pattern is beautiful in person. We put these on unused pillows on our bed to use for decor rather than actually sleeping on them. I know they're just a simple pillow sham and shouldn't be that exciting, but the craftsmanship and attention to detail in the design won me over.
Speakman 'Anystream' shower head – Dave purchased this shower head for us after our old one started to lose pressure and wouldn't get better despite soaking it in vinegar to loosen hard water residue. We really should have swapped them within the first few months of living here. It made such a big difference in the water pressure and our showers have felt so much better. It almost distracts me from the nagging feeling that we should really get at a bathroom remodel or at least a budget-friendly refresh.
Schoolhouse 'Irvine' sconces – We technically purchased these in 2018. However, they sat untouched in a box for six months until we finally mounted them in January of last year. I could go on and on about the quality of Schoolhouse products and that's because they're really that good. We've purchased less expensive light fixtures for other places in our home, and these are just far beyond compare when it comes to quality. We paired the brass sconce with these shades.
Weber 'Spirit II E-310' grill – I can't believe we didn't get a grill until our second summer in our house! Hanging out on the deck, grilling dinner with a cocktail in hand and music playing is my absolute favorite thing about summers at our home. We bought this one from Home Depot as part of a Fourth of July sale with free next-day shipping. It took some time to put together, but it wasn't difficult. It cooks evenly and is a breeze to use and clean.
I'd love to know your favorite products of 2019!
–
Let's keep in touch!
Instagram / Facebook / Pinterest / Bloglovin'