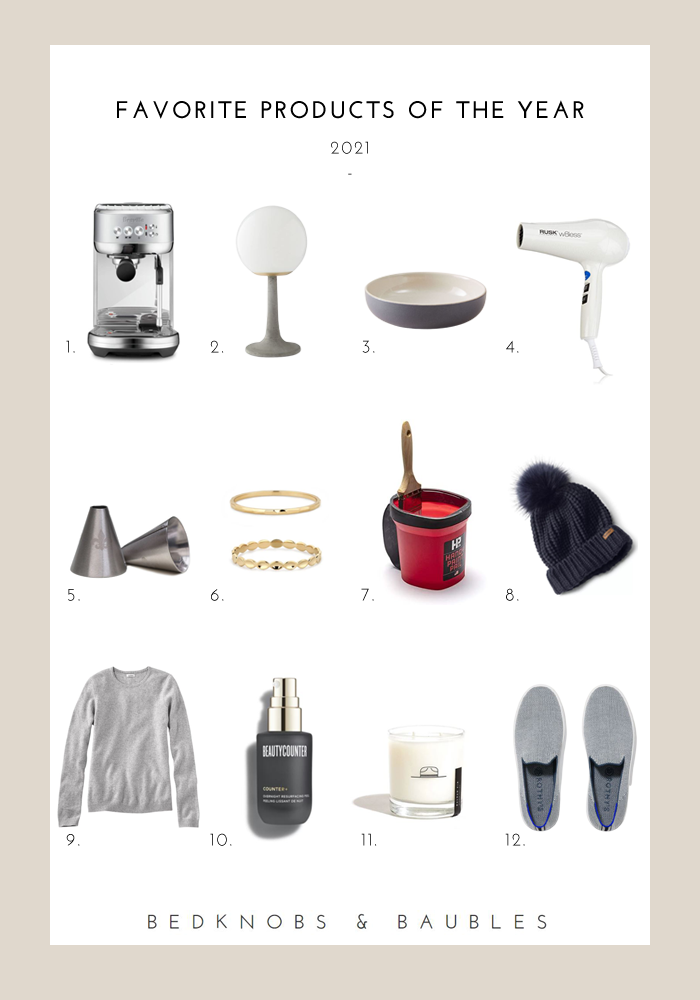 Now that we're getting close to the end of the year, it's time to share my favorite products of 2021! This annual compilation includes the items I purchased over the last 12 months that have either become staples in our household or items that make me smile every time I use it or wear it. They're the products that I wholeheartedly recommend.
It should go without saying, of course, that my favorite product of 2021 was our COVID-19 vaccines. The peace of mind that came along with it was indescribable after such a tough 2020.
ONE | Breville BES500BSS Bambino Plus Espresso Machine | We bought this back in February when we realized the pandemic wasn't letting up. We missed getting a latte on our way to work, so this gave us that café experience for that work-from-home lifestyle we're still in the midst of. Not only is it an excellent introductory espresso machine, it doesn't skimp on features so we don't feel pressured to upgrade any time soon. For those in Madison, we usually get beans at Ledger Coffee Roasters and have them grind them for an espresso machine. Good coffee grinders are *so* expensive and we haven't made the leap for one just yet.
TWO | Schoolhouse Electric Matter Lamp | This lamp is such a statement maker! I know it's not everyone's style but I had been crushing on it for awhile before taking the plunge in April. It's on our entryway table and it makes me so happy to see it every time I walk past.
THREE | West Elm Kaloh Stoneware Pasta Bowls | These bowls are perfectly oversized for pasta and rice-based dishes and they're incredibly pretty to look at. (Things that are both stylish and functional are my favorites!) They're also dishwasher safe and while I'll usually hand wash them because I'm paranoid about them breaking, they've been fine on the top shelf of the dishwasher.
FOUR | Rusk W8less Hairdryer | My last hairdryer was a cheap Conair one from Target and it was the absolute worst. I have fine hair and it still took a good 15 minutes to dry it with the weak breath of humid air from that hairdryer. I got to the point where I was so irritated that I threw it away and opted for this one that topped Wirecutter's picks. It's no Dyson, of course, but it's excellent for the price and now it only takes about five minutes to dry my hair.
FIVE | Wickman Candle Shaver | This is such a silly gadget, but I love it so much. I never have to force a larger taper candle into a holder now. Just a quick turn of this pencil-sharpener-like shaver and the candle whittles down the perfect size.
SIX | Aurelie G Effie Gold Band & Aurelie G Regalia Gold Band | I received these as part of a sponsored post over the summer and the rings became daily staples for me. I've had thin gold bands before that got misshapen with daily wear. These still look good as new. I love that they're understated enough to work with every outfit.
SEVEN | HANDy Paint Pail | Okay, this isn't a new-to-me product from this year, but it deserved a spot on a "Best Of" list. My dad had introduced me to this paint pail when we purchased our house and were painting as much as we could before moving in. There are liners to slip inside. It has a strap that you slide your hand under to hold the pail without hand strain as you work. And, there's a magnet on the inside to hold your brush so it doesn't dip into the paint when you need to pause. It's such a "handy" product for anyone with painting projects coming up in the new year.
EIGHT | Barbour Saltburn Beanie | Another form-meets-function winner for the year! I adore this well-made, cozy beanie with its matching faux fur pompom. Truth be told, I love it so much that Dave bought a second one for me as an early Christmas present. It would also make for a great gift if you still have someone to shop for. I linked to the Orvis site and they promise pre-Christmas delivery if you order by Dec. 17.
NINE | L.L. Bean Classic Cashmere Sweater | My parents gave me this sweater last year for Christmas and it quickly became a wardrobe staple. I reached for it over and over last winter and spring, and am doing it again now that it's chilly out. It's a classic shape that's not clingy (I wear a medium) and it's the perfect weight. It's not too thin where you can see your bra through it, but it's also not too heavy where it feels too warm to wear. It will pill because that's what sweaters do when met with friction, but it's definitely better quality than any of my cashmere sweaters from J.Crew. You can just use this sweater comb to gently remove any pills.
TEN | Beautycounter Overnight Resurfacing Peel | This is a little miracle worker! It gently exfoliates dry patches as I sleep leaving my complexion smoother and brighter in the morning.
ELEVEN | Ranger Station Balsam Fir Candle | Dave and I both gifted each other a Ranger Station candle last year in the Old Fashioned scent. The candles both arrived on the same day spoiling the surprise, but it just meant that we got to unbox them early! The candles are beautifully scented and melt evenly, and the glass can be used for cocktails later. I bought the Balsam Fir one this fall in preparation for Christmas and loved it so much that I burned through it before the holiday season began. I've already replaced it and plan to order more.
TWELVE | Rothy's Sneakers | Everyone talks about how comfortable Rothy's are and it piqued my interest a few times, but I never pulled the trigger because, honestly, I don't love how Rothy's flats look. That's probably just because I don't love fabric ballet flats and usually opt for leather when I go that route. The sneakers, however, caught my eye. They reminded me of my beloved Vince sneakers, but at a fraction of the price. I ended up ordering a pair to try last fall. The first pair in my regular size 7 was a half size too small to wear with no-show socks, but the 7.5 was love at first wear! They are incredibly comfortable! As with the other shoes Rothy's sells, they're machine washable and made from recycled materials. I wore them in Chicago last weekend and comfortably walked between five and six miles without blisters each day, which is a pretty solid litmus test for comfort. You can use my link to save $20 on your first order.
I'd love to know what your favorite products were in 2021!
For more of my favorites, browse the 2018, 2019, and 2020 lists!
–
Let's keep in touch!
Instagram / Facebook / Pinterest / Bloglovin'
This post contains affiliate links.