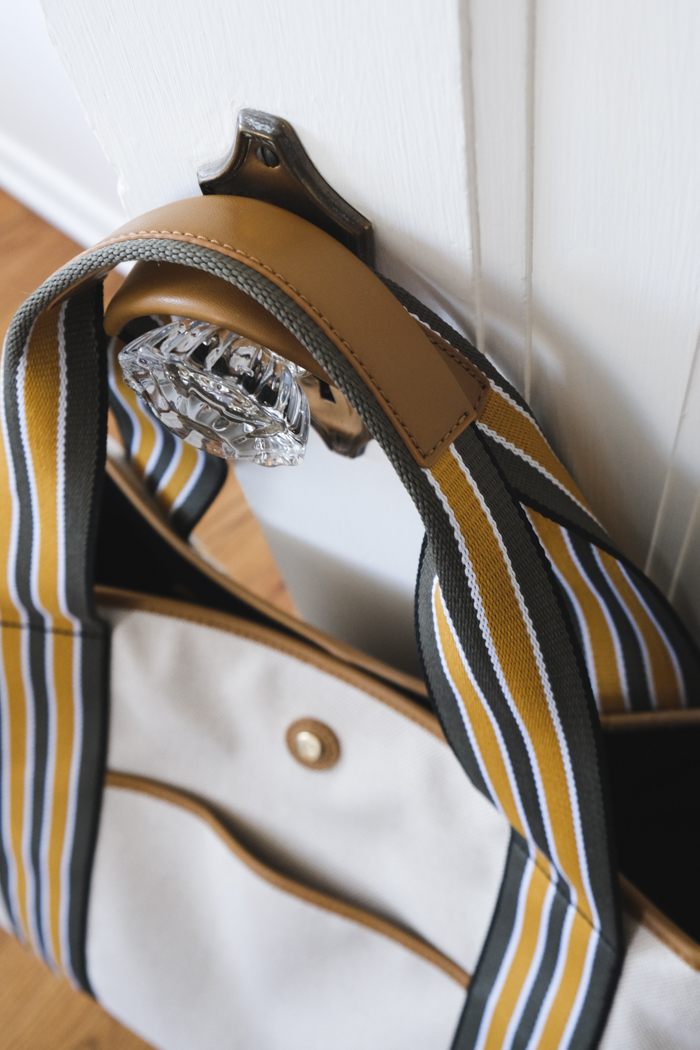 It's time for an annual review of my favorite products from the past year! Below, you'll find the noteworthy standouts that brought joy in an extremely difficult year.
Paravel Cabana Tote | This generously sized tote bag has already been a workhorse with plenty of room to keep daytrip essentials at hand. It's made of recycled plastic bottles and the material repels stains and dirt. I'm considering treating myself to the matching travel organizers.
Ikea Tekla Dish Towels | At just $0.79 each, these are perfect to use as cloth napkins for a relaxed, bistro-inspired look. At that price point, you won't feel bad about relegating them to dish duty or rags once they're stained.
J.Crew Supersoft Turtleneck Sweater | I swear, I'm going to continue signing praises of this sweater until you all purchase one. I added two more to my collection this year. They're incredibly soft with a slight oversize fit that's remarkably slimming. Get one. Wear it with #PandemicPants now and jeans later.
Tory Burch Facemasks | Going into 2020, no one would have expected facemasks to be the "It" item of the year! Tory Burch's masks are my favorite for the ample face covering, the metal nose piece, and the breathability. They're on the pricier side, but they're worth it.
Cole Haan Insulated Hiker Boots | I normally don't add such recent purchases to my favorites of the year, but these have already passed muster keeping my feet warm and dry while shoveling snow the other day. Plus, they're very cute! You can also get them here.
Blissun Patio Umbrella | After our neighbors cut down a mature tree in their yard, our deck received so much more sunlight in the evening when we wanted to be outside for our WFH happy hour. We didn't want to spend a fortune on a patio umbrella and found this one, opting for the black and white stripe. We took it down each evening, so it's still in pristine condition.
Schoolhouse Blooming Field Duvet Cover | I can't get over how pretty this print is. I bought the pillow shams last year, thinking that'd be enough to sate my desire for the bedding set. Not even close. The duvet cover is everything I hoped it would be.
Tory Burch Georgia Snakeskin Ballet Flats | I was due for a new pair of black flats after my pointed-toe J.Crew pair started to show more wear and tear than I'd like. These are a splurge, but absolutely worth it. They're classic, the squared-toe is an unexpected update to your standard-issue flat, and the snakeskin gives it just the right amount of shine. They run true to size.
The Elements of a Home | This is a fun little book that shares the history of common household items.
J.Crew Perfect Rain Jacket | While it's considered a rain jacket, I don't think it'll do much in a downpour. However, it's the perfect lightweight jacket and the cinched waist makes it flattering.
Stutterheim Mosebacke Rain Coat | Now this is what you need for an actual rainy day. Stutterheim rain coats are a splurge, but they have semi-annual sales to make the price more palatable. I like the A-line design of the Mosebacke version, which makes it an attractive, feminine alternative to a regular slicker. A warning, though, mine had a strong rubber smell when it arrived and I had to air it out for a month before adding it to the coat closet.
West Elm Hudson Drink Table | Admittedly, this just arrived yesterday after being on backorder for the better half of the year. However, it's so darn pretty and I'm already in love! The small size allows you to move it around to where it's needed or you can use it as a plant stand on days you don't need additional space to perch a cocktail. I bought the one with the walnut base.
Loloi II Layla Area Rug | We would have preferred a vintage rug in our living room, this was a wonderful — and affordable — alternative. Read more in my full review here.
Birkenstock Madrid Slide Sandal | Clearly comfort dressing won out this year, but there was no need to sacrifice all sense of style. I was nervous about the narrow width, but that's akin to a normal width in any other brand. I go down to the equivalent of a 6.5 in Birkenstock slides, which is a half size down from my normal 7.
Inkbird Sous Vide | We didn't want to spend a lot on our first foray into sous vide cooking and chose this more affordable version. It's done an impressive job so far with steaks and a roast.
–
Let's keep in touch!
Instagram / Facebook / Pinterest / Bloglovin'
This post contains affiliate links.
Reminder: Enter to win $50 to spend on artisanal goods at NOVICA!