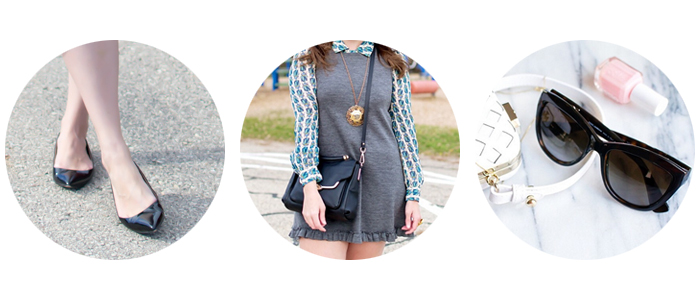 [dropcap custom_class="normal"]A[/dropcap]fter looking for my outfit posts this season, it has become painfully obvious that I have a few piece in my wardrobe that get a lot of use–and if they're this prominent on that blog, I'd hate to admit how often I wear them the rest of the time! I suspect we all have pieces like that, though. They're our favorites that we reach for when we proclaim there's nothing to wear, pieces that still fit when we're bloated, and staples that look great no matter how they're styled. The following four items are my wardrobe workhorses:
[spacer]
GREY SHIFT DRESS
I bought my grey shift dress from J.Crew around six years ago and it still makes the rounds, which you've probably noticed, given that I've worn it frequently on the blog this season. It's a lightweight wool that doesn't wrinkle and the loose shape fits no matter how much I've indulged.

[spacer]
OVERSIZE CATEYE SUNGLASSES
Nothing hides tired eyes better than a pair of oversize sunglasses. A cateye shape lends the right amount of vintage charm.

[spacer]
BLACK CROSSBODY SATCHEL
I'd bring a clutch everywhere if it were up to me, but there are plenty of times I need to carry more than what fits in the palm of my hand. That's where my crossbody satchel comes in. It's a manageable size, yet holds more than you'd expect (I carried our DSLR in it on our trip to Belgium). I'm fond of the water-resistant Saffiano leather.

[spacer]
BLACK POINTED TOE FLATS
A simple black flat, devoid of embellishments mixes and matches with just about everything in my closet. A pointed toe elongates the leg and elevates the standard-issue ballet flat into an elegant, work-appropriate shoe that's just as pretty on the weekend.

[spacer]
SHOPPING TIPS
It's almost impossible to predict which pieces will get the most love, but there are a few guidelines that increase the likelihood that your new purchases will become the items you reach for year after year:
Use your past purchases and your current wardrobe habits to guide new purchases. If you're like me and you wear black pointed flats almost exclusively, try a pair in an unexpected color or pattern. Chances are that you're smitten with the shape of the item and just a small change will update your look.
Plan your purchases. I say this all the time, but carefully considering your purchases ensures each piece has a place in your wardrobe and lifestyle. None of my wardrobe workhorses were impulse purchases.
Pick an item that's versatile, but not boring. How many simple white shirts or basic black sweaters do you truly love? Probably not many. You'll be more likely to get jazzed about an item that's interesting. Even the smallest of details can pull at your heartstrings and make you fall in love with it each time you pull it out.
 What are your wardrobe workhorses?