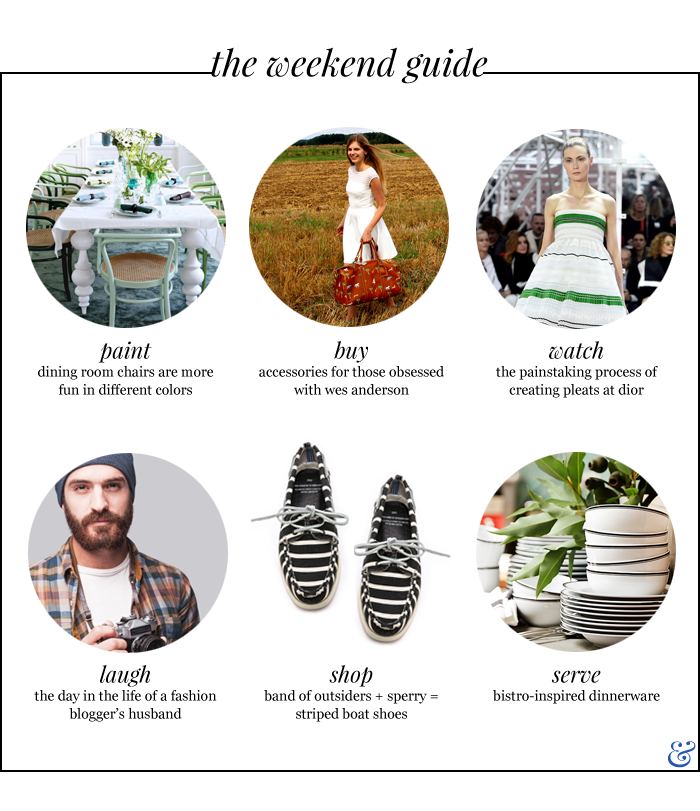 PAINT
I'm incredibly inspired by this dining room. I especially love the idea of a white lacquer table with chairs in different colors.
[spacer]
BUY
Obsessed with Wes Anderson? This shop is for you.
[spacer]
WATCH
You'll appreciate the artistry of Dior's couture pleats after watching this video. Then, watch the detail that went into making a miniature version of one of Dior's iconic gowns.
[spacer]
LAUGH
This satirical take on the day in the life of a fashion blogger's husband is hilarious (and kind of accurate).
[spacer]
SHOP
What do you get when you partner Band of Outsiders with Sperry? Striped. Boat. Shoes. Obsessed.
[spacer]
SERVE
Refresh your cupboards with chic bistro-inspired dinnerware.
[spacer]
FITNESS UPDATE
The scale finally budged this week with a loss of 1.7 pounds. No changes in measurements this week. I'm still doing the 30 Day Shred three or four times a week. (On that note, I had my annual doctor's visit this week. She made a comment about how last year I said I wasn't exercising. I was quick to brag about my new found fitness routine and she gave me a high five. Haha.)