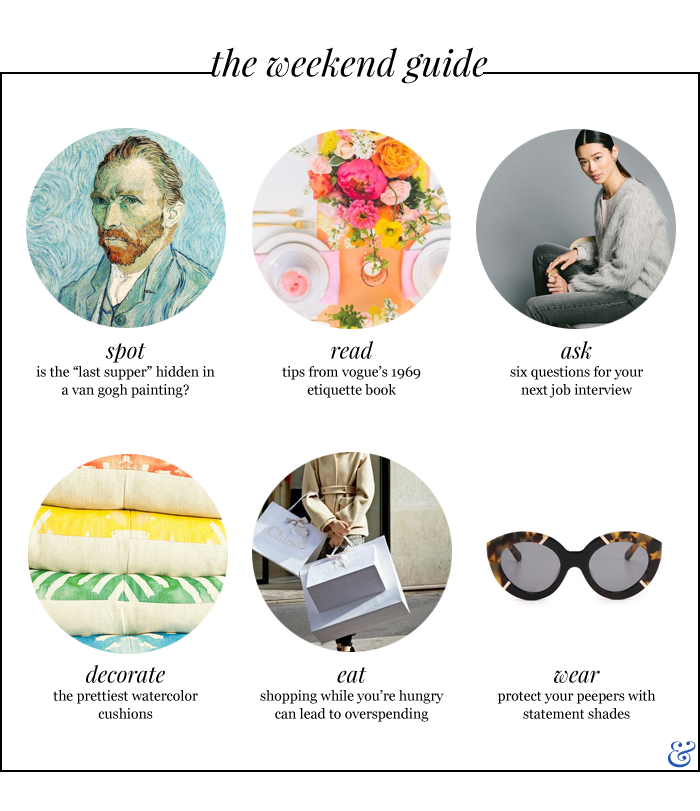 SPOT
Did Vincent Van Gogh hide a rendition of "The Last Supper" in one of his most famous paintings?
[spacer]
READ
I love reading advice columns and old etiquette books. These snippets from the 1969 edition of Vogue's Book of Etiquette and Good Manners don't disappoint.
[spacer]
ASK
A handful of great questions to ask at your next job interview.
[spacer]
DECORATE
How great is this Etsy shop?! I adore the green chevron pillow covers.
[spacer]
EAT
Make sure you eat before online shopping. Hunger can lead to overspending on more than just groceries.
[spacer]
WEAR
It was in the upper '60s yesterday, which has me yearning to revamp my summer wardrobe. A pair of statement sunglasses by Karen Walker is just the thing I'm itching for. Well, that and the dress that's on its way to me.
[spacer]
FITNESS UPDATE
I think I've mentioned this before, but I lost 70 pounds after college. It took two years, so I know the process takes time. Yet, I've still been discouraged lately. Given how much I've exercised (which, for the record, I hate), I hoped to see bigger changes on the scale over the last two months. I needed to step back this week and look at the bigger picture. Since Jan. 1, I have lost a total of 5.3 pounds, 1.5 inches from my thighs, 0 inches from my arms (but they are more toned), 2.5 inches from my bust, 1.75 inches from my waist, and 2.5 inches from my hips. (Even though I can only do push-ups on my knees, I'm also proud that I went from doing five in 30 seconds to doing 25 in the same amount of time. ::kisses biceps::)
[spacer]
---