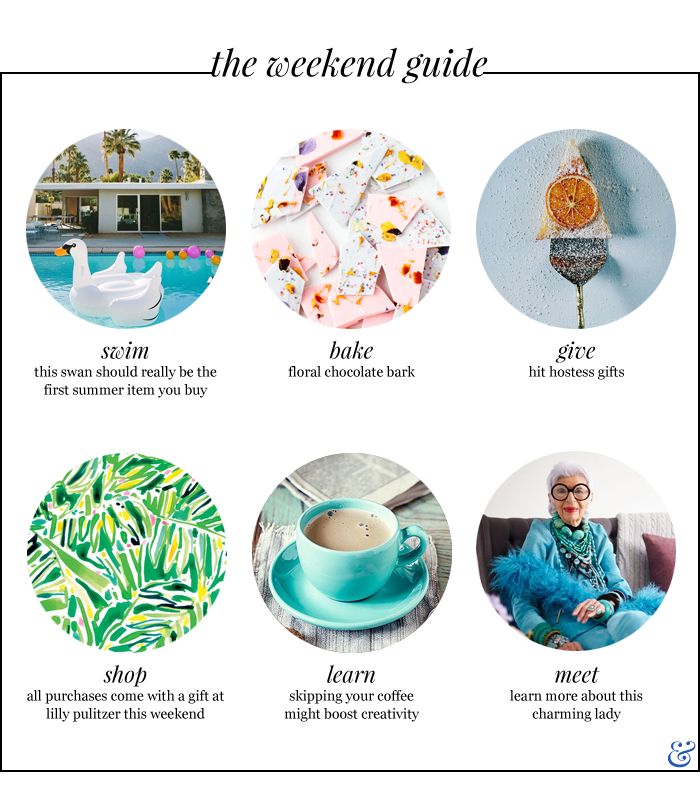 SWIM
This inflatable swan makes me so happy. If you have access to a pool this summer, you need one.
[spacer]
BAKE
This just might be the springiest dessert I've stumbled across yet!
[spacer]
GIVE
We tend to only talk about gifts when the holidays are around the corner. Here's a list of hit hostess gifts welcome year round. (May I also suggest this pie server?)
[spacer]
SHOP
Lilly Pulitzer items are quintessentially summer. There's a gift-with-purchase promotion this weekend with presents for all spending levels. I recently purchased this dress. I had to go up two sizes to shimmy into it, but it was worth it. There are cups sewn into the bodice, so I don't even need to wear a bra (a perk with such a low back). And I caved and ordered this dress today.
[spacer]
LEARN
Being groggy might actually make you more creative.
[spacer]
MEET
I can't wait to see Iris. Until then, I'll just enjoy learning more about the vivacious lady  through an interview.
[spacer]
FITNESS UPDATE
I'm down another .8 pounds this week for a total weight loss of 6.1 pounds since I started! (Woo!) I think this will finally be the weekend Dave and I invest in running shoes. (Eep!)
[spacer]
IN OTHER NEWS
There will be a lot of NCAA trash talk this weekend as I obsess over my bracket. (I used this emoji list and women's intuition to fill it out.) I'm also planning to stop by the greenhouse for a selection of succulents. I'd love to plant something like this. I returned my entire Ann Taylor order. This jacket ran large in the shoulders and I liked it, but not enough to size down. The polyester fabric of this romper made that horrible crinkly sound and it ran awfully small in the hips.