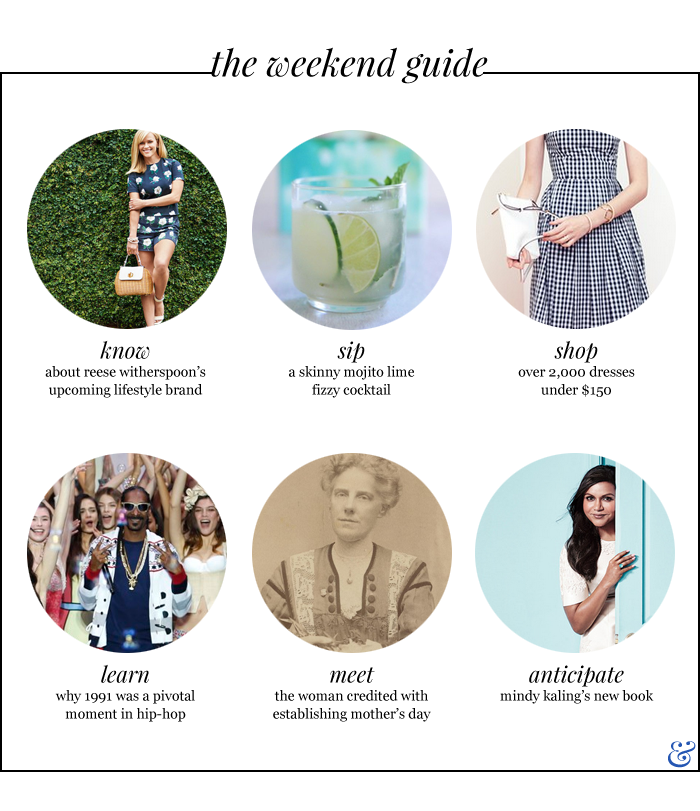 KNOW
Reese Witherspoon is launching a lifestyle brand with Southern influences.
[spacer]
SIP
Cocktail calories add up. Here's a skinny version of a classic favorite.
[spacer]
SHOP
Need a summer dress for an upcoming event? I have no doubt you'll find one here. There are over 2,000 options under $150 to choose from. My favorites include a gingham fit-and-flare style (although I'd have it hemmed above my knees), a bright shift with a swingy back (just $64!), and an embroidered tunic dress.
[spacer]
LEARN
1991 marked the beginning of pop music's turn to rap and hip-hop.
[spacer]
MEET
Anna Jarvis is the woman credited with establishing Mother's Day, but it wasn't easy.
[spacer]
ANTICIPATE
Even though The Mindy Project was axed by Fox, there's a good chance it will have a second life on Hulu. While that's still up in the air, rest assured that we'll have at least one more offering from Mindy this year: a new book to be published in September.
[spacer]
IN OTHER NEWS
We're heading to Indianapolis for Memorial Day weekend. Indy has never been on my must-see list, but we're driving down to pick up bottles of Upland Brewing Company's sour release. Is there anything we should add to our itinerary?
[spacer]
---
// additional image via //