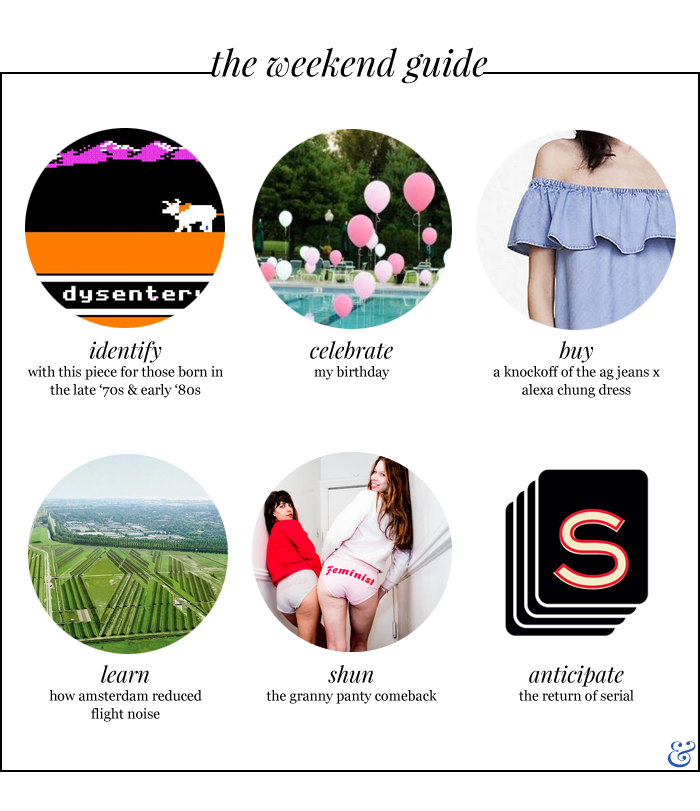 IDENTIFY
I didn't grow up with a computer. I remember the first day I played Oregon Trail in school. I collected AOL free trial CDs that came in the mail and used them to decorate my bedroom walls. I passed real handwritten notes in class. Basically, this article sums up my adolescence.
[spacer]
CELEBRATE
It's my birthday today! We're visiting friends in the Twin Cities to celebrate the big three-two with ice cream cake, cocktails, and Cards Against Humanity.
[spacer]
BUY
I can't tell you how much I adore Rachelle for letting me know about this dress. I was devastated (not an exaggeration) when the extra small, small, and medium didn't work out in the original AG Jeans x Alexa Chung version of the dress. Even though the silhouette is supposed to be baggy, I didn't look carefree and flirty. I looked frumpy. Not a look I'm going for at $200. This one, however, is perfect. There's less fabric, so it hangs straight down instead of billowing out to the sides. Ignore the weird synthetic fabric blend on the website. It's 100% cotton. I went with a size small.
[spacer]
LEARN
Amsterdam reduced flight noise from Schiphol Airport with land art.
[spacer]
SHUN
This is the worst. I don't know about you, but I'm in total agreement with this response. I mean, really, who wants VPL?! Normcore has gone too far.
[spacer]
ANTICIPATE
Serial!
[spacer]
---
// additional images via 1, 2 //