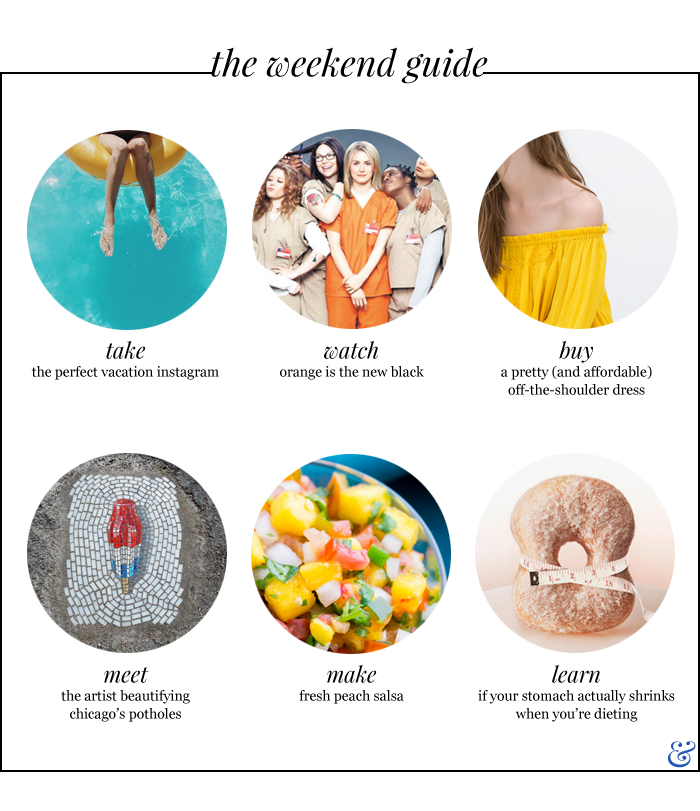 TAKE
This guide for taking the perfect vacation Instagram is spot on (and perhaps a little embarrassing).
[spacer]
WATCH
Orange is the New Black. Obviously.
[spacer]
BUY
The MICHAEL Michael Kors off-the-shoulder dress I bought last month sold out almost instantly. Here's another yellow version that's just as pretty and retails for only $50.
[spacer]
MEET
There's an artist in Chicago transforming potholes into mosaics of ice cream treats.
[spacer]
MAKE
We're spending more time at home with my broken foot, but I won't feel like I'm missing out on anything if we plan a margarita night with plenty of chips and this fresh peach salsa.
[spacer]
LEARN
We commonly believe that our stomachs shrink when we're dieting, but is that really the case?
[spacer]
IN OTHER NEWS
Take 25% off dresses at Anthropologie this weekend with code DRESSDAYS. There are also new items added to the ASHA sample sale.
[spacer]
---
// additional images via 1, 2 //