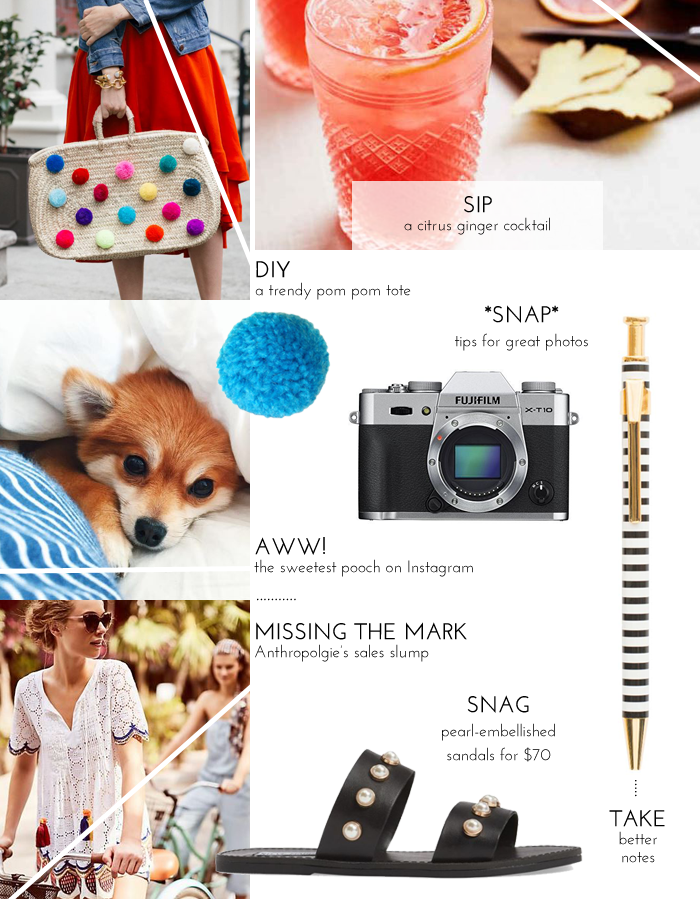 I can't believe April is right around the corner! Where has the year gone already?! Next month should bring with it a spike in available homes for sale, so we're hopeful we'll find "the one" this time around. With that major purchase on the horizon, we're pinching our pennies and planning to spend the weekend at home with new recipes to try and cocktails to mix up. I'm actually looking forward to a few days at home after traveling the past two weekends. I need a chance to finally unpack, run errands, and spring clean our apartment. What's on your agenda?
SIP: It's going to be 70 degrees today! It's back to being seasonably chilly tomorrow, but I'm embracing the warm weather with a refreshing citrus cocktail and open windows!
DIY: Straw bags embellished with pom poms are everywhere this spring and they usually come with a high price tag. Follow in Grace's footsteps and make your own instead! (She also linked to an Etsy shop for inexpensive straw bags. I want this one for the farmers' market. It's a steal at $28!) Use this bag and this one for inspiration!
SNAP: Are your blog photos feeling a little lackluster? Jess shares her tips to up your photography game.
AWW: Right?!
MISSING THE MARK: A couple of years ago, Anthropologie blamed its slipping sales on poor dress choices. However, the retailer still hasn't got it right.
SNAG: These sandals are like the more refined version of the bauble-embellished pair I snagged at Zara. They're a great deal at $70!
TAKE: Stop mindlessly scribbling notes during your work meetings and actually record the information effectively.
IN CASE YOU MISSED IT:
ON MY WISH LIST: