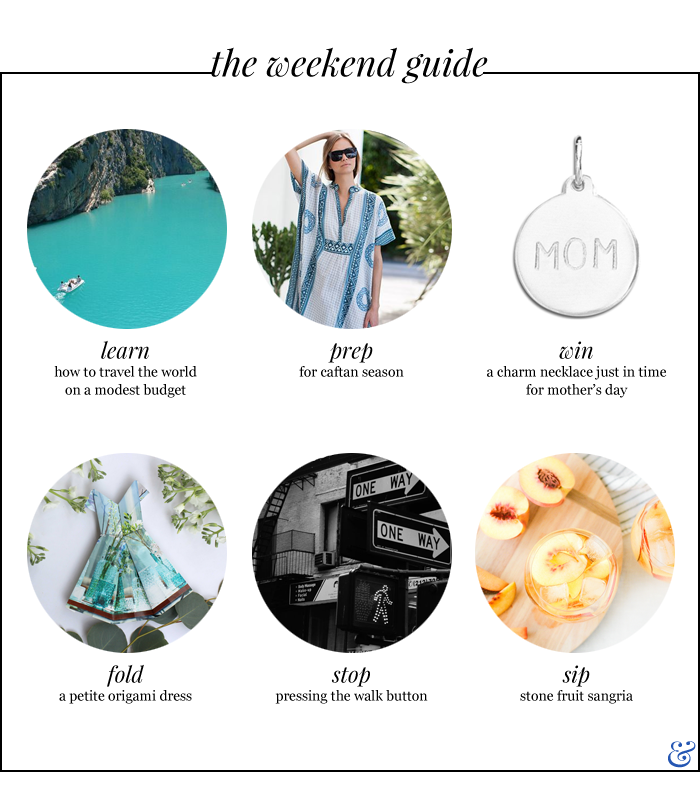 LEARN
Even those of us with bills to pay can still afford to travel the world.
[spacer]
PREP
Screw swimsuit season. Pour a cocktail and settle in to caftan season.
[spacer]
WIN
Mom deserves to be pampered on Mother's Day with this beautiful necklace from Helen Ficalora. This prize is valued at $95.
[spacer]
FOLD
How cute are these origami dresses? Learn to fold one of your very own.
[spacer]
STOP
Pressing the walk button isn't really helping.
[spacer]
SIP
A refreshing sangria recipe to keep on hand this summer.
[spacer]
FITNESS UPDATE
We've been back from vacation for one week and I'm only one pound heavier than when we left. I call that a huge success considering my diet consisted of pizza, lobster mac, and beer. I should probably start exercising again.
[spacer]
---
// additional images via 1, 2, 3 //